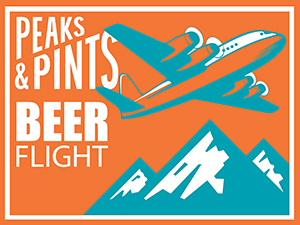 When most people think of lagers they think of pale, clear lagers with snow-white heads and a crisp, light flavor. But that wasn't always the case. For centuries, dark lager dominated the scene in Central Europe until methods for kilning paler malts came along and the introduction of amber lagers such as Vienna lager and Märzen hit the scene. Eventually, in 1842, Joseph Groll brewed a beer in Plzen, Czech Republic that was golden with that thick snow-white foam. Pilsner was born and the world hasn't looked back. Today, Peaks and Pints takes a step back into pre-pilsner history to enjoy a beer flight of classic dark lager styles we call Peaks and Pints Beer Flight: Dark Side of the Lager.
Peaks and Pints Beer Flight: Dark Side of the Lager
Holy Mountain Black Beer
4.5% ABV
Holy Mountain Brewing's Black Beer is brewed traditionally with respect to some of the great British brewers. Think of it as hybrid of a dark mild and a porter — a drinkable, malty ale is brewed with roasted and flaked barley, London Ale yeast and hopped with East Kent Golding. Flaked barley helps to increase the mouthfeel while keeping it low ABV. It's amazing how much strong coffee, super roasty, toasty malt flavor can come from such a light beer.
Ayinger Altbairisch Dunkel
5% ABV, 21 IBU
Up until the Second World War, dark beer was the predominant beer type in the Munich area. The hard water found in the region played a special role in producing this specialty. One of Ayinger's DLG gold medal winners is their dark larger, Altbairisch Dunkel. The dark lager offers easy caramel and light, grainy malts on the palate first, followed by a lovely, floral hop bite that counters the sweetness. With its paltry profile, courtesy of a light body, low alcohol, and dry, clean finish, this brew embodies the style's approachability.
Trap Door Night Beer
5% ABV
Trap Door Brewing's Night Beer black lager is made to quench thirst for dark beers while staying light on its feet for sessionable drinking. No toll required to enjoy the flavors of lightly roasted malt, cocoa, spicy hops, and soft body.
Living Haus Reuben
5.1% ABV
Living Haus' German-style dark lager has a simple blend of pilsner and Munich malts with light touches of roasted malts that result in a deceptively complex blend of flavors sure to please schwarzbier fans. Expect notes of mulling spices and hazelnut in the nose complemented by toffee and baker's chocolate flavors.
Old Stove Incinerator
8.5% ABV
Between the 14th and 17th centuries, the Northern German city of Einbeck was a brewing center and popular exporter of beer, but the Thirty Years War and a series of unfortunate brewery fires effectively ended the city's dominance. The Einbeck style of beer was later recreated by the monks of Munich's St. Francis of Paula church in the 17th century where Bavarian speakers corrupted the name "Einbeck," leading to the modern "bock." The monks fasted during the Lenten season, finding their nourishment from a stronger, heartier bock they referred to as "liquid bread." The monks called this brew Salvator, Latin for "Savior." That beer emerged into a distinctive style called the doppelbock, which are full-bodied, intensely malty — especially accenting a lightly toasted caramel and chocolate character — and generally have levels of alcohol higher than 7 percent. Old Stove Brewing's version, Incinerator, while darker amber than pure black, offers barley malt sweetness, a bit of woodiness, and finishes with a good blend of caramel, wood, and a touch of allspice.
LINK: Peaks & Pints beer and cider cooler inventory
---