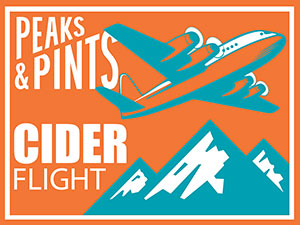 Pumpkins belong to the family of Cucurbitaceae. They are classified to Cucurbita pepo, Cucurbita moschata, Cucurbita maxima and Cucurbita mixta, according to the texture and shape of their stems. Pumpkin is poor in taste and carbohydrates but high in vitamins, especially, provitamin A, antioxidants, and minerals, and it is mixed with nutmeg, cinnamon and allspice to improve of its sensory properties. Pumpkin is a vegetable, which is healthy and functional, being rich in phenolic compounds, flavonoids, and vitamins, and has a low energy. That's all fine and dandy, but today is Monday, which means we offer an in-house cider flight. Combing our pumpkin fun facts and pumpkin ciders on our Western red cedar tap log and in our cooler we get Peaks and Pints Monday Cider Flight: Pre-Halloween Pumpkin.
Peaks and Pints Monday Cider Flight: Pre-Halloween Pumpkin
Portland Cider Pumpkin Spice
6% ABV
Oregonian Jeff and British Lydia launched Portland Cider Company in 2012 with the intent of marrying English cider traditions with the innovative Northwest micro-brewing culture.  It all started from a desire to make the clean, dry cider Lynda grew to love in England, and Jeff yearned to find in Oregon. With their Pumpkin Spice, they take the flavors of cinnamon, nutmeg, cloves, allspice, and ginger and blend them for pumpkin pie flavor.
Fierce County Gourdians of the Galaxy Vol. 5
6.8% ABV, draft – bottle in cooler

John and Tolena Thorburn adore craft beer. For 15 years they traveled the world drinking it. But an oversaturated market led them to cider. Learning and enjoying the varying styles and flavors unique to each brewer and set of ingredients, the Thorburns applied that experience to years of homebrewing and cidermaking. In 2017, Fierce County Cider launched its first commercial operating space in a 97-square foot ciderhouse in Puyallup. They have since opened a taproom on South Hill. Enjoy their fifth iteration of Gourdians of the Galaxy spiced harvest cider with notes of pumpkin and apple cinnamon.
2 Towns Hollow Jack'd
8.4% ABV, bottle
2 Towns' Hollow Jack'd imperial pumpkin cider kicks pumpkin-spiced lattes back into the patch. Made from A brew of fresh-pressed apples, caramelized pumpkins, sweet potatoes and finished with a dash of honey and spices, it's basically fall in a glass. The pumpkin flavor isn't overwhelming, which is enjoyable and not too sweet.
Bellingham Pumpkin Spice
8.7% ABV, draft

Bryce Hamilton and Joshua Serface hashed out their Bellingham Cider Company while working together as emergency paramedics. Serface was passionate about cidermaking and hoped to start his own craft beverage company, while Hamilton and his wife dreamed of opening a restaurant and bar in Bellingham, where they went to college. In 2015, their dreams finally converged when they created the business license for Bellingham Cider Company. Their Pumpkin Spice imperial cider is a scrumpy mixed with a pumpkin pie slice. It's a semi sweet cider, but tart, which keeps it right in between a semi dry and semi-sweet flavor.
LINK: Peaks & Pints beer and cider cooler inventory
---