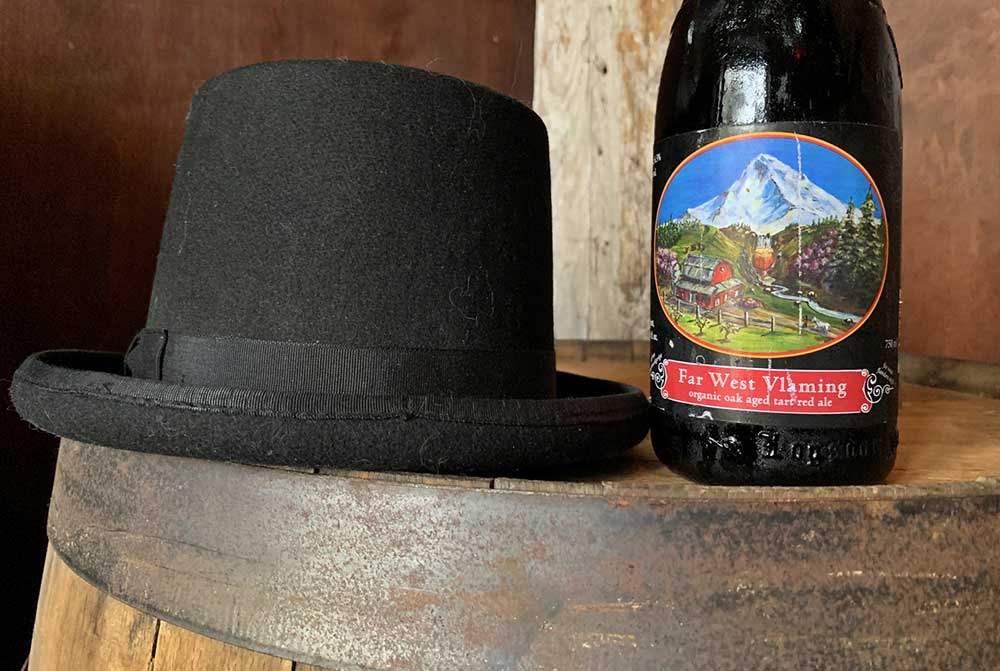 Fancy Pants Sunday: 2015 Logsdon Far West Vlaming
In 2015, before we opened Peaks & Pints, the Craft Brewers Conference was held in Portland where we joined a Hood River excursion and met Dave Logsdon. We fell in love with his Logsdon Farmhouse Ales farm brewery complete with a barn brewhouse, coolship, Scottish Highlander cattle to consume spent wort, and guns to shoot varmints. When Peaks & Pints opened in November 2016, we filled the bottom row of one Oregon beer cooler door with Logsdon 750ml bottles, including Far West Vlaming, a Flanders red ale style sour, the highlight of this week's fancy beer column, Fancy Pants Sunday: 2015 Logsdon Far West Vlaming. Yes, indeed, we bought a case of the 2015 Flanders red before we opened.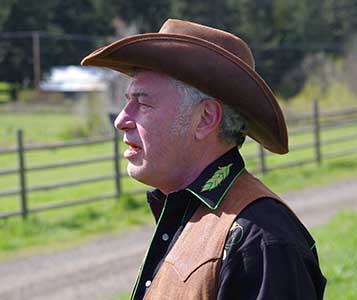 Logsdon Farmhouse Ales was started by Full Sail Brewing founding brewer and yeast master Dave Logsdon who had a special affinity for traditional Belgian-style farmhouse ales. When he and experienced brewer Charles Porter launched the 10-barrel Hood River, Oregon, farmhouse brewery, they planted an orchard on the property with Belgium-imported Schaerbeekse trees. These trees grow the sour cherries necessary to craft authentic kriek beers. By 2011, co-owners John Plutshack, Jodie Ayura, Judith Bams-Logsdon, and Seaberg Einarsson joined the team to help with a variety of tasks and the short-lived Barrel House in downtown Hood River. The awards started pouring in: People's Choice awards at local Oregon festivals and various medals from World Beer Cup and Great American Beer Festival.
A few months after our visit to the Logsdon farm, Logsdon announced his retirement from full-time day-to-day operations (was it something we said?). John Plutshack and his wife, Jodie Ayura, took over brewery operations. The same year Porter left Logsdon to open Little Beast Brewing two years later. Logsdon Farmhouse Ales restructured bring in A.J. Shepard, Chris Shepard, and Stuart Faris as business partners with Dave Logsdon keeping his founding brewmaster status and on-call expertise.
In 2017, Shilpi Halemane (Widmer) became the Logsdon head brewer with Mark Pearson (de Garde Brewing) as an assistant. A year later, a second 15-barrel brewhouse opened at west end of the Columbia River Gorge in Washougal, Washington. The downtown Washougal facility began pumping out contemporary and classic ales and lagers in styles from around the world, as well as farmhouse-style ales year-round. In 2019, operations in Hood River ceased. During the pandemic, the Washougal brewhouse closed. Logsdon plans to open a new facility in Portland soon.
That's all fine and dandy, but this is Peaks & Pints Fancy Pants Sunday, a weekly look at complex, high-end beers and cider, and Logsdon Far West Vlaming fits the bill. The 2015, 6.5% red ale is brewed in the "Vlaming" or West Flanders style. A combination of pale, crystal, and dark roasted barley malt, wheat, and oats are brewed with Yakima Valley whole-cone hops, with a select variety of yeast and lactic bacteria. Logsdon ages it in oak barrels for a period to develop complex richness, soft tannins, and fruity, tart character. The aged beer is then blended with young beer to create the desired balance of malt sweetness with a dry finish. It's relatively clean for the style with added wood notes and hints of soft, ripe fruits. As it warms, subtle Brett funk notes appear.
You fancy, 2015 Logsdon Far West Vlaming!
LINK: Peaks & Pints cooler inventory
---