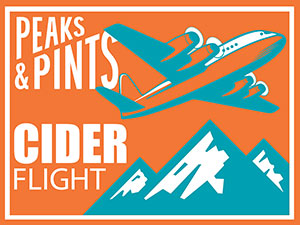 Brittany, also known as Bretagne in French, was a province and duchy first and only later turned into a region. Brittany, a region of northwest France, where its people established their original gastronomic culture with apple. Life there has always been closely tied with apple, which is certainly different from the wine regions. Cider is truly a product from the terroir of Brittany, the best weather and soil for apple production. Brittany farms plant cider apples which are a special variety to make cider. Translating to apple in Breton, the traditional language of France's Bretagne province, "AVAL" is exclusively brewed on a family-owned farm in the region that's been making cider for more than 1,000 years. Today, Peaks & Pints highlights AVAL's two ciders are our Monday cider flight, which we call Peaks and Pints Monday Cider Flight: AVAL.
Peaks and Pints Monday Cider Flight: AVA
AVAL Gold
6% ABV
AVAL Gold is the result of natural fermentation of the juice from multiple varietals of apples, all grown, harvested, and pressed at the AVAL farm in the heart of Bretagne, France. A delightful, subtly sweet combination of five kinds of organic apples representing the four main categories of apples (acidic, bitter, bittersweet, and sweet), AVAL Gold is not made from concentrate and uses no added sugars or sweetener — just pure apple juice, harkening back to the way cider should be made. This unique blend gives the drink a crisp and citrusy taste.
AVAL Rosé
6% ABV
AVAL Rosé combines six varieties of apples, including Baya Marisa, a red flesh apple. Extremely refreshing, this dry cider has notes of citrus and tropical fruits.
LINK: Peaks & Pints cooler inventory
---