Beer Industry Geeks Flight Battle
October 27, 2018 @ 11:00 am

-

11:00 pm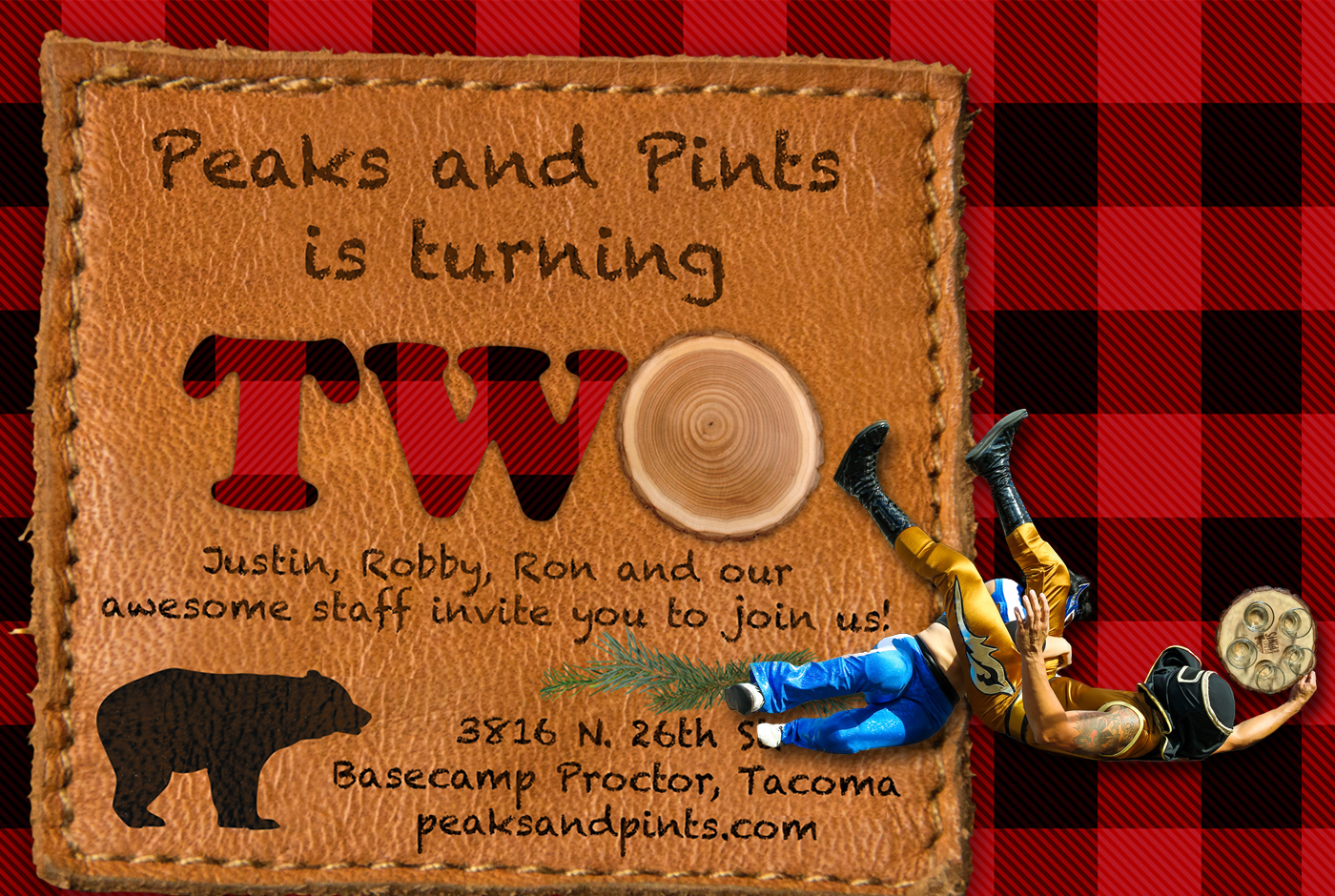 It will be a cold Saturday, the kind of day that eats at a man, makes him start thinking warm thoughts, like heading to Peaks and Pints to participate in the Beer Industry Geeks Flight Battle, maybe watching two men — one dressed in a TSA uniform and the other in a Hawaiian shirt — bludgeron the holy hell out of each other over beer.
As part of Peaks and Pints' Cool Camp Week, a week-long celebration of our second anniversary, Rich Jamieson of Alpha Distributing and Mike Bosold of NW Beverages will pit five craft beers — a sour, a lager, an IPA, a scotch ale and an imperial stout — from their respective catalog of breweries against each other in the Beer Industry Geeks Flight Battle — a lucha libre-like beer flight smackdown.
Three years in the beer industry, young buck Jamieson was on the opening team at Imbibe Bottle House and Taproom in Maple Valley before becoming the beer buyer at CRFT Beers in Auburn. He now sells AleSmith, Boneyard, Epic, Knee Deep, TRVE, Wild Ride and other craft beer for Alpha Distributing.
Bosold, on the other hand, has seen some years in the beer business. As bartender in 2011, he brought in craft beer at the Goldfish Tavern in Tacoma. Following a stint at the now defunct 99 Bottles, he became the beer buyer for BevMo! in Washington state. Next, after running the beer department and wicker section at Cost Plus World Market, he became a sales executive at Click Wholesale Distributing, which merged with The Odom Corporation to form NW Beverages. Bosold could pull from Bale Breaker, Double Mountain, Everybody's, Founders, Modern Times, pFriem, Stone and hundred others.
The two Washington state beer distributor reps will fill five beer style slots from their brewery catalogs with Peaks and Pints customers picking the best beer flight. That's right, you judge; simply pick one of the two, $12 flights and enjoy the deliciousness. When the clock strikes 11 p.m. the rep who sold the most flights wins.
Saturday, Oct. 27, as you work through one of the two available flights, you'll raise one of your taster glasses saluting the two gentlemen. They each created the finest beer flight in all the land. You'll close your eyes and sip the highly regarded imperial stout, enjoying its rich bourbon flavor … until one of the two beer geeks knocks it out of your hands as he performs a kick-ass backflip off the bar top followed by a scruff-of-the-neck slam-down of his beer flight opponent. The audience will call for more blood. And beer.
Alpha Distributing Beer Flight
Taster One: Epic Brewing Oak and Orchard Cabernet Sauvignon Sour
Taster Two: Barrel Mountain Brewing Luv Ya Lager
Taster Three: Boneyard Beer Hop Venom
Taster Four: Boundary Bay Scotch Ale
Taster Five: AleSmith Brewing Celestial Dawn Speedway Stout
or
NW Beverages Beer Flight
Taster One: Cascade Brewing Flamblanc
Taster Two: pFriem Family Brewers Japanese Lager
Taster Three: Melvin 2×4 DIPA
Taster Four: Black Raven Brewing Second Sight Strong Scotch Ale
Taster Five: Modern Times Bourbon Barrel Aged Monster's Park with Cinnamon, Cocoa Nibs, Coconut and Piloncillo
BEER INUSTRY GEEKS FLIGHT BATTLE, 11 a.m. to 11 p.m., Saturday, Oct. 27, Peaks and Pints, 3816 N. 26th St., Basecamp Proctor, Tacoma, $12 each flight
LINK: Peaks and Pints Second Anniversary Cool Camp Week, Oct. 27-Nov. 1
LINK: Carnivale de Belgian Beerloo, Oct. 28