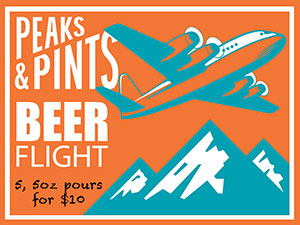 Peaks and Pints loves blackberries. Tart, sweet and complex but guarded by thorny branches, these alluring fruit have been a favorite of ours since we were kids. The sweet allure of picking our own berries for cheap prices has dulled a bit, considering that after we make the drive out to one of the South Sound's neighboring farms, our gas intake may put the cost of berries on par with Met Market's offerings. It's much cheaper to pick taster glasses full of blackberry cider and craft beer from Peaks and Pints' beer flight tree crosscuts, which you can do today with out Craft Crosscut 2.15.18: A Flight of Blackberries.
2 Towns Made Marion
6% ABV
In late 2010, Corvallis homebrewers Aaron Sarnoff-Wood and Lee Larsen filled a gap in the college town's drinking scene — cider. The duo opened 2 Towns Ciderhouse crafting unique ciders brewed with the traditional English and French-style's tannic apples, Oregon grown, of course. The Marion blackberry was originally bred for Marion County, Oregon farmers. Tangy and full of ripe, rich berry notes that shine in 2 Towns' Made Marion, even after blended with Northwest apples. The nose is expressive dark berry and cherry, with apple and sweetness. The taste follows suit — blackberry-like, tart and tangy with a medium bodied and low effervescence with a subtly dry finish.
Oakshire Sun Made Blackberry
4.1% ABV, 12 IBU
The only thing we like better than a traditional Berliner Weisse — a mildly sour German wheat beer named for the city where it was born — is a traditional Berliner Weisse with a little blackberry syrup. Oakshire Brewing's Sun Made is a Berliner that requires no syrup to get that extra layer of flavor. Inspired by 10 Barrel's Crush series, the Eugene brewery adds bushel after bushel of Oregon blackberries to this softly tart 4.1 percent ABV sour wheat beer. Pouring a deep amber-red with a thin white head, Sun Made Blackberry begins with wheat malt and tart blackberry flavors, then finishes dry with tart blackberry and some salty flavors.
Almanac Farmer's Reserve Blackberry
6.9% ABV
Founders and former home-brewers Jesse Friedman and Damian Fagan started Almanac Beer Co. in 2010, crafting unique seasonal beers that use local Northern California produce, partnering with a different small farm each year to supply their fruit. This sour blonde ale is infused with loads of coastal blackberries from California's Santa Cruz Mountains and aged in wine barrels to mature with its house culture of Brett, Lacto and magic. The blackberries ferment away leaving behind a brilliant purple color and complex mineralogy, reminiscent of old-world French red wine.
New Belgium Oscar Aged In Blackberry Whiskey Barrels
8.8% ABV
New Belgium's suspended its popular Lips of Faith series for its new cork and cage Wood Cellar Reserve series, which includes Oscar Aged In Blackberry Whiskey Barrels. The roommate to Felix Aged In Apple Whiskey Barrels this, 100 percent foeder-aged dark sour is additionally aged and freshly decanted in Rocky Mountain BlackBerry whiskey barrels from Leopold Bros. Distillery in Denver. There is a moderately sour dark malt flavor with some tasty blackberry and a whiskey and oak finish. It's a lovely winter sipper with a warm alcohol trail.
Puyallup River Blackberry Cobbler a La Mode
6.5% ABV, 15 IBU
Reminiscent of the smell in Granny's kitchen on a Sunday afternoon, this beer is liquid dessert for any home-cooked meal. It tastes just like its name. Puyallup River Brewing takes an American style light golden ale with biscuity malts and adds vanilla beans, lactose and a massive amount of blackberries.
---