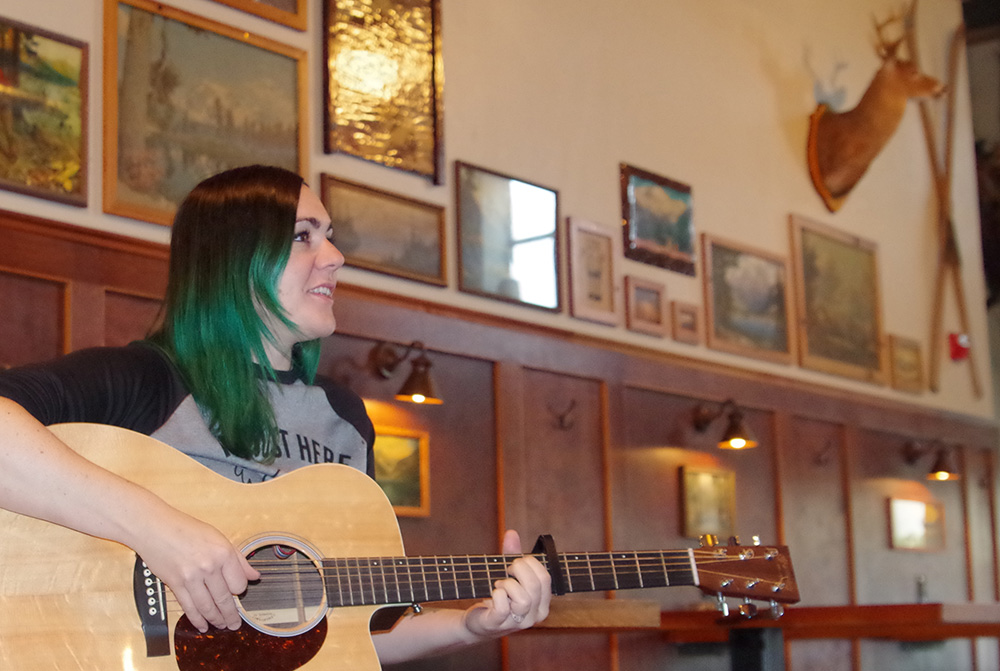 Catching up with Kristen Marlo, it's the new extreme sport. The object? Just to keep up with her. Tacoma's much-beloved singer-songwriter rattles off a laundry list of her current events as if she's chugged a partyball of Georgetown Brewing Bodhizafa IPA. Incidentally, one of the things Marlo is amped about is her Valentine's Night show with Georgetown Brewing at Peaks and Pints — where she often pours Bodhi during her Monday through Friday daytime bartending stints at said bottle shop, taproom and restaurant in Tacoma's Proctor District.
Marlo has been a fixture on the Tacoma music scene since 2016 when she moved here from Air Force duties in Germany. But, her singer-songwriter canon — exquisite doses of addictive, honeyed indie-pop, astounding vocal range and delirious songwriting prowess and soul-healing laughter — can be traced back to posters and albums blanketing Spokane, Boston and Europe.
Let's, as they say, start at the beginning. She received and "A" for world experiences, but a "D" in music class, at least according to her high school choir teacher who couldn't bring her make her blend. She wanted to be heard. Didn't matter. She graduated from classical training, then taught herself guitar. Her vast life experiences — staring at beautiful scenery and beautiful male eyes staring back at her — provided inspiration for her prolific songwriting, which cover the full range of human emotion — from love and lust to rage and revenge. You know, musician stuff.
She also studied the international known artists she's opened for, including Sara Bareilles, Joshua Radin, Matt Hires, Eric Hutchinson, Allen Stone, April Smith, Fanfarlo, The Bravery, Gary Jules, folk singer Todd Snider, country artist Eric Church, among others. A social media exchange scored her an Electronica charts hit when Australian-based DJ MaRLO agreed "Marlo" was a cool name and the duo forged a long-distance recording friendship over her song, "Is It Real," morphing it into driving electropop gem with Kristen Marlo crying out, My lungs collapse/I cannot breathe anymore/I cannot breathe! Based on her original song, "Separation Anxiety," the lyrics tell of her dog's anxiety being separated from Marlo.
Her Valentine's Night concert at Peaks and Pints suites her well. Not so much as it's part of her identity, but rather the occasion. She's a tough artichoke to crack, as her tattoo states. She also has a huge heart. The artichoke on her arm reminds her daily that while people "cannot breathe" reacting to her biting wit and sharp jabs. Artichokes have a rough exterior and arduous to eat, but beneath lies a giant heart that blooms, like Marlo. Her song garden is full of songs about trials and tribulation of love. Her heavy black eyeliner occasional traces her emotions. She'll quickly snap back, brightening the room with a joke or chugging a beer faster than one could order it. The heart still beats.
She's played virtually everywhere around Tacoma, not to mention all over the state and the region. But for a serious artist, wearing out your welcome at home; that's death. And sometimes skipping the open mics, you find gold, at least according the Marloism.
What sets Marlo apart from other flash-in-the-pan singers? She sounds like the love child of Feist and Regina Spektor. But her sweetly cheeky lyrics and her skillful crescendos are all her own. She's not afraid to belt out away from the mic, because she can, then bring it back the loveliest of whispers.
We caught up with the doe-eyed ruler of the divine female songstress universe before her Feb. 14 show at Peaks and Pints.
PEAKS AND PINTS: Do you have to be depressed to write a sad song? Do you have to be in love to write a love song? Is a song better when it really happened to you?
KRISTEN MARLO: Bro, those lines are from the movie Almost Famous.
PEAKS AND PINTS: No, they're not.
MARLO: Be better.
PEAKS AND PINTS: OK, they are. Well?
MARLO: It will definitely come out better if you're actually feeling the emotions you're trying to write. I personally throw a little of myself into every song. Each one is entirely true or like at least a percent anyway. There is some of me and my life in everything I write.
PEAKS AND PINTS: You pay attention to the room. You'll call out thing you find interesting and funny, rather than head down and plow forward. Were you a class clown?
MARLO: I've always just been me. But it does take time to understand your audience. That only comes with a lot of shows.
PEAKS AND PINTS: So you approach a winery gig different than a stage show with 200 people in the audience?
MARLO: It's all show dependent. A 200 show doesn't necessarily mean I have to be funny or not funny. It's really just about who's out there … if they clap … if they are interested or not interested … if I hate them or fall in love with each and every one of them.

PEAKS AND PINTS: The great local blues musician Billy Stoops praises your guitar work, especially your ability to play percussion off the guitar. Was it a conscious decision to go that route or did it happen organically?
MARLO: Totally organically. I still don't know how to play. I just make noises and cover it with my voice. People buy that I'm more talented on the guitar than I actually am.
PEAKS AND PINTS: So, what do you love about music?
MARLO: Dude, that's from the movie again. We're done.
VALENTINE'S NIGHT WITH KRISTEN MARLO AND GEORGETOWN BREWING, 6 p.m. Thursday, Feb. 14, Peaks and Pints, 3816 N. 26th St., Basecamp Proctor, Tacoma, no cover
---