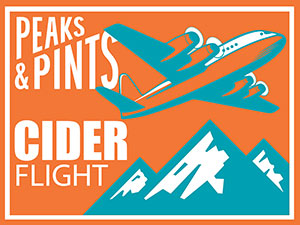 In 2008, Craig Campbell and his wife, Sharon, began experimenting with making cider from dessert apples grown in their 400-acre commercial fruit orchards in Yakima, Washington. Despite naysayers who warned that cider apples required a maritime climate, Craig also planted a two-acre test orchard with 25 varieties of cider apples. Today, their two-acre experiment expanded into Cider View, a 30-acre "high-density" cider orchard. In their commercial cidery, Tieton Cider Works, they blend American heritage, English and French cider varietals with dessert apples to capture the best of what each variety brings to the bottle: sweetness, acidity, tannin and aroma. Tonight, Peaks and Pints hosts a can release party for Tieton's Bourbon Barrel Peach cider. In celebration, we present an all-day flight of Tieton ciders that we call Craft Cider Crosscut 6.5.19: Flight of Tieton.
Craft Cider Crosscut 6.5.19: Flight of Tieton
Tieton Apricot Cider
6.5% ABV
When Tieton infuses their crisp apple cider with the tartness of apricot, the apple notes play a supporting role and let the tartness of the apricots shine.
Tieton Cherry Blend
6.9% ABV
Tieton's Cherry Blend offers crisp apple cider that finishes with the sweetness of cherry and hints of clove and cinnamon blended with a tart acid to stand up to the sweetness of the cherry. Expect a light body, light carbonation, and moderately sweetness.
Tieton Single Varietal Harrison
6.9% ABV
Tieton loves Harrison apples. The Yakima cidery incorporates Harrison apples in many of their ciders because it's great for blending with other apples. It also makes a good cider on its own. Tieton Single Varietal Harrison is golden colored, with spiced apple, honey notes and a deeply rich mouthfeel finishing with a lingering hint of ginger.
Tieton Bourbon Barrel Peach
6.9% ABV
This year, Tieton's popular Bourbon Barrel Peach cider was aged in previously used Dry Fly bourbon barrels. Aging in bourbon barrels gives the cider deep, rich notes of vanilla and spice.
---