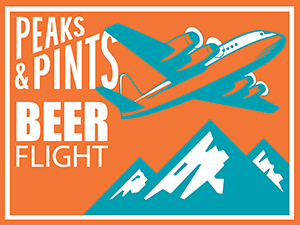 The beer cocktail is a fickle friend. Dropping a shot of sake, Baileys Irish Cream, or Jagermeister into a pint of lager might get you smashed but it won't taste very good, and mixing in another liquid can overpower a beer's subtle flavors. But brewers, who know a thing or two about beer, brew craft beers that mimic mixed drinks. When beer is your job, you don't necessarily want to go home and drink more beer. So it's no shocker that on his or her down time, brewers like a stiff cocktail — which has led to craft beers that taste like cocktails; what a vicious, delicious cycle this is. The base is beer (usually, but not always, a strong one), but then the brewer became a bartender, measuring in specific ingredients that seem like novelties until you actually taste how uncannily the final product resembles a cocktail. Today, Peaks and Pints salutes cocktails with a beer flight we like to call Craft Beer Crosscut 6.4.19: Flight of Cocktail-Inspired Beers.
Craft Beer Crosscut 6.4.19: Flight of Cocktail-Inspired Beers
Pelican Sea Breeze
7% ABV, 21 IBU
Pelican Brewing has released Sea Breeze Ale, the next in a cocktail-inspired line of Lone Pelican series. The limited production small batch brew takes inspiration from the original Seabreeze cocktail that marries gin, cranberry juice and grapefruit juice. To bring all the classic flavors to this atypical beer, Pelican added cranberries to the secondary fermentation and then spiced the beer with juniper berries, lemon peel and grapefruit peel. Centennial hops for dry-hopping round out the grapefruit impression and create a beer with incredibly refreshing fruity, tart and citrus characteristics, coupled with the herbal gin-like notes of juniper.
Founders Mas Agave
10% ABV
This margarita-inspired release is an imperial gose, brewed with agave and lime, and aged in tequila barrels. Dip your nose in for all the margarita — salty, tangy, lime, and agave. In fact, Founders Brewing Mas Agave tastes like a margarita too — citrusy lime, tart, salty, smooth, with minimal alcohol warmth at 10 percent.
Gigantic Corpse Reviver #2
9.3% ABV, 25 IBU
Popularized by the 1930 Savoy Cocktail Book by Harry Craddock, the classic Corpse Reviver No. 2 cocktail is part of a succession of "Corpse Revivers" originally devised as a hangover cure. The Corpse Reviver #2 is rightfully considered by many to be the best-tasting of the Corpse Reviver cocktails: Absinthe rinse, gin, Cointreau, Lillet Blanc and fresh lemon juice. It's one of the staples at Chicago's gin-focused bar Scofflaw. Gigantic Brewing's version features their citrus sour aged in Ransom Old Tom Gin Barrels with fresh oranges and lemons.
Anderson Valley Wild Turkey Old Fashioned
8.3% ABV, 45 IBU
Inspired by their love for the classic bourbon cocktail, Anderson Valley Brewing Wild Turkey Old Fashioned is robust brown ale is brewed with orange peel and Hersbrucker hops, which naturally have orange-like flavors. Fresh cherry puree is added toward the end of fermentation, and then the beer is aged in Wild Turkey barrels with aromatic bitters. The rich, caramel malts and fruity, herbal notes complement the bourbon flavors and slightly bitter finish offers a solid mimic of the Sinatra era cocktail.
Stone Scorpion Bowl IPA
7.5% ABV, 76 IBU
Stone Brewing's IPA version of a Scorpion Bowl cocktail is a brash, Mosaic, Loral and Mandarina Bavaria hop-forward ale that hinges on an assault of fruit that is so bold it borders on being electric. There's a wee bit of pineapple, Mandarin orange and mango in the middle of the sip — and all the passionfruit — but all of the fun stuff happens in your mouth after the Scorpion disappears. That's when an intense, tart fruitiness takes over, like you're sucking on one of those sour candies. The finish is dry at first, but then your mouth starts to water again and that fruitiness comes back with a vengeance.
---