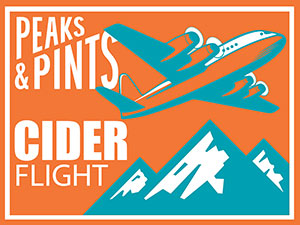 The wine industry is fond of speaking about the individual flavor characteristics that it takes from its environment. This terroir is present in all growing things that are tended with passion and care. The environment that builds flavor is more than simply the soil or the climate: it is also the passion and commitment of the grower. Craft cider believes in the same values. The "estate" cidery concept stems from European beer origin, in which beer was brewed at individual farmhouses with ingredients grown onsite and fermented with naturally occurring, airborne yeast. Many modern-day cideries are making an effort to return to these roots — they're growing apples and fruit in their own orchards, rather than contracting out or gathering apples from other orchards. Our weekly Monday flight today, Peaks and Pints Monday Cider Flight 6.3.19: Estate Cideries, features five cideries that prefer wearing overalls.
Peaks and Pints Monday Cider Flight 6.3.19: Estate Cideries
Finnriver Farmstead
6.5% ABV
When one of Washington's earliest cidermakers, Drew Zimmerman, retired, Finnriver Farm & Cidery owners Keith and Crystie Kisler transplanted 1,000 of his trees from Mount Vernon to their Chimacum farm, a heartwarming, if labor-intensive transition from old guard to new. Every so often, Finnriver invites friends and neighbors to bring their bruised, bitter and bizarre apples to their farm to add to the bins. The cidermakers then press and ferment this medley of fruit, and slightly sweeten to balance acidity and tannins. They conduct three different ferments with three different yeast strains to harvest subtleties from each and combine together for a cloudy yet clean farmhouse cider. Sweetened with organic cane sugar. It hits the nose with warm bread and sweet apple. It offers a rustic taste of the ripe orchard and hearty homestead cider tradition. Nutty with a sharp acidity that balances a gentle tannic finish. Unfiltered lees lend body to this cider.
Alpenfire Glow Rosé Hard Cider
6.8% ABV
Alpenfire Cider is based in the seaport town of Port Townsend, Washington. They are a family run, certified organic, estate cidery and orchard planted in 2003. They created this a single varietal rosé cider with Hidden Rose apples, a rare, dessert apple variety. The aroma is composed primarily of a really luscious, ripe apple character. Amazing! On the palate expect a robustly built cider, sporting rich tannin, notes of caramel and a rich weightiness that is tamed by the sparkle. Not atypical cider by any means.
Dragon's Head Cider Wild Fermented
6.9% ABV
Wes and Laura Cherry take their Dragon's Head Cider products from apple to bottle, blending fruit from their 2,200-tree orchard on Vashon Island with apples harvested by other small Washington family orchards. Their Wild Fermented is a farmhouse cider, which means rather than carefully selecting a yeast strain for the fermentation, they allowed the wild yeast present on the skin of the apples to ferment the cider. The result is a moderately tart cider with lemon and young pineapple flavors up front followed by mild spice and lingering grapefruit notes.
Snowdrift Cornice
7.8% ABV
Snowdrift Cider Company sits in Central Washington near East Wenatchee. The cidery controls its own source of apples, tending an orchard that not only produces dessert apples, but also an array of traditional cider apples including Dabinett, Foxwhelp, Golden Russet, Brown's, Wickson Crab, Calville Blanc d'Hiver, Yarlington Mill and Ashmead's Kernel. Snowdrift made an off-dry cider then aged it in brandy barrels for bright lime notes, smooth apple and subtle honey, plus vanilla/brandy/caramel character from the barrels.
Sea Cider Wolf In The Woods
9.9% ABV
Sea Cider is a farm-based cidery located on the Saanich Peninsula just minutes from Victoria, on Vancouver Island. In 2007, Kristen Jordan purchased the property with a vision of creating an organic farm and orchard and producing traditional fermented artisan ciders. Today, the 10-acre farm is home to more than 1,300 apple trees, made up of over 50 varieties of heritage apples. Botanically infused with hops and grand fir needles, Wolf in the Woods is a hard apple cider with a timberland twist. This unique union creates a dry cider that leads with grapefruit aromas and finishes with hopped herbal notes.
---