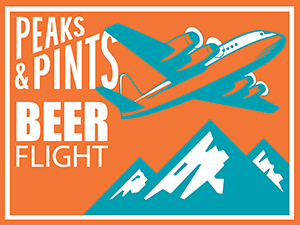 Hey you! Put down that pina colada! Peaks and Pints suggests you reach for five coconut accented ales in our beer flight, Craft Beer Crosscut 6.1.19: Flight of Coconut Beer. The word "coconut" can also be confusing because the word "nut" is contained in the word. A nut can be defined as a one-seeded fruit. With that loose definition, a coconut can also be a nut. However, a coconut is not a true nut, but is rather the fruit of the coconut palm. Technically, it's a "drupe" belonging to the same family of fruits as peaches, plums, mangoes cherries and olives. Call it what you will — from water to oil to sugar, coconut's having a moment, especially at Peaks and Pints today.
Craft Beer Crosscut 6.1.19: Flight of Coconut Beer
Icicle Brewing Dark Persuasion
6.5% ABV, 22 IBU
Icicle Brewing Co. sits in the Bavarian theme park known as the city of Leavenworth, which seems perhaps the most appropriate place for a brewery. Owner Oliver Brulotte, who has deep family roots in Washington's hop farming history, basically launch the Wenatchee Valley's craft-beer boom. The brewery draws their water from nearby Icicle Creek, a run-off from surrounded by numerous mountain ranges including the Stuart Range and Wenatchee Mountains. And, Icicle Brewing makes a liquid German chocolate cake, Dark Persuasion. Seriously, this stout tastes exactly like German chocolate brownie, with strong chocolate and coconut notes, a touch of vanilla and a smooth finish.
Maui Brewing Coconut Hiwa Porter
6% ABV, 30 IBU
Brewed with hand-toasted coconut and six varieties of malted barley, Maui Brewing's Coconut Hiwa Porter is a very dark, almost impenetrable, black coffee color. The aroma recalls baked coconut macaroons or, on the other end of the spectrum, coconut suntan lotion. The coconut flavor is present, but not overwhelming in the mouth, along with other roasted earthy lactose flavors.
­Oskar Blues Death By Coconut
6.5% ABV, 45 IBU
Oskar Blues Brewery's Death By Coconut is a standout Irish porter cold-infused with dried coconut. The coconut is steeped in the beer, tea-like, in large sacks as to get the aroma and creamy sweetness of the coconut into the beer. Death by Coconut's other essential ingredient is cholaca, a liquid chocolate made with cacao and coconut sugar. The cholaca doesn't just gel with the porter and coconut, but it accentuated both aspects well. It's a rich, full-bodied fudgy coconut porter with toasted marshmallow notes too.
Decadent Decadent Delight
11.7% ABV
Decadent Ales is a craft brewery in New York specializing in intriguing flavored brews. Evil Twin Brewing is a nomadic beer creator from Denmark that has found a permanent home in Brooklyn, New York. The two New York breweries teamed up to create a pastry stout that was released as part of the Twelve Percent Beer Project on April 29, 2018 at Veracious Brewing Company in Monroe, Connecticut. Decadent Delight is brewed with coconut, pistachio, rum flavoring (made with molasses and sugar cane) and a small touch of cinnamon. It hits the nose with molasses, roast, nuttiness and a hint of coconut. Taste is cinnamon and brown sugar, with some pistachio, moving to roast and light coconut.
Evil Twin OFYMD
12.8% ABV
Jeppe Jarnit-Bjergsø contract brewed at Westbrook Brewing in South Carolina before moving his Evil Twin Brewing to Brooklyn, New York. The two breweries have collaborated on many a craft beer, including OFYMD — a pina colada style imperial stout featuring pineapple and toasted coconut. On the nose, expect caramel sauce, maple syrup, milk chocolate, hint of coffee, coconut and vanilla. The taster is similar but with milk chocolate, toffee and vanilla in the frontline while finishing with pineapple, coconut and roasty coffee.
---