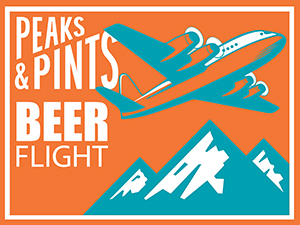 Collaborations between breweries aren't exactly new, but their results have become a much more common sight in Peaks and Pints' cooler lately. Collaborations can give brewers a chance to exchange ideas with others and mix their individual house styles. The best collaborations often result in something unique that neither brewery would normally make on its own. Typically, whoever owns the collaboration brewing system and sells the beer sets the rules. Also, when professional brewers collaborate with other professional brewers, the conversations lean toward technical details. When professional brewers collaborate with civilians, the brewing room chatter tends to be more about big ideas and work up something possible. Today's beer flight centers on collaborations — professional and civilian participants — that we have titled Craft Beer Crosscut 8.31.19: Flight of Teamwork.
Craft Beer Crosscut 8.31.19: Flight of Teamwork
Three Magnets The Pine Hearts Back To Sustain
5.8% ABV
Three Magnets Brewing teamed up with buddies Joe, Derek and Dean of Olympia bluegrass band, The Pine Hearts, to brew a saison named after their album, Back To Sustain. They created a little bit of Americana by infusing a classic saison style ale with a hearty dose of pinene terpenes (derived from pine, not weed) and hopped with the pine sap and tropical character of Simcoe hops. Bonus track: the beer features all Washington-grown malts from Linc Malt in Spokane.
De Proef Zwart Black Star
8% ABV
For 2018's De Proef Brouwerij's annual Brewmaster's Collaboration series, Dirk Naudts partnered with Surly Brewing's Jerrod Johnson and Ben Smith to craft an old ale with star anise and Brettanomyces, creating a delicious beer that will continue to develop with time. Dip your nose into Zwart Black Star for big, sultry, woody caramel, brown sugar, ripe tree fruit and a hint of tropical Brettanomyces. The Brett is back for the flavor profile with lots of oak, whispers of bourbon, a bit of plum, and dark Belgian fruity malts. Zwart!
Gigantic Hellboy (Abe Sapien Indigo Pale)
6.66% ABV
To commemorate the 25th anniversary of the publication of Hellboy: Seed of Destruction, Gigantic Brewing and Dark Horse Comics collaborated on a series of Hellboy craft beers, all ringing in at 6.66%. The latest, Abe Sapien Indigo Pale, named after "Ichthyo sapien," the fanciful species designation chosen for him by his colleagues in the 19th-century Oannes Club, and from Abraham Lincoln, on whose assassination date the Oannes Club abandoned Abe's body, leaving only a cryptic note as explanation, in a suspended animation tank beneath a Washington D.C. hospital. He is occasionally referred to as an "amphibious man." We know. Anyhoo, Abe Sapien is a bicoastal beer that is inspired by both, East and West Coast styles of IPA but with its very own twist. From its first pour, Abe Sapien is an indigo hued beer that is full of citrus and berry hop flavors from its use of Citra, Mosaic and Nugget hops. The beer is also infused with natural indigo to create this one of a kind vivid, blue beer.
Modern Times/Garage Project Easy As Is Pretty Sweet
6.7% ABV
Aug. 2-11, 2019, a week of beer events took place in Wellington and beyond, leading to New Zealand's premier beer festival, Beervana. In conjunction, Wellington brewery Garage Project brewed a hazy IPA with Modern Times Beer, Easy As Is Pretty Sweet. The result is a thick soupy yellow-gold-colored pour with a fine white head. The aroma is big, luscious tropical fruits, sweet and sticky peach, mango, and white grape. Slick oats hit the tongue with creamy sweet fruits, mango juice nectarine, and peach.
Ecliptic/Bell's Juicy IPA
8.5% ABV, 50 IBU
In celebration of their fifth year traveling round the sun, Ecliptic Brewing created the Cosmic Collaboration series, "5 Beers for 5 Years," in which the Portland, Oregon brewery brews celestial concoctions with five other esteemed breweries. Peaks and Pints hosted the first three collaborations — Brooklyn Brewery in April and Firestone Walker in May and Breakside Brewery in July. We opened the pod bay door again for Ecliptic's fourth Cosmic Collaborator, Bell's Brewery of Comstock, Michigan, last night. Ecliptic Brewing owner and brewmaster, John Harris, worked with Bell's founder Larry Bell to create the Juicy IPA (8.5%) brewed with 2- row, Pale and Munich malts, along with Oregon Strata hops and two hop varieties from New Zealand — Galaxy and Taiheke — but it's the beer making process that really brings out the unique flavor. Harris, Bell, and Bell's director of operations, John Mallett, added ice to the whirlpool to lower the temperature, which helps reduce bitterness and bring out the hops' flavors. This results in a big, bright and juicy IPA.
---