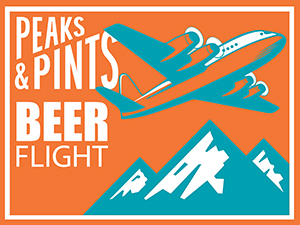 In September 2017, Peaks and Pints released The Hunt For Fresh Hoptoberfest on the masses, a month-long autumn beer party marrying up two popular seasonal beers — fresh hops and Oktoberfest. Women dressed in lederhosen. Men got fresh … hop beers. Hop farmers and malters began living together — mass hysteria! Last September, Son of Fresh Hoptoberfest not only was a worthy successor to the first fresh hop-Oktoberfest mash-up, but even better as we didn't force our guests to listen to tuba music from open to close. Beginning today, and running all month, Rise of Fresh Hoptoberfest arrives at Peaks and Pints with bright, fresh-hop beers, just hours from field to kettle and mere days from the fermenter to your glass AND clean, hearty Oktoberfest-style lagers from Germany and nearby. This year, we kick off the celebration with a flight, Craft Beer Crosscut 9.1.19: Flight of Fresh Hoptoberfest.
Craft Beer Crosscut 9.1.19: Flight of Fresh Hoptoberfest
Sierra Nevada/Bitburger 2019 Oktoberfest
6% ABV, 22 IBU
For its annual seasonal bier, this year Sierra Nevada Brewing teamed up with Germany's Bitburger Brewery, which was in 1817, and has been family-owned for seven generations. This beer is brewed with Bitburger's famed Siegelhopfen (meaning "sealed hops") — a classified hop blend that has never been shared outside the German brewery walls. The beer will also feature Bitburger's custom yeast, another house ingredient gifted for the first time ever. The collaboration Oktoberfest offers a rich amber color, sweet and toasty malty flavor with a light herbal hop bitterness.
Ayinger Oktober Fest-Märzen
5.8% ABV, 25 IBU
Sweet and grainy on the nose — think of fresh bread baked with honey and raisin — Ayinger Oktober Fest-Märzen features a touch of bitter hops and fresh straw upfront before veering into a long malty finish. However, the beer dries out nicely to avoid a sticky or cloying aftertaste. This beer pairs beautifully with our pretzel bread sticks and side of beer mustard. Gemütlichkeit is, of course, free as always.
Alpine Oktoberfest
6.5% ABV
Bart Traubeck knows German brewing techniques. In the 19080s, he sold brewing equipment for a German manufacturer. His sales took him to the Pacific Northwest where he fell in love with its beauty … and opportunities. After he sold equipment to Buchanan Brewing in Oroville, Washington, he bought the fledgling brewery in 2000, renaming it Alpine Brewing and focusing on lagers. His Oktoberfest is slightly stronger than his Munich Märzen, a little less malty, but the same smoothness and full body.
Occidental Fresh Hop Pilsner
4.8% ABV, 55 IBU
Long before the Portland neighborhood of St. Johns finally hit its long-anticipated growth spurt, the Occidental Brewing Company set up shop near the bridge and quietly started brewing some of the best German-style ales and lagers in Oregon. Thanks to an expansion into a Wursthaus, you can get a grilled brat, as well as a number of other options, to go with your Bohemian-style pilsner. Occidental Brewing Co. was founded in 2011 by Ben and Dan Engler. Focusing on largely traditional continental European beer styles, Occidental has won numerous awards. Recently, Occidental Brewing made a trek south of Portland to Goschie Farms in Silverton, Oregon. Once there, Occidental Brewing picked up freshly harvested Hallertauer Mittelfrüh noble hop cones and then drove them back to Portland. Upon returning to the brewery, these Hallertauer Mittelfrüh hops were then added to the brite tank with Occidental's award-winning Pilsner, bumping up the IBUs by 20. The flavor and aroma notes now include a balance of spice, fruit, and fresh flowers.
Two Beers Fresh Hop IPA
6.2% ABV, 70 IBU
Two Beers Brewing Co. continues its tradition of releasing the first Fresh Hop IPA of the season, with the first keg arriving at Peaks and Pints Aug. 9. First brewed in 2009, Fresh Hop IPA enters its ninth season on the Two Beers lineup, remaining one of the Seattle-based brewery's most popular releases. A true labor of love, Fresh Hop IPA is made with fresh Centennial hops from fifth generation hop farmers, Puterbaugh Farm in Yakima Valley. Two Beers Head Brewer Jesse Ransavage and Production Manager Ben Antonius continued the annual Two Beers tradition of traveling to Yakima to harvest hop bines by hand. The hops are handpicked by dozens of staff and volunteers on the brewery dock; the process allows Two Beers to go from hop bine to brew in less than 24 hours for an exceptional finished product, for a technically wet hop. This year's Fresh Hop IPA is brewed with more Centennial, giving the brew a juicy citrus aroma balanced with a delightfully bitter finish.
---