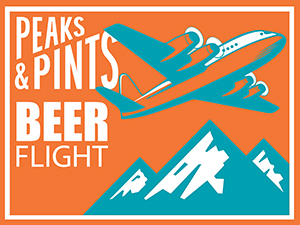 For the most part, sour beers are divided (roughly) into two camps: beers that are long-fermented and aged in wood barrels, using a yeast strain called Brettanomyces and acidifying bacteria, such as Lactobacillus and Pediococcus; and beers called "kettle sours" that are acidified with bacteria prior to fermentation and spend their time in warm stainless tanks rather than oak barrels. Taking the barrel route normally demands at least six months of fermentation before bottling, and the beers often go through another fermentation process, while in bottle, which adds a few months (at least) before they hit the shelves. Kettle sours, on the other hand, require just about a month of fermentation before bottling. Ten years ago sours sprinkling bottle shop shelves were imports — largely from Belgium (Ground Zero for sour production) and Germany. Today, domestic sours line the shelves, many from Oregon. Today, Peaks and Pints examines five Oregon sours in our beer flight, Craft Beer Crosscut 8.30.19: Flight of Oregon Sours.
Craft Beer Crosscut 8.30.19: Flight of Oregon Sours
Ecliptic Tucana Tangerine Sour Ale
4.8% ABV
John Harris' background in one steeped in Oregon's rich craft brewing history. After beginning as a brewer at McMenamins' breweries, he moved to Deschutes where he created the recipes for Mirror Pond, Black Butte Porter, Jubelale and Obsidian Stout. He spent the next 20 years of his career as a brewmaster at Full Sail in charge of creating the Brewmaster Reserve line of beers. In 2013, Harris founded Ecliptic Brewing purchasing the brewhouse from friend and Dogfish Head founder Sam Calagione. A play on Ecliptic's fan-favorite, year-round Carina Peach Sour Ale, Tucana Tangerine Sour Ale is a light and refreshing option brewed with tangerines from Oregon Fruit Products — a twist of tangerine plays with the balanced tartness of this sunset-hued sour ale. Pale and wheat malts help create a crisp, tart beer, while Cascade hops complement the citrus notes and burst of tangerine flavor.
Upright Hearts' Beat
6.8% ABV
Upright Brewing owner and Brewmaster Alex Ganum opened his brewery in the basement of Portland's Leftbank building in 2009. Since then, Upright has made a name for itself brewing Belgian-style saisons, sours and fruit beers, as well as pushing outside the boundaries of what a standard Pacific Northwest beer tastes like. Ganum's Hearts' Beat is a wine barrel-fermented sour cherry beer made with Oregon Brooks cherries that are bolder and darker, akin to Bing cherries. The cherry boldness shares the profile with soft esters and light oak spiciness, while the acids are a balance of acetic and lactic, a nod to the beers of Flanders.
Cascade Crazy Navel 2016
7.6% ABV
Art Larrance was no stranger to the Oregon craft beer scene when he established Cascade Brewing in 1998. He partnered with Brewmaster Ron Gansberg, who oversaw the design and installation of the Portland brewhouse. Together, they took their more than 40 years of combined brewing experience to create fantastic sour beers inspired by an abundance of Oregon fruit. Each of their beers is then aged on wine barrels from the Northwestern Oregon region. Cascade Brewing is a pioneer of the sour beer movement, with all the gold medals and world-class titles. Crazy Navel 2016 is a blend of sour wheat and blonde ales aged in oak wine barrels for 14 months with fresh orange zest. Using both Cara Cara and Heirloom varietals, Crazy Navel captures the essence of the navel orange balanced with a refreshingly tart and dry base beer.
Logsdon Spontane Blanc
7.7% ABV
Logsdon Farmhouse Ales Spontane Blanc is a spontaneous fermented American wild ale brewed with Sauvignon Blanc grapes. On the nose, we get a sharpness from the fruit that increases our perception of the sourness beyond that level, mouthwatering and intense, still funky, still obviously made with aged hops, but with a bit of a different fermentation complexion. It's not overly fruity — fermented down to dry and with full respect given to the base beer. It has a pronounced mineral profile with the oak. Some classic lambic funk arrives as it warms up, with a white cranberry tang.
Ecliptic/Breakside Nectarine Sour Ale
8.2% ABV
Ecliptic Brewing's newest Cosmic Collaboration series, "5 Beers for 5 Years," features the Portland brewery collaborating with five other esteemed breweries to brew five celestial concoctions, and then taking each collaboration on separate tours supported by tapped craft beer from both breweries. Peaks and Pints hosted the first three collaborations — Brooklyn Brewery in April, Firestone Walker in May and Breakside Brewery July 18. Ecliptic Brewing owner and brewmaster John Harris worked with Breakside's brewmaste Ben Edmunds, to create the Nectarine Sour Ale brewed with pale and Munich malts, wheat and oats, but what provides its unique, fruity flavor — pureed and fresh nectarines. A touch of coriander and Ecliptic's house Lactobacillus strain add to the classic sour ale flavor profile.
---