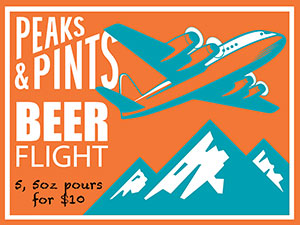 Fourth of July is peak season for the beer industry, according to Nielsen. In fact, the four-week period surrounding July 4 accounts for 8 percent of the beer industry's overall annual sales. And during the two weeks around the holiday last year, domestic premium beer recorded sales of $648 million, while craft beers took in $248 million. It makes sense. Summer is a perfect time for any light, crisp refreshing beer. Still, doesn't our nation's independence deserve better than that? Just like how Halloween-themed beers are dragged to the table each October, Peaks and Pints votes to bring some of the Fourth of July beers to the barbecue this Wednesday. But what is a Fourth of July-themed beer? No, not a Budweiser can with an American Flag splayed across the can. Independence Day beers are more subtle. With names that hint at rebellion, freedom and other tenants of American awesomeness, many year-round craft beers have a built-in necessity to be drunk beneath a fireworks-laden sky. Since Peaks and Pints has limited hours on the Fourth — 11 a.m. to 2 p.m. — we decided to offer our Fourth of July beer flight today, Craft Beer Crosscut 7.3.18: A Flight of Fourth of July-Themed Beer.
No-Li Red White & No-Li
6.1% ABV, 35 IBU
No-Li Brewhouse's Red, White & No-Li Pale made the list for several reasons. First, it has two of three United States flags colors in its name, duh. Second, it's delicious with a bountiful Citra hopping in the kettle and dry-hopping has earned the pale's nicknamed "Fruity Pebbles" due to the enormous fruity aromatics and flavors. Last, it was born out of the Spokane brewery's Red, White & No-Li Small Batch Festival that recognized and celebrated the men and women of Fair Child Air Force Base.
Anchor Liberty Ale
5.9% ABV, 47 IBU
Anchor Brewing was perhaps the most primitive small craft brewery in the world, but by 1971 — the year it began bottling Anchor Steam beer — the San Francisco brewery had perhaps the most modern small brewery in the world, with state-of-the-art quality control systems. In 1975, when Anchor Brewing released its Liberty ale, most beer drinkers had no idea what to do with it. Sure it was light in color and body like all the other beers on the market at the time, but with the American adjunct lager ruling supreme, its floral aroma and bitter taste were from another beer planet. Dry hopped with Cascade hops decades before that was even a thing, Liberty Ale is the precursor to the American IPA and is a reminder of how far we've come in craft beer since America's bicentennial.
Bear Republic Red Rocket Ale
6.8% ABV, 67 IBU
As you pick the craft beer to go with your fireworks and grilling, why not go red, white and brew? Red is for Bear Republic's Red Rocket Ale. What started as a company of the four owners in 1995 has expanded into two locations with more than150 employees. Originally operating on a small brewpub system in downtown Healdsburg, California, Bear Republic has expanded over the last 22 years, with a production brewery established in 2006 just 15 miles North of the original Healdsburg facility in Cloverdale, California, and has become the 39th largest brewery in the United States. Red Rocket Ale is a bastardized Scottish style red ale that traces its origins to Bear Republic's homebrew roots: a great big wallop of hops balanced by sweet caramel malt. It's perfect to pair with the rocket's red glare of fireworks.
21st Amendment Brew Free! Or Die IPA (Blood Orange)
7% ABV, 70 IBU
In 2000, Nico Freccia and Shaun O'Sullivan founded 21st Amendment Brewing in the South Park neighborhood of San Francisco, California. As avid beer enthusiasts, Freccia and O'Sullivan were determined to establish an ongoing celebration of the overturned 21st Amendment to the Constitution (that's the one that repealed Prohibition) and gave their brewery the amendment's namesake to commemorate it. Celebrate freedom in America with their beer that's name says it all (as well as New Hampshire's state motto): Brew Free! Or Die (Blood Orange). From the animated Mount Rushmore artwork — with Abraham Lincoln busting free and ready to kick butt — to the classic floral hops and citrus flavors, the folks at 21st Amendment truly made an all-American IPA with Brew Free! or Die — then add blood oranges. Aroma is fresh citrus rinds, bright orange and tangerine, which carries over to the tongue — juicy fresh oranges, some smooth malt and a citrus peel finish. Not only is it dangerously drinkable — It'll also give you a nice little buzz during your patriotic celebrations at 7 percent ABV.
Firestone Walker Union Jack
7.5% ABV, 70 IBU
Celebrate America's independence from the Brits by consuming one of the best American-style IPAs named after their line-filled flag. A label that shows a lion and a bear moments from sparring is sure to get you back in that revolutionary spirit, but the imagery is not only a reference to Firestone Walker Brewing Co.'s half-English-half-Californian ownership. This double dry-hopped IPA has become a West Coast standard by which many others within the style might be measured. A beauteous grapefruit and citrus aroma is achieved through multi-leveled hopping that involves 4-pounds per barrel mix of Warrior, Simcoe, Cascade, Centennial, Amarillo and Chinook. Citrusy, floral, pungent, and powerful, the masterful blend of American hop characters is simply unlike any other. Even with its 7.5 percent ABV, alcohol isn't actually apparent in the taste; in fact, there's nothing weighty or overwhelming about this beer. It's elegant, light, and palatable, and finishes dry and perfectly clean.
---