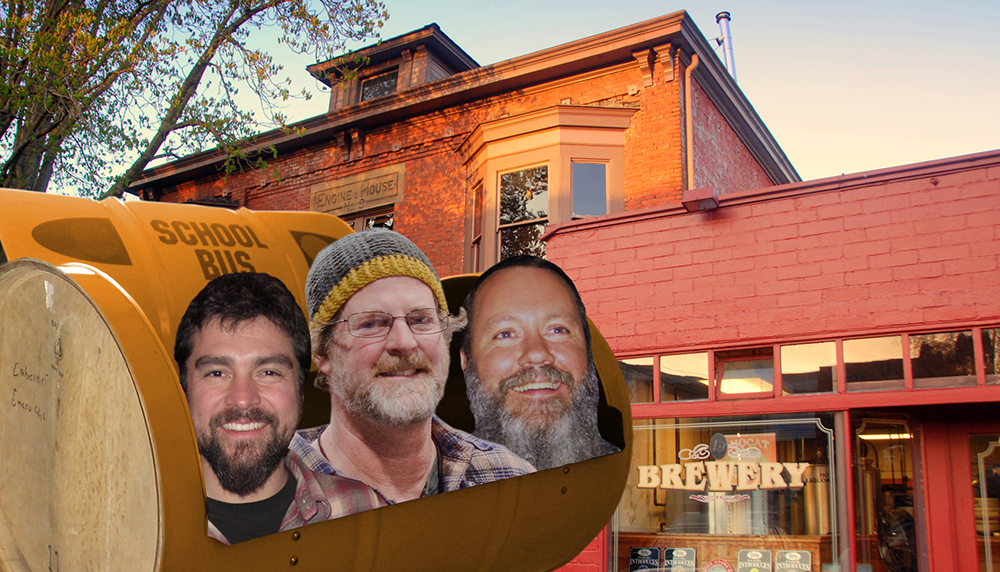 Tacoma Beer Week 2018 Barrel Cruise
One of the most exciting developments in beer is that sour beers, once neglected like documentaries in a Blockbuster, started popping up at bars everywhere — on tap. In our beer-nerd training days, drinking our first sour beer was a big step that took years to lead up to, in part because they were as expensive as they are shockingly different. Now, you can walk into good bars in Tacoma and find sour-beer converts that only a year ago were chugging Blue Moon. Engine House No. 9, Parkway Tavern and Peaks and Pints will take sour sophistication to the next level when the three Tacoma craft beer houses kick off Tacoma Beer Week 2018 with Barrel Cruise, a sour beer education session and bus tour featuring New Belgium Brewing Company's Wood Cellar Director Eric Salazar, Firestone Walker Brewing Company's live-beer program Barrelworks Director Jeffers Richardson and E9 Brewery's brewer Donovan Stewart on Sunday, Aug. 5.
Kicking off at 2 p.m. inside Engine House No. 9's upstairs lounge, three of the most prolific sour beer purveyors in the nation — Salazar, Richardson and Stewart — will lecture on the history, brewing procedure, cellaring and drinking of sour beers, forever eliminating "That's not beer" from beer lexicon and championing the Limburger cheese of beer. At 5 p.m., the 50 Barrel Cruise riders will take their newly acquired sour knowledge and put it to use drinking all the New Belgium barrel sours at Peaks and Pints before boarding the bus again for a 7 p.m. barrel sour session with Firestone Walker at the Parkway. The bus will return to the Engine House at 9 p.m. where riders loaded with new bitchin' swag, will no doubt leave their "This is like drinking a rind of a grapefruit" T-shirts in the backseat of their Uber on the way home.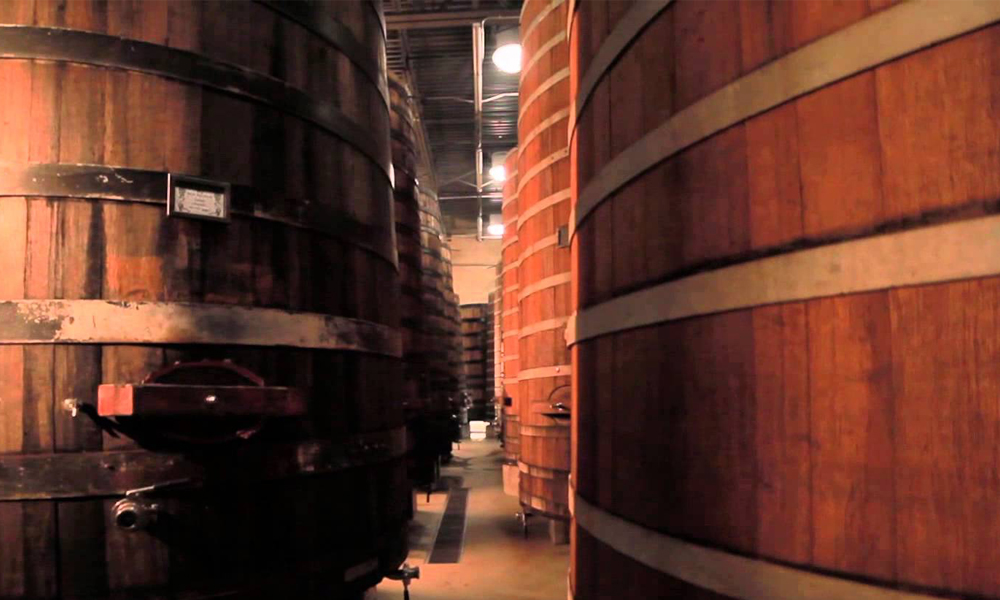 Barrel Cruise: The Beginning
"Before the advent of refrigeration and advances in the science of fermentation in the mid-nineteenth century, almost all beer was, to varying degrees, sour," writes Christian DeBenedetti in a 2013 The New Yorker story, "A Brief History of Sour Beer." "The culprits were pre-modern sanitation and poorly understood, often naturally occurring bacteria including Lactobacillus and Pediococcus, as well as Brettanomyces yeasts, which can contribute a hint of tartness and characteristic 'funky' flavors and aromas, sometimes compared to leather, smoke, and 'horse blanket.'"
Sour beers, to the best of most beer nerds' knowledge, hail from Belgian monasteries, where brewers would let troughs of wort (liquid beer before it's fermented) ferment in the open air. Bacteria, dust, spider webs and hearty Belgian breezes? Come one, come all.
Sour beer styles are as old as beer brewing itself, yet they remained dormant in the craft world until several years ago when Salazar, Richardson and Stewart started their experimentations. The trio will discuss these nearly-forgotten brewing practices, how Belgian lambics were (and still are) the bomb, exposed to the barnyard bacteria and wild yeasts, and how more and more American breweries are utilizing mixed-fermentations with non-isolated yeast strains such as Lactobacillus and Brettanomyces to release wild-fermented beers. American sour ales follow the Belgians path, although they tend to be produced in smaller batches, aged in oak barrels and then blended for taste.
Tart, light in alcohol, sharp, funky and pungent with odd hues: Sours are actually full and robust, the finish often dry. The flavor is not so much the flip side of hoppy bitterness as a step beyond: bitter and sour are practically kissing cousins. For the adventurous drinker, sours offer something different from the hop bombs that dominate the Pacific Northwest. Wine drinkers tend to enjoy sours due to similar complex characteristics.
For many years, Belgian lambics were the most common style of sour ales. Lambics are spontaneously fermented — lambic brewers expose their wort, or unfermented beer, to wild yeasts and bacteria, allowing it to ferment without the addition of traditional yeasts. The Brettanomyces creates barnyard flavors — horsey, goaty flavors — while the bacteria contribute the sour notes. Lambics sometimes have fruit added. Lambics with cherries are known as krieks. Raspberry lambics are framboises. Peach lambics are dubbed peches. Gueuzes are lambics in which aged and new lambics have been blended (typically part two- to three-year old lambic blended with one-year old lambic); the beers undergo a secondary fermentation in the bottle, which changes the character of the beer.
Flanders reds and Oud bruins are two more Belgian styles that have gained in popularity in recent years. Although no fruit is used in the brewing of Flanders reds, these beers often have hints of plum, black cherry or currant. Reds are aged in oak barrels, while Oud bruins are typically aged in stainless steel. Oud bruins are similar to reds, but tend to be a bit less tart, with additional darker fruit flavors such as figs, raisins or prunes.
Gose, Grodziskie, Lichtenhainer and Berliner weisse are historic styles of sour wheat beer, each a unique style of its own. Gose is seasoned with salt, Grodziskie and Lichtenhainer contain smoked malt. Historical sources are mixed about Lichtenhainer containing wheat, so modern interpretations may vary. Grätzer is an alternative name for Grodziskie. All three are relatively low alcohol, tart, with a strong wheat character, but distinct from classic examples of Berliner weisse, which is a traditional German style, a slightly sour, dry wheat beer. Think champagne — tart and lively in carbonation.
Barrel Cruise: The Players
While some American sours try to replicate Belgian styles, many others experiment with wild yeasts and bacteria to create unique flavors. Typically, American breweries produce sour ales in very small batches, where the beers are often aged in oak barrels. New Belgium and Allagash were two of the first to start experimenting with sours, although the movement has become fairly widespread. Firestone Walker, The Bruery, Cascade, Russian River, Holy Mountain, Lost Abbey and E9 Brewery make sought-after sours too. The Tacoma Beer Week Barrel Cruise will expose 50 bus riders to three of the major sour beer programs — New Belgium, Firestone Walker and E9 Brewery — through education and tasting. Salazar, Richardson and Stewart are truly passionate about sour beers. They enjoy the challenge. They enjoy the creativity. And, they enjoy the sustainability. The industry hasn't even touched the limits of what can be done with sour beer.
NEW BELGIUM BREWING CO.: In 1995, art student and homebrewer Eric Salazar started at New Belgium when its wood program was still in its infancy, and almost nobody knew what the brewery was doing. Although Salazar was originally hired to work in New Belgium's packaging department, it wasn't until he sipped the inimitable Boon Kriek, Brasserie Fantome's 1998 Black Label Saison and Cantillion that he knew sours were his destiny. Within a year he was in the cellar, cold side brewing, when he wasn't researching sour beers. New Belgium Brewmaster Peter Bouckart shared the same passion and the duo launch the brewery's sour and wood program, experimenting with lambics and grabbing the hearts of the other brewery employees. Salazar stuck to Bouckart like yeast on sugar — hauling hoses, blending barrels, caring for the foudres.
Having worked closely with New Belgium's flagship wood cellar sour beer La Folie, Salazar decided to play around with oak barrels. The result is Eric's Ale, a drinkable sour beer hybrid with subtle peach tones and a warm, spicy finish.
Today, Salazar is mostly in the wood cellar monitoring the foudres, tasting and blending.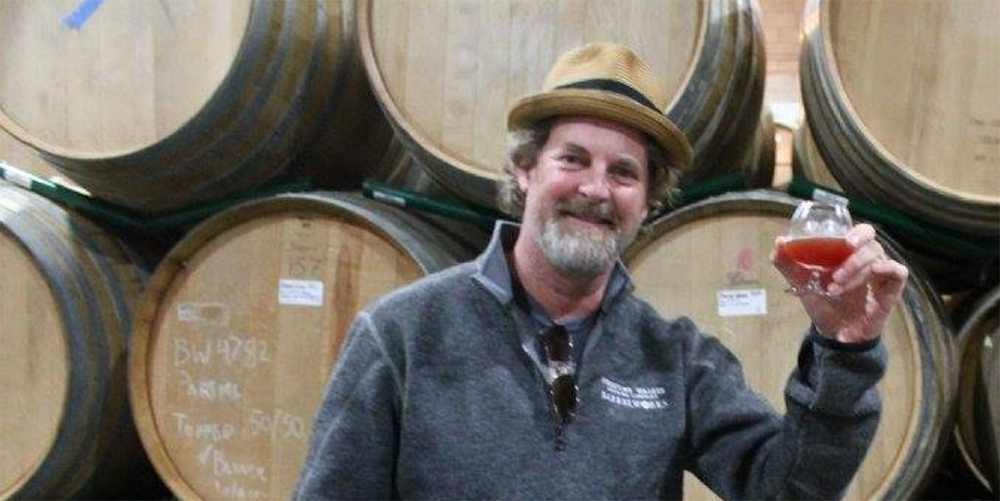 FIRESTONE WALKER BREWING CO.: When Adam Firestone and David Walker founded Firestone Walker Brewing Co. in 1996 the two business partners and brothers-in-law reached out to Jeffers Richardson to become the brewery's first brewmaster. He held this position for four years until moving on from the brewery.
Then in 2012 Firestone Walker decided to expand its barrel-aging program to a larger facility where wild yeast beers would reign supreme. To lead this program David Walker reached out to his old friend Jeffers Richardson. This facility, Barrelworks, opened a year later in Buellton, about 90 minutes south of its production brewery in Paso Robles, California. Ironically Barrelworks sits at the original location of Firestone Walker where Jeffers led its production during its infancy, which they jokingly called it Area 51 because nobody knew its location.
Richardson calls Barrelworks his "live beer program," which he feels is more friendly word than "sour." A majority of his barrels used to host fancy wine. It's a mix of American toasted oak, Bavarian oak and French oak. Some are from surrounding vineyards and some are from northern California. Usually, he sources spirits barrels for Firestone Walker's other barrel-aging program, which happens at the Paso Robles brewery, such as Parabola.
When it comes to wild or sour beers, acidity plays more of a role in the taste experience compared to traditional beers, which are more defined by their hop and malt profiles. During the Tacoma Beer Week Barrel Cruise, Richardson will explore the role of acidity, and to reveal not only what you are tasting in the beer, but also why. He'll delve into the differences between pH and total (or titratable) acidity as well as the sensory relationship between smell and taste.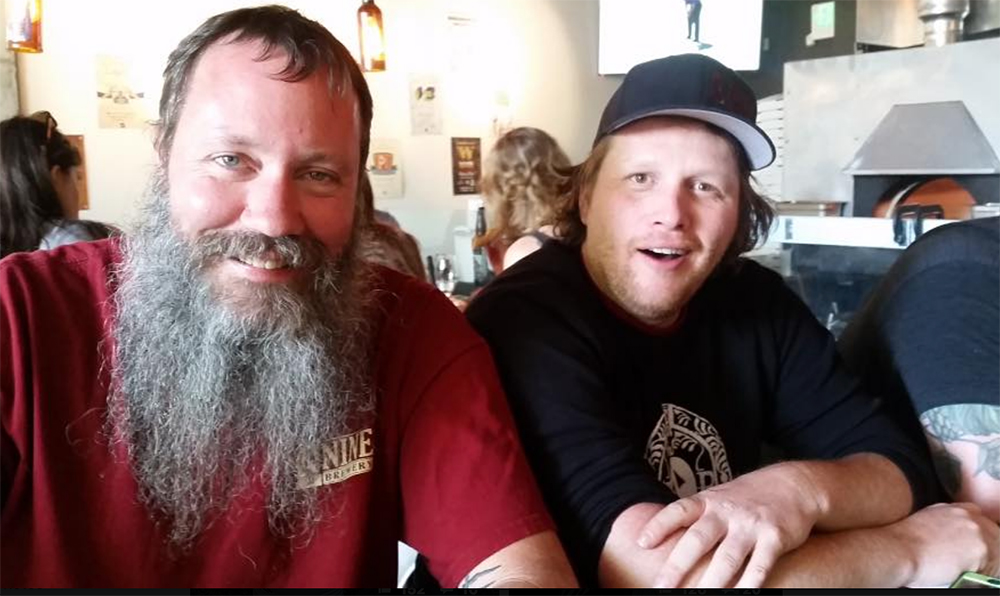 E9 BREWERY: Originally built in 1907, Engine House No. 9, or E9 to locals, doused fires via horse-drawn service. The ground floor was the stable; the second floor the living quarters for the firemen. Engine House No. 9 doused fires until the mid-1960s. In 1965, two News Tribune employees saved the abandoned building and by the early '70s the Engine House No. 9 tavern was pouring beer.
In 1995, Dusty Trail converted the early 20th century firehouse into a brewpub, and brought back the Tacoma Brew, the famous Tacoma lager of 1888. Dick Dickens grabbed the reins in 2002, bringing in head brewer Doug Tiede. Heads turned and medals were hung. In 2011, X Group purchased Engine House No. 9, with former chef turned head brewer Shane Johns eventually breaking the brewery off from the restaurant.
Johns and right-hand man (who could be a head brewer anywhere) Donovan Stewart fired up a barrel program that did OK at E9 but killed at neighboring hot dog and craft beer joint The Red Hot. It wasn't until the X Group steered the brewery and brought in the barrels that the sours and saisons turned heads outside the neighborhood. Gold medals followed, including the brewery earning Mid Sized Brewery of the Year 2016-18 at the Washington Beer Awards. E9 Brewery's sour-beer program involves 10 stainless-steel fermenting tanks and 200 barrels. A foudre (pronounced FOOD-er) will enter E9's sour program once the brewery opens its much larger facility in Tacoma's Historic Brewery District. Foudres are becoming a more common sight at breweries across the state and around the country. Rather than aging their beers in an array of different barrels, brewers can often produce a more consistent beer and save time and energy by using foudres vessels (foudre in French, foeder in Dutch). Foudres are essentially giant barrels. These huge pieces of equipment are giving small and independent craft brewers the capability to produce sour offerings in much larger quantities.
"Like many other sour beer enthusiasts, Rodenbach's Grand Cru is what sold me on the style," says Johns, who will be travelling during the Tacoma Beer Week Barrel Cruise. "Grand Cru and other Flanders red and sour beers use to be harder to find. I would often go on sour beer hunts to develop my palate."
Flanders red and Rodenbach are essentially synonyms at this point, though when the Roeselare, Belgium brewery started back in 1821 its distinctive brewing system was not rare (in fact, it's likely the brewers were inspired by how their English counterparts made porter). It's a method still employed today: brewing a beer (made red by a specialty malt) the same way you would any ale, then maturing that beer in huge foudres, where fermentation continues at the hand of microflora living in the wood (usually Lactobacillus, the same organism that makes yogurt tangy). Once the wood has worked its magic on the beer (a process that can take up to two years at Rodenbach), fresh "young" beer is usually blended in to achieve the desired level of pucker.
"I enjoy the science side of making beer," adds Johns, "but brewing sours is more of an art form. There are a number of considerations in its creation and curation — from oxygen, to yeast, to microbes and beyond."
Brewers of barrel-aged sour beer take risks and practice patience. "Money, space and time are the main challenges when brewing sour beers," says Johns. He waits as long as two years to see whether the cloudy liquids resting in oak ripen into shades of gold or raspberry and develop the ideal tart, tangy flavors — or become undrinkable, ravaged by aggressive yeasts. It's an expensive gamble.
But for the brewers and fans of sour beer, the wait is worth it.
Barrel Cruise: The Tickets
Tickets for the Aug. 5 Tacoma Beer Week Barrel Cruise are $100 each, which includes several hours of education and sampling by New Belgium's Eric Salazar, Firestone Jeffers Richardson and E9 Brewery's Donovan Stewart at the Engine House No. 9. The ticket price also includes bus transportation to Peaks and Pints and the Parkway Tavern, where riders will drink New Belgium and Firestone Walker barrel-aged sours, respectively. Swag will also be included. The tour is capped at 50 tickets. Tickets are available at the Parkway Tavern and Peaks and Pints.
Any Barrel Cruise that starts at Engine House No. 9 is bound to be triumphant.
TACOMA BEER WEEK 2018 BARREL CRUISE, 2 p.m. Sunday, Aug. 5, Engine House No. 9, 611 N. Pine St., Tacoma, $100 tickets available at Parkway Tavern and Peaks and Pints
---