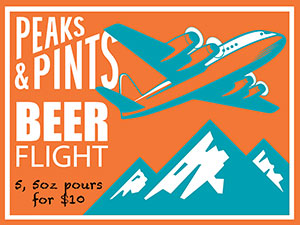 Peaks and Pints has long assumed the slush of the gods, Slurpee, was developed in a lab by world-class scientists trying to determine the closest thing to Zeus' nectar. In actuality, it was a big ol' screw-up that led to the world's greatest frozen treat. The Slurpee was created by accident. In the late-1950s, Omar Knedlik of Kansas City owned an old Dairy Queen whose machinery was always breaking down. When his soda fountain went out, he improvised by putting some bottles in the freezer to stay cool. However, when he popped the top, they were a little frozen and slushy. Folks loved them and started requesting "those pops that were in a little bit longer." A "name the product" contest produced the name "ICEE" — until 7-Eleven licensed the machine and named it "Slurpee," the sound made while sipping it through a straw. Peaks and Pints has Slurpee on the brain. We have constructed a beer flight that simulates the slushy treat, Craft Beer Crosscut 7.6.18: A Flight of Slurpee.
North Coast Tart Cherry Berliner Weisse
3.4% ABV
CHERRY FAVOR: The name of the style, Berliner weisse — a light, sour wheat beer — is protected by German law, which states that a beer should only be called by that name if it is brewed in Berlin, just as a Kölsch must be brewed in Köln. At the height of its popularity during the late 19th century, Berliner weisse was the most favored alcoholic drink in Berlin, and nearly 50 breweries were producing it. However, it fell by the wayside, as pale lagers became the beers of choice worldwide. Currently in Berlin there are only about three makers. North Coast Brewing Co. has embraced the centuries old Berliner weisse style. Its Tart Cherry Berliner Weisse is with the juice of Montmorency cherries sourced from orchards in central Michigan. It tastes like a cherry Slurpee.
Aslan Disco Lemonade
4% ABV, 4 IBU
LEMONADE FLAVOR: It's the best Disco in town, funky music pound for pound / Join the crowd, come on dance and sing, hey, hey / It's the best Disco in town, people come from miles around / It's the place to do your own thing, hey, hey. Of course The Ritchie Family wasn't waxing discotheque but rather Aslan Brewing's Disco Lemonade Berliner Weisse, bronze medal winner at the 2016 Washington Beer Awards. The light-bodied sour wheat beer is so delicious it deserves a song. With its bubby effervescence and tartness, the centuries-old Berliner weisse style was called the "Champagne of the North" by Napoleon. Aslan's version brings out hints of lemon, while the generous amount of wheat rounds out the body lending a remarkable similarity to lemonade Slurpee.
Golden Road Mango Cart
4% ABV, 10 IBU
MANGO FLAVOR: In 2011, Meg Gill and Tony Yanow co-founded Golden Road Brewing to bring fresh, delicious craft beer to the Los Angeles area. Beginning with its headquarters in the Atwater Village neighborhood of Los Angeles, California, Golden Road has since become the city's largest craft brewer with a state-of-the-art brewery and tasting room in Anaheim, as well as beer and food concepts at Grand Central Market and LAX. First in a series inspired by the iconic fruit cart vendors of Los Angeles, Golden Road's Mango Cart is a light, refreshing wheat ale brewed with lots of fresh mango, which dominates the nose and flavors, although wheat takes over as the mango fades in the slightly tart finish.
Mollusk Wild Citrus
4.4% ABV
LEMON-ORANGE FLAVOR: When chef Travis Kukull and Epic Ales brewmaster Cody Morris shuttered Gastropod in the fall of 2015, Seattle food nerds sank into mourning. The duo closed Gastropod to focus on opening Mollusk, a massive, and more traditional, industrial-style gastropub on the northwest border of South Lake Union on Dexter Avenue. Most of the 5,000-square-foot restaurant, which anchors an apartment building, is devoted to the state-of-the-art brewery, which allows Morris to create his experimental, sour and farmhouse-style brews, such as Wild Citrus. The American wild ale is brewed with oranges, lemons and grapefruit for a lightly tart and spritzy fruit beer.
Wingman Razma Attack
7% ABV
RAPSBERRY FLAVOR: Razma Attack is Wingman Brewers' Berliner weisse recipe brewed with a copious amount of raspberries. That finished beer is then blended with the Tacoma brewery's house mixed culture Saison to provide a more complex Brett and Pedio backbone. Make no mistake this isn't some commercial-grade raspberry wheat ale that tastes like it was made with the leftover topping from a frozen supermarket cheesecake. This is a quality, dark red Berliner weisse that has been enhanced with tart, slightly sweet raspberry flavor with perfect carbonation for a raspberry Slurpee.
---