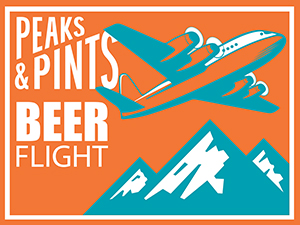 Founder Paul Arney and his team are focused on one thing at the The Ale Apothecary — making truly unique beers, using strictly Oregon ingredients — including local barley, wheat, hops, barrels, and even the wild yeast drifting around the high desert air — aged in oak, waiting patiently for the right moment to express themselves. Ex-Deschutes brewer Arney doesn't make much beer — just 300 barrels per year, all packaged in wine-sized bottles at wine-sized prices. All his beers are bottle conditioned, allowing for natural carbonation and more complex flavors that are unlocked after further aging, and as a result, everything at their Bend, Oregon taproom is in bottles. And much of it is already spoken for through the brewery's exclusive 300-member ale club, which has a running wait list of 100. Arney dropped off a pile of his ales at Peaks and Pints yesterday. How about you drop by our craft beer bar, bottle shop and restaurant today for a flight of Arney's beer that we call Craft Beer Crosscut 7.2.19: Flight of Ale Apothecary.
Craft Beer Crosscut 7.2.19: Flight of Ale Apothecary
Ale Apothecary Sahati
9.58% ABV
Beer writer Michael Jackson called Finnish sahti, "the only primitive beer to survive in Western Europe." Sahati is Apothecary's Pacific Northwerst interpretation of traditional Finnish sahti that peasants learned to brew in the 1500s. Starting with a 200-year old Engelmann spruce tree felled on the brewery's property, Arney created his own kuurna (an ancient Scandinavian lauter tun) to separate the wort from the grain during brewing. The bottom of the kuurna is layered with spruce branches; the needles act as a natural filter and impart resinous oils into the wort. The hollowed-out trunk of the tree also contributes spruce essence and structure from the raw wood. Brewed with barley and rye malts, along with a sparing addition of Goschie Farms Cascade hops, Sahati hits the nose with spruce, eucalyptus, wood, citrus, and subtle almond and honey. The flavor follows the nose with subtle alcohol and a speck of mint.
Ale Apothecary Ralph
7.75% ABV
Arney's great-grandfather, Ralph, was a pharmacist who worked in rural Eastern Washington. A wall in Apothecary's taproom bathroom is decorated with prescriptions for beer that Ralph wrote for "patients" during Prohibition, one of the few legal ways to obtain alcohol in that era. Ale Apothecary Ralph is brewed in honor of pharmacist-father of their founding brewer-artist. Mashed overnight in an oak vat, Ralph is made of Mecca Grade Vanora malt, Skagit Valley Caramel malt, aged Goschie Farms Cascade hops, water from their Skyline aquifer, and microbes and fir boughs from our surrounding forest. Open fermentation occurs in wooden vats prior to aging in Oregon pinot noir barrels from Domaine Drouhin. Over a year later, Ralph is transferred to a large barrel with fresh fir boughs prior to bottle fermentation with Oregon honey. The result is a restrained fir/herbal character in the nose and on the palate, with light lemony barnyard funk and a little pucker.
Ale Apothecary Sahalie
9.4% ABV
The flagship of Ale Apothecary, Sahalie grabbed gold at the 2018 Brussels Beer Challenge. It's brewed with local Oregon barley malt, wheat and last year's crop of Oregon Cascade hops, which are added to the boil copper for bitterness and dry hopped for a month in oak barrels. Hop bitterness and acid produced by Apothecary house lactobacillus culture provide the balance to the malt and oak structure of the beer, which is aged for a year in oak. Sahalie has a tropical and citrus fruit nose of apricots, pineapple, and orange produced from yeast esters and hop oils. The palate is tart and pithy, combining earthy and herbal undertones that evolve as the beer warms and opens up within your taster glass.
Ale Apothecary The Beer Formerly Known as La Tache
8.5% ABV
Made with the same ingredients as Sahalie but brewed differently, The Beer Formerly Known as La Tache is Ale Apothecary's lightest and most approachable beer. Hops are used only for aromatics (hop-back and dry-hopping) so the beer is balanced with the acidity produced by our proprietary house cultures of yeast and bacteria. The Oregon Beer Awards Silver medalist has a lemon citrus and fermented orchard fruit nose over earthy undertones. The palate finishes with soft lactic acid balanced by the malt body.
Ale Apothecary Carpe Diem Manana
9% ABV
Apothecary's Carpe Diem Manana, or CDM, is a departure from their "standard" line of ales that age for over a year in barrels as this beer is packaged within just a few months of brewing. It's hoppy, but Arney uses hops to inhibit bacteria from producing too much acid, and allowing him to serve the beer in a younger state, retaining a balance between acid, bitterness, and malt without tasting like an IPA. It hits the nose with leafy hops with a nice wild acidity and buggy strangeness. The flavor is succulent and juicy but buggy wild, a little woody, a little floral juicy hoppy, with light medicinal esters. Interesting with notes of umami and hops and wild microbial funk.
---