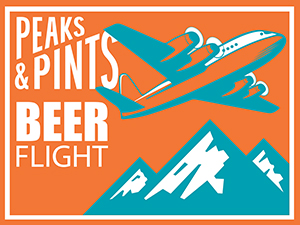 Founded on St. Patrick's Day 2007, Double Mountain Brewery has a clear mission: "Make great beer for craft beer fans." Ever since then owner Matt Swihart (when not playing banjo in the GreenNeck Daredevils band) has worked hard to meet this mission, focusing on uncompromising beer quality, with ingredients such as 2-row pilsner malts from British Columbia, Belgian yeast strains, fruit from Hood River orchards and Northwest hops. Famed for both their hoppy and sour fruit beers such as IRA, Vaporizer and Devil's Kriek as well as their brewpub in downtown Hood River's awesome pizza, family friendly atmosphere and live music, Double Mountain has become a top Oregon destination. Today, Peaks and Pints will be a top Tacoma destination as we're hosting Double Mountain's Timbeer! release party tonight and companion all-day beer flight we call Craft Beer Crosscut 7.3.19: Flight of Double Mountain.
Craft Beer Crosscut 7.3.19: Flight of Double Mountain
Double Mountain Dry Cider
6.7% ABV
Double Mountain had long toyed with releasing their own hard cider, occasionally featuring housemade cider on at the taproom made from owner Matt Swihart's own apples. The brewery finally releases its own Dry Cider in December 2017, blending freshly harvested heirloom apples from Double Mountain Orchards and Hood River Newtowns, Braeburns, and Hanners for old world complexity. Double Mountain gave it plenty of time to dry out and develop the aromas of juicy pear, lychee, green fruit, and chamomile.  It finishes tart, crisp, dry and quenching.
Double Mountain Viola
7.1% ABV
Blended for Double Mountain's 12th Anniversary in March 2019, this tart Flanders red ale was aged for more than 15 months in a variety of barrels. It hits the nose with tart cherry, dried cranberry, soft vanilla, red wine, a whole lot of oak and accompanying tannins. On the tongue, expect black cherry, cranberry, port wine, blackberry, finishing with a touch of bread and dry oak.
Double Mountain Mt. Tahoma Kriek
10.1% ABV
This Belgian-style sour ale combines the tart and funky flavors of Brettanomyces wild yeast with fresh fruit picked from the resplendent orchards in the Hood River Valley. The Flanders red ale-style Tahoma Kriek (the Native American name for Mt. Rainier) features the delicate Rainier cherry with a strong Belgian blond ale. More than 5 pounds of cherries make their way into every keg. Double Mountain brews the Krieks once a year at harvest, and then let them spend a full year in their cellars to sweetly slumber for aromas of cherry, lemon, tannins, and funk, followed by flavors of softly sour dusty cherries with tannins and moderate funk.
Double Mountain Kolsch
5.2% ABV, 40 IBU
We're a big fan of Pilsner malt — it imparts a definite smoothness to the brew, including Double Mountain's Kolsch. A tribute to the style of beer native to Cologne (Koln), Germany, this beer is a very light straw pour with just a touch of haze and a decent egg-shell-white head. A little pepper crosses the nose along with sourdough bread, biscuit and light hops. Firm, tangy hops come through on the palate — Sterling and Perle — which is a nice combo of soft malt, fresh grain, spicy pepper and citrus. The finish is light and refreshing.
Double Mountain Hop Lion IPA
6.7% ABV, 65 IBU
"Tropic resin, tangerine / Petrichor and evergreen / Fill your chalice, fill it wide / Then pass it upon the left hand side" — so states Double Mountain Hop Lion hype. Hmmm … Matt Swihart is a music freak, Hop Lion's bottle sports Jamaican colors and "left hand side" … could it be a nod to British Jamaican reggae band Musical Youth? Whatever. This IPA is delicious with bitter, citrus peel like aroma and gritty, malty, earthy and tangerine flavors, mon.
LINK: Peaks and Pints loves Double Mountain
---