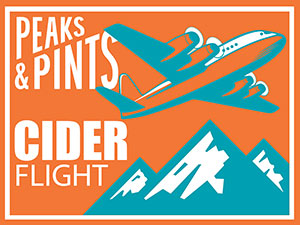 Good Day South Sound! TV says you got those high class blues. Seems the caravan to Aruba is not the road that you would choose. LET'S DRINK SOME CIDER! It's Monday, which means Peaks and Pints offers a flight of five hard ciders. Peaks and Pints Monday Cider Flight 7.1.19 includes two new ciders: Winsome Passion Mango and Tieton The Dry Side Blues Infuses.
Peaks and Pints Monday Cider Flight 7.1.19
Independent Lavender Perry
5.5% ABV
Montana State University friends Micah Roberson, Michael Partheymuller and Kramer Christensen opened Independent Cider in the upper Wenatchee Valley near Leavenworth and Cashmere. They produce handcrafter perry — a cider made completely with fermented pear juice as its base — playing up on the natural sweetness and pear flavor in their products. Their Lavender Perry is made with two varieties of lavender harvested down valley from their pear orchards. The blended buds from this mid-summer flower are dried and steeped to contribute subtle lavender notes and flavors.
Portland Apricot Tango
5.8% ABV
Oregonian Jeff and British Lydia launched Portland Cider Company in 2012 with the intent of marrying English cider traditions with the innovative Northwest micro-brewing culture.  It all started from a desire to make the clean, dry cider Lynda grew to love in England, and Jeff yearned to find in Oregon. With their Apricot Tango they create sunshine in a tulip glass with tangerines, apricots and just a hint of orange blossoms. It's semi-sweet, juicy, fruity and delicious.
Reverend Nat's Viva La Pineapple
6% ABV
When his North Portland neighbor begged him to take his backyard apples off his hand in 2004, Nat West began experimenting with fermentation, turning the small green apples into hard cider. His friends went nuts. West would go on to hold weekly free cider parties at his house, experimenting on his friends, which ended up at 50 or so people. In the summer of 2011, West launched Reverend Nat's Hard Cider, most likely the only cidery in Portland. This cider is a blend of fermented fresh apple juice sourced from Eastern Washington and unfermented fresh pineapple juice. A touch of cinnamon, cloves and allspice is added. The spice and pineapple hit the nose and tongue with notes of green apples and pear. Delicious.
Winsome Passion Mango
6.1% ABV
The Woodinville cidery uses Washington grown apples and 20-plus years of winemaking experience, to create easy-drinking ciders, including their Passion Mango with bright, subtle passion fruit and mango on the palate. It sports a clean, tropical finish.
Tieton The Dry Side Blues Infused
6.9% ABV
In 2008, Craig Campbell and his wife, Sharon, began experimenting with making cider from dessert apples grown in their 400-acre commercial fruit orchards in Yakima, Washington. Despite naysayers who warned that cider apples required a maritime climate, Craig also planted a two-acre test orchard with 25 varieties of cider apples. Today, their two-acre experiment expanded into Cider View, a 30-acre "high-density" cider orchard. In their commercial cidery, Tieton Cider Works, they blend American heritage, English and French cider varietals with dessert apples to capture the best of what each variety brings to the bottle: sweetness, acidity, tannin and aroma. They just released The Dry Side Blues Infused blueberry and apple hard cider.
---