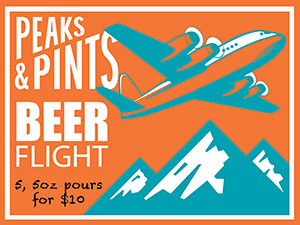 Until somewhat recently, the great state of Utah had fairly strict liquor and beer laws — only beers under a certain ABV were permitted to be brewed. But when the laws changed in 2008, entrepreneurs David Cole and Peter Erickson were able to pursue their longtime dream of opening Epic Brewing — a strong beer microbrewery in Salt Lake City, Utah like those found in their home state of California. Having started an international aquaculture company in Utah in 1992, Cole and Erickson were no strangers to food and drink (and the art of making them well), so when they teamed up with acclaimed brewmaster and fellow beer geek Kevin Crompton, the trio immediately set to work brewing a carefully curated collection of strong ales and lagers. In 2013, Epic expanded its brewery operations into Colorado by opening a second brewery in the River North district of downtown Denver. The Denver brewery offered enough space to support growing national distribution, expansion of the popular barrel aged beer program and the introduction of a line of sour beers. June 2, 2018, Peaks and Pints presents a flight of Epic beer we call Craft Beer Crosscut 6.2.18: An Epic Flight.
Epic Brainless on Peaches
11% ABV, 20 IBU
Epic Brewing pours their double gold medal winning Brainless Belgian tripel into French oak Chardonnay barrels, about halfway, then adds 55 pounds of peach purée and Champagne yeast, and tops off the barrel with more Brainless Belgian. Heavy barnyard funk paces the aroma spiked with pilsner-like crispy malt tones and traces of acidic lemon juice. White peach flavor sits beneath sharp tartness in the sour ale.
Epic Los Locos Lager
5% ABV, 25 IBU
Troy Guard is a Denver chef with a Mexican restaurant so badass Epic Brewing can't even put the name on their Los Locos Lager can. While enjoying Guard's Rattlesnake Chorizo Guac they had a crazy idea: brew a Mexican-style lager with corn, natural lime juice and just a hint of salt. The aroma is lime tart, lime fruit, sea salt and clean pilsner malts. On the tongue, it's simple and clean with the sea salt and lime prevalent on top of a fresh clean lager. The palate is light bodied, active carbonation with a clean, dry softly salty finish.
Epic RiNo APA
5.8% ABV
Epic Brewing released RiNo APA, a juicy American pale ale in March. Their latest year-round can offering is inspired by what Epic has learned brewing New England-Style IPAs as well as the creativity and artistic passion they see in the River North neighborhood (RiNo) that is the home of their Denver brewery. RiNo APA is the reimagining of RiNo Pale Ale, one of the first beers Epic brewed to season their Denver brewhouse. It's updated with loads of juicy, late-addition, Centennial and Mosaic hops, just a bit of haze to soften the mouth-feel and a bright burst of colorful tropical aromas. It's juicy, hoppy and yet, approachable.
Epic Escape To Colorado IPA
6.2% ABV, 65 IBU
The IPAs from the West Coast are known for their hoppy bitterness. The East Coast versions showcase fruit flavors extracted from the hops — especially the juice-like New England IPAs bursting onto the scene. The "Colorado IPA is an amalgamation: golden in color with a fruity aroma and flavor paired with a bit of bitterness to balance the medium body and dry finish. Epic Brewing's Escape to Colorado IPA is one of a handful of beers that bear the state's name or invoke a location-specific quality. The name represents a story of the brewery's move from Utah to Denver. Escape to Colorado IPA is a fruit and dank driven IPA dry hopped with Mosaic hops. Dip the nose for big fruity, citrus and earthy pine characteristics. The Mosaic hops provide the round, fruity citrus aromas, while the Simcoe hops are bringing fresh Evergreen to the nose. The hop flavor is medium to high and packs in more of those fruity, piney aspects in this ale. The high levels of bitterness are balanced by the sweet caramel-esque malt.
Epic NE Style IPA Recipe #3: Lupulin Burst
7% ABV
Epic was one of the last breweries in Colorado to give New England-style IPAs a shot when the company collaborated with Telluride Brewing in March 2016 on Blizzard Conditions, which they called "a snow globe in a glass" because of the beer's hazy look. Since then, Epic has gotten fully aboard the haze train and just released NE Style IPA Recipe #3: Lupulin Burst, a hazy New-England Style IPA packed with juicy flavors of honeydew, guava, passion fruit and pineapple. They use an abundance of late-addition Mosaic hops and enormous hop back of whole leaf Cashmere with even more generous dry hop additions. It is without a doubt the hoppiest beer we've ever had from Epic, and it is the very definition of a "juicy" IPA.
---