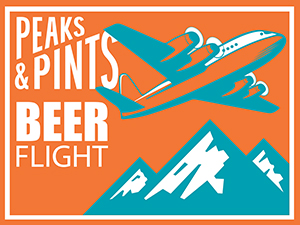 Skookum Brewery's story could not be more emblematic of Washington's craft beer explosion. The Arlington brewery started as a homebrew operation in a 1918 dairy bar repurposed to be a home, grew gradually, won medals and now brews in a giant building, using locally-sourced ingredients, churning out what seems like three different IPAs a week, and is the darling (with a bold growl) of most serious craft beer drinkers. It was 2007 when Ron and Jackie Walcher opened the brewery down a dirt road near Arlington. Today, Skookum head brewer Hollis Wood and his small team churn out "big bold strong" craft beers in a giant facility with a popular taproom down the street from the Arlington Airport — managed by an angel, a big, bearded lovable man named "Angel." Skookum Brewery brews beers that are locally sourced, with more than 90 percent of their barley grown and malted in state, on equipment predominately purchased locally including several pieces made in Washington state. Today, Peaks and Pints presents a five-beer flight of the Arlington brewery's more complex beers that we call Craft Beer Crosscut 6.11.19: Flight of Skookum Oak.
Craft Beer Crosscut 6.11.19: Flight of Skookum Oak
Skookum Deep Color
10.3% ABV
Old Ale recalls the type of beer brewed before the Industrial Revolution, stored for months or even years in unlined wooden vessels known as tuns. The beer would pick up some lactic sourness as a result of wild yeasts, lactobacilli and tannins in the wood. The result was a beer dubbed "stale" by drinkers: it was one of the components of the early, blended porters. Skookum brewed a strong old ale, added cherry wood smoke malt then aged in in whiskey barrels for 10 months. The result is Deep Color with deep notes and aromas of dark fruit, tobacco, oak, and mild smoke.
Skookum Solitary Confinement
10.5% ABV, 50 IBU
This version of Solitary Confinement is based on the old recipe, with some slight tweaks. The finished product is a blending of two aged versions: 45 percent coming from a batch that rested 16 months in Four Roses bourbon barrels, and the rest coming from a batch that was in Woodford Reserve barrels for 10 months. Beathe in the chocolate, smooth bourbon, rich cream, caramel, and vanilla. Sip the complex combination of all the same good things, with a dusty chocolate, dry bourbon finish. It starts rich, but ends bold.
Skookum Barrel Aged Breakfast Stout
11% ABV, 50 IBU
Skookum brewed an oatmeal milk stout with maple syrup, aged it in bourbon barrels and finished it on Camano island coffee beans and whole vanilla. Sweet malt hits the nose with a fair amount of barrel notes ending with a pleasant coffee aspect. The flavor leans toward sweet coffee with a moderate barrel influence — think brown cow cocktail. It finishes with a mild boozy character.
Skookum Barrel Aged Asesinato de Cuervos
10.2% ABV, 60 IBU
Skookum's Asesinato de Cuervos is a blended imperial stout with components of Murder of Crows, non-barrel aged Solitary Confinement and a small portion of whiskey barrel aged Murder of Crows. The brewery then conditions the beer on ancho and arbol chilies, vanilla beans, cinnamon sticks and cocoa nibs. The barrel-aged version spends more time in spent whiskey barrels. The result hits the nose with dark toasted malt, cinnamon, vanilla and slight hot pepper. Flavor is a delicious melding of Mexican chocolate flavors, light hot peppers and stout. The chocolate flavors are well balanced. The peppers give a little hotness without interfering with the other flavors.
Skookum Murder of Crows
9% ABV, 70 IBU
Murder of Crows is Skookum's roasty and complex imperial stout brewed with a plethora of specialty malts and finished on old crow whiskey oak cubes. It's an interesting moderately strong mix of familiar yet novel imperial stout aspects. Flavor is a light, cola black syrup malt with a smooth "wet" roast, a little bitter chocolate, subtle smoky char and wood. The aftertaste, though, has a slightly fruity and fumy black malt flavor. Yes, it's big and bold (70 IBUs!), but never too abrasive. Sip after sip it becomes more silky.
---