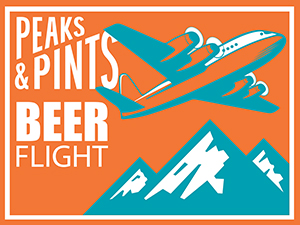 Pink alcohol has long had a bad rap. From cosmos to white zin to Lancers and Mateus, a glass of pink often points to a drinker with little taste, class or sanity. Or all three. Anyway, let's talk rosé. The Greeks and the Romans made rosé. Monks made rosé. Rosé has the added benefit of coming in a shade that has become known as "millennial pink." The blush-tone burst onto the scene sometime in the last three years and has been prominent in clothing, housewares and food ever since. It is a trendy, aesthetically pleasing tone that is associated with luxury and youth. Today, Peaks and Pints presents Craft Beer Crosscut 6.10.19: Flight of Rosé, offering tasters of rosé cider, wine and craft beer.
Craft Beer Crosscut 6.10.19: Flight of Rosé
Mont Gravet Rosé
11.75% ABV
If you're going to dive into rosé, you might as well go French. Provence, France, is the heart of Rosé country, where making blush wines has not only been a profession, but an art, for generations. Mont Gravet Rosé comes from specially selected Cinsault vineyards in the Languedoc region, located near the warm Mediterranean shoreline in Southern France. The Cinsault variety is also one of the main varietals used in the production of Provence rosé and some of the best reds of the Southern Rhone Valley. Rosé wine is not a varietal. It is made from lightly extracted red grapes, including — but not limited to — Grenache, Syrah, Cinsault, and Pinot Noir. Mont Gravet Rosé is a fruit forward, dry Rosé wine. The wine has lovely aromas of raspberry and blackberry and is full body and long on the palate.
Ryan Patrick Rosé
13% ABV
Ryan Patrick Wines was launched in 1999 by Wenatchee's Terry and Vivian Flanagan, named after their sons, Ryan and Patrick. In early 2012, brothers Butch and Jerry Milbrandt bought the winery from the Flanagans. The Milbrandts grew up in the Columbia Basin and began planting wine grapes in the 1990s, followed by the launch of their winery, Milbrandt Vineyards, which is led by the winemaking team of Joshua Maloney and Jeremy Santo, who both worked for Chateau Ste. Michelle before taking over Milbrandt. Ryan Patrick Rosé offers hints of fresh grapefruit, cherry and pomegranate, as well as bright floral notes. On the palate, it is bright with lively acidity and a round fruit-driven midpalate with traces of strawberry, rhubarb and a hint of red grapefruit. The finish is crisp and clean.
Double Mountain Red Fleshed Rosé
5.9% ABV
Matt Swihart, owner of Double Mountain Brewery, stepped into the cider world in 2017 with his Dry Cider, made using Newtown apples he grows on his Odell area property: Double Mountain farm, which had its name before Swihart opened Double Mountain Brewery and Taproom 12 years ago in Hood River. He's killing it in the cider world, as they say. His latest, Red Fleshed Rosé, is made from red fleshed Mountain Rose and Pink Pearl apples, which bring the light rose color. Double Mountain's Red Fleshed Rosé is a lightly tart cider, with delicate aromas of citrus and raspberry.
Alpenfire Glow Rosé Hard Cider
6.8% ABV
Alpenfire Cider is based in the seaport town of Port Townsend, Washington. They are a family run, certified organic, estate cidery and orchard planted in 2003. They created this a single varietal rosé cider with Hidden Rose apples, a rare, dessert apple variety. The aroma is composed primarily of a really luscious, ripe apple character. Amazing! On the palate expect a robustly built cider, sporting rich tannin, notes of caramel and a rich weightiness that is tamed by the sparkle. Not atypical cider by any means.
21st Amendment Sparkale
5.5% ABV
Like everyone else, the brewing industry has jumped into pink. Trading in hoppy IPAs for a fruity rosé, brewers across the nation are getting in on the trend, including San Francisco's 21st Amendment Brewery. A sparkling rosé ale with apples, peach, cranberry, and cherry, for a light, fruity, tart flavor and a huge "sparkle factor," Sparkale is a bit of a departure from 21st Amendment's staple of bold, West Coast-style IPAs. It is also lower in calories than 21A's regular beers and gluten-reduced for a flavor that's as much like a cider (without actually being one) as you can find.
---