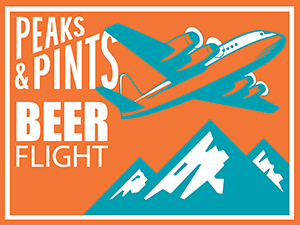 As a brewery famous for its experimental ales, the company's history is just as wild. Founded in 2008 by Patrick Rue, The Bruery began when Rue, a recent law school graduate and homebrewer, figured out that he loved the hobby so much, he'd start a brewery instead of studying for the Bar. Later, in 2015, Rue launched Bruery Terreux — loosely translated as "Earthy Brewery" — as a dedicated space to provide the freedom (and bacteria) to get weird with wild and sour ales. Indeed, in just a handful of years, the brewery created one of the largest barrel-aging programs in the business. Today, Peaks and Pints offers a flight of The Bruery and Breury Terreux that we call Craft Beer Crosscut 5.24.19: Flight by Patrick Rue.
Craft Beer Crosscut 5.24.19: Flight by Patrick Rue
Bruery Terreux Wit The Funk
5.4% ABV
Patrick Rue begins with a classic wit beer, brewed with coriander, orange peel, and traditional Belgian wit yeast. Next the beer moves on to Bruery Terreux where the real magic happens. Wit The Funk ages in American and French oak foeders, with Terreux house culture, Brettanomyces, and other yeasts, until final maturation. The result is a winning combination that's fresh with subtle complexity – balancing the classic, spiced and fruity characteristics of a Belgian-style wit with the soft — and wild — touch from its time in the oak.
Bruery Terreux Tart of Darkness
6.2% ABV
At first glance, Tart of Darkness appeared darker than cola, and upon further inspection, just a hint of brown. The color is reminiscent to the dark burnt molasses. On the nose is pure sour funk, Lactobacillus for sure, as if a Greek yogurt culture was tossed right into the barrel. The result is a dark and roasted scent. As for the taste, there are notes of raisin, tart plums, roasted vanilla and oak.
Bruery Terreux Oude Tart
7.7% ABV
Bruery Terreux's Oude Tart is a Flemish-style red ale aged in red wine barrels. While this is one of the more classic beer styles that Bruery Terreux makes, it's not a style that you can find too often in the United States. Originating in style from the Flanders region of Belgium, near the French boarder, this dark, sour ale has roots deep in brewing history and predates most of the ales that have become popular in contemporary culture. It's pleasantly sour with hints of leather, dark fruit and toasty oak.
The Bruery Or Xata
7.2% ABV
True to their experimental and whimsical style, this is The Bruery's unique take on horchata, a traditional sweet, milky, sweet-spiced drink popular in Spain and Latin America. In order to recreate the drink's signature characteristics, the blond ale base is brewed with rice, cinnamon, fresh vanilla beans and lactose, which adds a creamier character to the mouthfeel. Taste is quite sweet, clearly additive heavy, smooth chocolate milk flavors with some semi-sour lime properties. The vibrant carbonation helps to enliven the sweet spice flavors and smooth texture, while a light fruity-hop bitterness and peppery warmth grace the enduring close.
The Bruery So Happens It's Tuesday
14.7% ABV, 22 IBU
Black Tuesday, Oct. 29, was the fourth and last day of the stock market crash of 1929. Investors traded a record 16.4 million shares. They lost $14 billion on the New York Stock Exchange, worth $205 billion in 2019 dollars. During the four days of the crash, the Dow Jones Industrial Average dropped 25 percent and investors lost $30 billion. Today isn't Black Tuesday, obviously, but rather it's Craft Beer Crosscut 5.24.19: Flight by Patrick Rue and So Happens It's Tuesday bourbon barrel-aged imperial stout brings up the rear. The Bruery's So Happens It's Tuesday, the little brother to the Placentia, California brewery's momentous Black Tuesday Imperial Stout, named in honor of the great stock market crash of 1929. "So Happens It's Tuesday is similarly dark and delicious, but in a more affable format, reminding us that there is always a bit of good to be found within the bad," according to The Breury hype. Pouring silky black with a small tan head, this dark and delicious bourbon barrel-aged imperial stout is packed with dark roast malts that give a classical mocha coffee character with well-defined hints of plum and liquorice all enriched by sweet burnt sugar, a touch of vanilla, smoke, oak and, of course, bourbon. The tasting concludes with a beautifully judged bitterness.
---