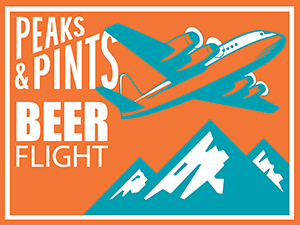 An avid homebrewer and former employee at Stone Brewing Co. in Southern California, where he worked in the communications department, Jacob Mckean founded Modern Times Beer in the Point Loma neighborhood of San Diego in 2013. For the first year Modern Times didn't brew an IPA — and when they finally did, it wasn't a West Coast hop bomb that helped put the San Diego beer scene on the map. Today, the brewery has a stable of year-round offerings, monthly special releases and rotating seasonal beers, as well as tons of special release and one-off batches — from hazy IPAs, to barrel-aged sours, to decadent imperial stouts. From their modern taprooms and beautifully designed cans to their sleek and minimalistic website, Modern Times approaches things in a, well, modern way. Even all the employees have hip nicknames — employees who happen to own 30 percent of the brewery. Today, Peaks and Pints presents a flight of 100 percent Modern Times sours that we call Craft Beer Crosscut 5.23.19: A Flight of Modern Times Sours.
Craft Beer Crosscut 5.23.19: A Flight of Modern Times Sours
Modern Times Lutari
6.5% ABV, 10 IBU
Named for a mystical island of adorable virtual pets, this sublimely refreshing Berliner weisse handily lives up to its magical moniker. Modern Times loaded the tart base beer with a boatload of mangos, guavas and apricots for a lovely, bright lemon zesty tart aroma with a touch of guava and grains of paradise. The magic continues on the tongue with a cool, crisp mellow flavor that's not very acidic but has a nice fruity tartness with lemon zest, papaya and a touch of lychee.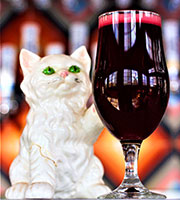 Modern Times Bobcat Danger Scenario
4.9% ABV, 15 IBU
Modern Times and Bottle Logic Brewing out of Anaheim, California, teamed up on this Berliner weisse. Stuffed to the gills with red and black raspberries, rhubarb, coconut, and vanilla, this tart, funky fruit-fest sports delicious notes of raspberry jam and creamy coconut and vanilla, to go along with puckering tartness. It's like a liquid slice of blackberry pie with a dollop of whipped cream on top.
Modern Times Fruitland Gose
4.8% ABV, 17 IBU
Modern Times' Fruitlands series sports the same sour, salty base beer. From there, the brewery adds fruit to give the gose a distinctive flavor. March through May, Apricot is available. October through January you'll find sour cherry, and June through September the Passion Fruit/Guava version, which has joined this sour beer flight. The passionfruit and guava gives it a tropical flavor that pairs nicely with the base beer, making the brew taste something more akin to a nice fruity punch than a beer, although certainly not as sweet. Passionfruit is definitely the star with this one, but you get a little bit of guava as well, especially on the nose.
Modern Times Star Metal
5.5% ABV
Prepare your flavor detectors for the pinnacle of tropical refreshment. Modern Times loaded this mouthwateringly delicious super-Berliner weisse with generous helpings of blood orange, guava, pineapple, and hibiscus, effectively blurring the lines between beer and fruit punch. It smells super fruity, almost like fruit punch. The taste is dominated by blood orange and guava; we definitely pick up the hibiscus as well. This beer is thick for the style, almost like fresh squeezed juice with some carbonation.
Modern Times Hyper Halo
6.5% ABV
Beach time! This Berliner weisse is ready for the tropics wearing a pinkish-orange outfit and a citrus pith aroma that screams Bellini. Hyper Halo is both tart and effervescent, stuffed with tangerine, mango, strawberries, and guava, although the strawberries and guava are kicking the most sand. It's moderately sour, very fruity with bit earthy and lemony finish.
---