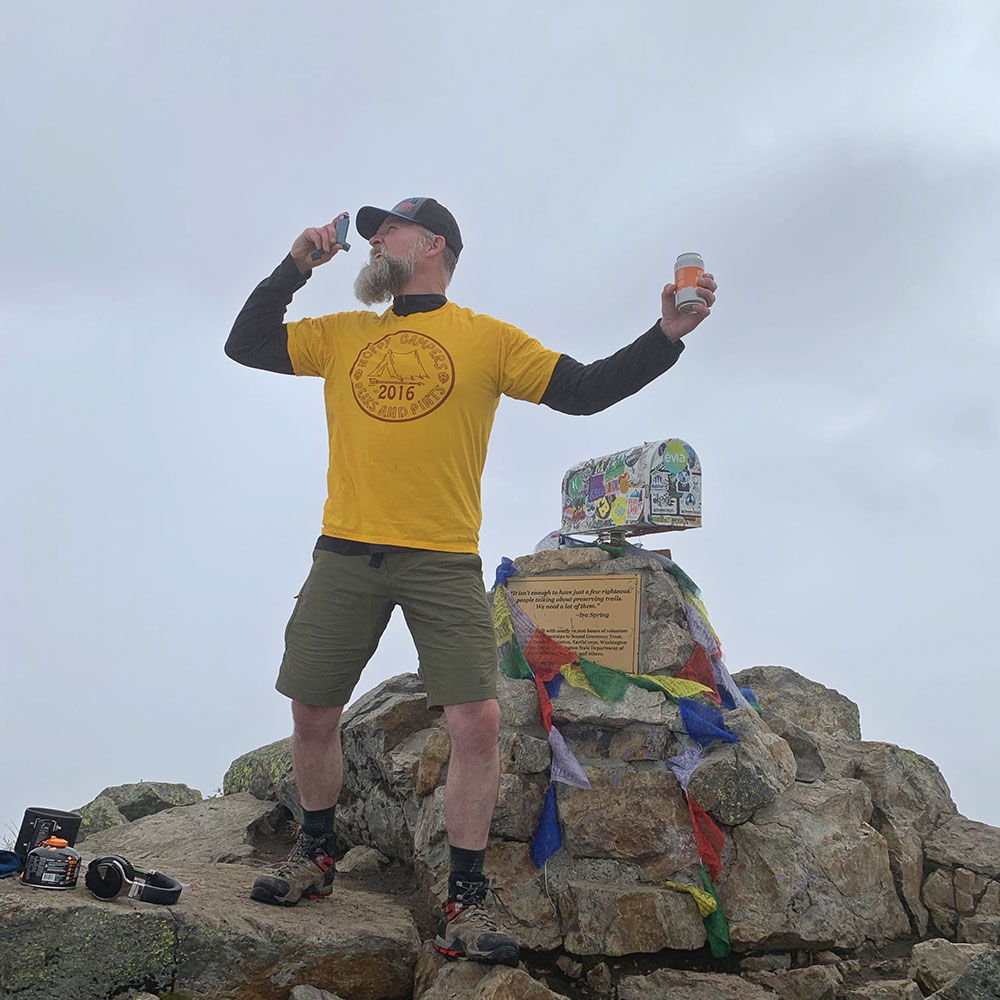 Peaks and Pints co-owner Climbs For Clean Air
The glare of the rising sun illuminates the jagged white and blue ice peaks. In the middle distance, the tallest catches the first pink light of dawn. In the foreground we see a climber encased in his burnt orange REI down jacket. He is walking very, very slowly, inching up a steep knife-edge ridge. As the scene shifts to slow motion, we can see that he is taking a hit off his inhaler.
Most likely, this hiker will be me, Ron Swarner, as I ascend Mt Rainier toward the end of June 2019. I have dealt with exercise-induced asthma since the mid-'90s. Climbing 14,411 feet up to the summit seems daunting with bad lungs, but I find comfort climbing with the American Lung Association.
Please join my donation and help me raise money for the American Lung Association and a chance for me to reach the summit at: http://beerforcleanair.com.
I couldn't pass up the opportunity to climb one of the U.S.'s most iconic peaks in attempt to end lung disease and protect the clean air we all need. As co-owner of Peaks and Pints craft beer bar, bottle shop and restaurant in Tacoma's Proctor District, I've hosted several of the Lung Association's Climb For Clean Air educational seminars. I've sat back, craft beer in hand, listening to Climb For Clean Air's Evan Lepine describe the group's mountaineering training and fundraising program to eager participants with eye sights and Instragram accounts aimed at Mt. Rainier, Mt. Hood or Mt. Baker, which ever peak suits their fancy. This past winter, as Lepine waxed mountain tops and perfect packs standing before our fireplace, I slammed my hand down on the red buzzer. "I'm in!" I screamed in my head, but whispered to Lepine.
The climb itself will be new territory for me. I've always loved being outdoors, and I've scrambled and boarded plenty of the Northwest's mid-sized peaks, but I also have a healthy fear of lung explosion. I've studied the mountaineering films screening on Peaks and Pints' big screen. I thought the projected climbing scenes would be as close as I would ever come to the lightheaded, low-oxygen grandeur of scraping up against the heavens.
I'm going to give it a shot this June, but I need your help. Again, Please donate at: http://beerforcleanair.com.
Thank you!
Ron Swarner
---