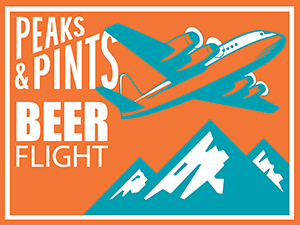 The James Bond movie franchise has been turning out movies since 1963, when Sean Connery first embodied the role in Dr. No. Peaks and Pints assumes "Bond Theme" composer Monty Norman and arranger John Barry were drinking Scottish ales when they composed the progression from a root note to a half-step up, to another half-step up and then walking back down those steps. In this case it means a bassline of B-C-C#-C that then returns to B to restart the cycle. After all, Scottish ale originated in Scotland, which gave us Sean Connery. Scottish-style beers tend to emphasize malt. The wee heavy, or Scotch ale, is the boldest of Scottish brews, with a rich bronze color, malty sweetness and strength, just like 007. A Scotch ale may also be made with peat-smoked malt, which adds smoky and earthy tones to the aroma and flavor profile, just like 007. Today's Peaks and Pints beer flight centers on Scottish ales, a flight we call Craft Beer Crosscut 5.25.19: Flight For James Bond.
Craft Beer Crosscut 5.25.19: Flight For James Bond
Belhaven Scottish Ale
5.2% ABV, 28 IBU
James Bond actor Sean Connery was born Thomas Sean Connery on August 25, 1930, in Fountainbridge, Scotland. The son of Joe, a truck driver, and Euphamia, a laundress, Connery had a modest upbringing in a neighborhood known as "the street of a thousand smells" for the stench of the local rubber mill and several breweries that filled the air. Thirty miles west, John Johnstone founded Belhaven Brewery in Dunbar in 1719. Belhaven means "beautiful bay," named after the stunning coastal location in East Lothian on which it resides.  The home of Scottish brewing, Belhaven brews with local Scottish barley, water from its brewery well, its own unique Belhaven yeast and the choicest of hops from around the world. Belhaven's Scottish Ale is a solid beer with a nutty, sweet flavor and a touch of oak in the aroma. Because the can has a nitrogen widget, this scotch ale has an extraordinary long-lasting head, which also gives it a very smooth and rounded mouthfeel.
North Jetty Bar Crosser Strong Scotch Ale
9.3% ABV, 24 IBU
Michelle and Erik Svendsen, wife and husband and brewers, opened North Jetty Brewing at the Long Beach Peninsula more than four years ago. Gone are the 1.5-barrel system and limited distribution. Today, the Svendsens brew on a 10-barrel system, with beer distribution in 11 counties in Washington and Oregon. They bottle. They win awards. They use malts of Pale, Caravienne, C-120, Chocolate and Midnight Wheat to create a deep, rich, and malty profile with hints of nut, plum and raisins in their Bar Crosser Strong Scotch Ale. Warrior and EKG hops provide just enough balance so that this brew is smooth, malt forward, and delicious. However, make no mistake, North Jetty head brewer Kirk Hurd has a license to brew, and his Bar Crosser Strong Scotch Ale clocks in at 9.3 percent ABV, which can be as hazardous as villain Ernst Stavro Blopfeld.
Silver City Fat Woody Scotch Ale
9.2% ABV, 25 IBU
Francisco Scaramanga, Auric Goldfinger, Julius No, Hugo Drax, Random Task —England's top spy has gone head-to-head against a variety of interesting-named characters. Time Twister, Kwik Stout, The Giant Made of Shadows, Old Scrooge — Silver City Brewery has also brewed a variety interesting-named characters. With a more literal name than one might realize at first glance, Silver City's Fat Woody Scotch Ale is aged for the course of several weeks on American White Oak, lending a remarkable vanilla character, and adding a melodic riffage to the tight backbeat of original Fat Scotch's peaty malt bill. The nose is sweet, extremely caramel-y, lightly smoky, earthy, and woodsy, with cola, brown sugar and molasses. On the palate, it's very sweet and fully malty, with tons of sweet caramel, cola, raisin and prune, milk chocolate, vanilla, brown sugar, molasses, smoky wood, and mushroom-y earth.
Black Raven Splinters Strong Scotch Ale
10.8% ABV, 34 IBU
Examining the scrapes Bond gets into — is it likely that a dude pushing 50 could effectively kill that many henchman? Or jump out of a helicopter unscathed? Peaks and Pints says, "yes." Bond becomes better with age, as Daniel Craig has proven. Scotch ale also becomes better with age. Black Raven's Second Sight Strong Scotch Ale was transformed after resting in bourbon barrels, emerging as the delicious Splinters Strong Scotch Ale. Aged for many months in various bourbon barrels, Splinters picks up the best of the barrel for added complexity of flavor. All of the barrels are then combined and the beer is aged for another month in a stainless steel tank to meld and mature into a sweet ale, with bourbon, vanilla, caramel and a scotch ale finish.
Founders Backwoods Bastard
11.2% ABV, 50 IBU
That the Backwoods is boozier than its little Bastard brother is only a side note; the big distinguishing factor of this Founders Brewing Scotch ale is that it is aged in bourbon barrels, with great undertones of vanilla, bourbon, oak and dark fruits. It's smooth and creamy, with the mouthfeel of a milk stout and the body of a Scotch ale. Let this sweet Bastard sit for a few minutes for a richer taste as it becomes warmer, reducing the sugar-sweet fresh-out-of-the-fridge impression and replacing it with a complex depth. The alcohol cuts away any aftertaste while dominating the aromatics. It's almost like drinking a fine neat after a day of daring international exploits.
---