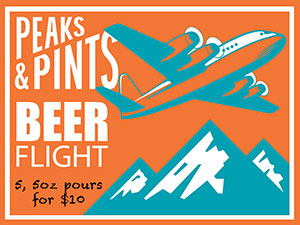 Until recently, fruit in beer, in America at least, has long been ridiculed, ridiculously branded as "girly" or heretical to beer's "purity." However, fruited brews form not only the historical foundation of fermented beverages, especially in Belgian brewing culture, but fruit-flavored craft beers are now a popular trend in American craft brewing, i.e., fruited IPAs. Beer made with peaches is particularly popular with brewers both traditional and innovative, and sipping on a peachy brew is a tasty way to hold on to that fleeting summer feeling. While much of the best examples of American peach brews are made on a very small scale — the kinds of beers that the dedicated beer geeks will line up to purchase — there are more widely available peachy brews to try. Peaks and Pints presents five peach beers in our flight, Craft Beer Crosscut 2.9.18: A Flight of Peach.

Almanac Peach Galaxy
7.5% ABV
Almanac Beer Company's Peach Galaxy is the fruit forward brother of Alameda, California brewery's Tropical Galaxy. The brewery's "Galaxy series" of beers inspired it to pursue a 1960s sci-fi style of illustration, and this new twist on the label includes plenty of new peach inspired touches as well as a new peach color scheme. But, let's get to the drinking. Peach Galaxy is a dry-hopped sour farmhouse ale aged in oak barrels with peaches and spices. The aroma has very slightly sour peach with a woodnote, but the flavor is all peach, with some woodnote and moderately lightly sour.
Goose Island Halia
7.5% ABV
Literally meaning "remembrance of a loved one" in Hawaiian, Halia was brewed in memory of the dear friend of one of Goose Island's brewers who loved peaches. Peaches, indeed. Halia is a tart, farmhouse ale aged with fifty pounds of peaches per barrel in spent cabernet barrels used to mature the Chicago brewery's Juliet beer, plus with Brettanomyces Claussenii. Flavor is lightly tart, brightly sweet, dry finish, but still quenching. The carefully orchestrated interplay of winey, peachy, sour and astringent makes it a worthy sipper.
Double Mountain Peche Mode
8% ABV, 10 IBU
When I'm with Double Mountain Peche Mode baby
I go out of my head
And I just can't get enough
And I just can't get enough
Double Mountain Brewery grabbed silver at the 2016 Willamette Week Oregon Beer Awards for its peach ale, Peche Mode, a play on the 1980s band Depeche Mode, which is French for "fast fashion," but of course the Peche Mode is made slowly and meant to be enjoyed that way. It's brewed with 700 pounds of peaches from Double Mountain founder Matt Swihart's orchard in Odell. Red Haven and Elberta peaches are puréed and added to a three-week old strong Belgian ale along with the same Brettanomyces culture. This particular beer wasn't aged as long as the brewery's krieks, so the Brett character is not as tart and assertive. The peach aroma comes through nicely, providing a sweetness alongside the slight sourness provided by the Brett.
Pike Third Story Series Peach IPA
6.1% ABV, 40 IBU
Pike Brewing Head Brewer Art Dixon's Peach IPA is definitely not a fruit beer and certainly not a hop-bomb; it's nonetheless a refreshing craft beer. Ample whole leaf Citra hops play alongside the real peach stone fruit flavors and aromas. Light and dry on the palate, Peach IPA has us yearning for summer with Citra hops herbal and grapefruit flavors, plus a hint of peach
Rooftop Beer Trumps Hate Imperial Peach Mint IPA
8.3% ABV, 72 IBU
Rooftop Brewing Company's imperial peach mint IPA is brewed with Azacca hops and real peach puree for a bouquet tropical fruit and peach flavors. During dry-hopping, fresh mint is added to give a more effervescent character, but mostly to complete the allegory. Bonus: Rooftop donates money from each Beer Trumps Hate Imperial Peach Mint IPA keg to Washington Wild, a nonprofit organization that protects wild lands and rivers in Washington state through advocacy, education and civic engagement.
---