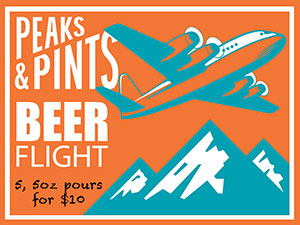 With tree-huddled mountain greenery and foggy windswept adventuring around every turn, there's no denying that Northern California is giving the southern half of the state a run for its money when it comes to the tip-top trio of biking, camping and craft beer. Since Peaks and Pints is a craft beer bottle shop, taproom and restaurant, let's talk craft beer. Northern California was the wellspring of the craft beer movement, which can be loosely traced from Anchor Brewing in San Francisco to Sierra Nevada Brewery in the young-at-heart college town of Chico, and then to the world. Indeed, Northern California craft brewers have changed the way we drink beer, turning it into a drink not just for sports fans but connoisseurs too. In honor of our Lodge Meeting with Sacramento's Track 7 Brewing Company this afternoon Peaks and Pints presents Craft Beer Crosscut 2.10.18: A Flight of Northern California.
Almanac Peach Galaxy
7.5% ABV
Founders and former home-brewers Jesse Friedman and Damian Fagan started Almanac Beer Co. in 2010, crafting unique seasonal beers that use local Northern California produce, partnering with a different small farm each year to supply their fruit. Its Peach Galaxy is the fruit forward brother of Alameda, California brewery's Tropical Galaxy. The brewery's "Galaxy series" of beers inspired it to pursue a 1960s sci-fi style of illustration, and this new twist on the label includes plenty of new peach inspired touches as well as a new peach color scheme. But, let's get to the drinking. Peach Galaxy is a dry-hopped sour farmhouse ale aged in oak barrels with peaches and spices. The aroma has very slightly sour peach with a woodnote, but the flavor is all peach, with some woodnote and moderately lightly sour.
21st Amendment Not Your Cup of Tea
9% ABV, 24 IBU
The 21st Amendment Brewery has launched a new series of beers called Tales from the Kettle, and the first release is Not Your Cup of Tea, a Scottish-style ale brewed with black tea. Each new beer in the series will come from an employee home-brew competition judged by members of the San Francisco Brewers Guild. Team "Slainté to the Queen" — 21st Amendment's graphic designer, a server at its pub, its Chicago sales rep and one of its maintenance technicians — is this year's winner and they tell their tale through a one-of-a-kind, exceptional Scottish-style ale brewed with black tea they call "Not Your Cup of Tea." We can't taste the black tea so much but we can taste caramel, molasses, earth, slight cocoa, touch of plum, little prune, plenty of peat smoke with additions of charcoal and everything else but the kitchen sink. It hides the 9 percent ABV well.
North Coast Old Stock Ale
11.9% ABV, 34 IBU
With a big sherry-like aroma, including hints of vanilla and peppery spice, we're forewarned North Coast Old Stock Ale is stocky. Sure enough, our first taste highlights big brown sugar sweetness up front, with Champagne-grape and honey notes along for the ride. It's brewed with classic Maris Otter malt and Fuggles and East Kent Golding hops, all imported from England. In the cocktail world this beer would be an Old Fashioned. It's hot with alcohol, lip tingling and obviously young, with an assertive bitterness that belies the 34 IBUs. As good as it is today, it will significantly improve with time.
Sierra Nevada Tropical Torpedo
6.7% ABV, 55 IBU
Sierra Nevada fired up its hop torpedo — a device the brewery designed to dry-hop beer through one or more torpedoes slowly for four days, ensuring that all the desired oils are extracted from the whole hops — and added a little hula. The Chico, California brewery took its Torpedo Extra IPA, named for the device, and Comet, Citra, Mosaic and El Dorado added drops of trop with passionfruit and mango aromas and flavor (we taste pine and grapefruit rind too) with a sexy bitter finish, thanks to our friend Amarillo.
Track 7 Left Eye Right Eye IIPA
9.5% ABV, 65 IBU
Sacramento-based brewery Track 7 blends five hop varieties — Amarillo, Cascade, Centennial, Mosaic and Magnum — in its intensively hoppy but smooth double IPA, Left Eye Right Eye. Expect grapefruit, orange, pineapple and pine to flood your senses as you sip this whopper brew.
---