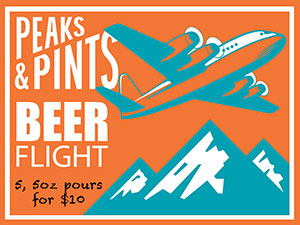 When Jeff and Chris Althouse founded Oakshire Brewing Co. in 2006 they were the only employees, brewing Original Amber on a four-barrel system under the moniker Willamette Brewery. In 2008, Willamette Brewery became Oakshire Brewing. Today, Dan Russo is the lead brewer managing Oakshire's collaborative production team of seven and overseeing the Pilot, Vintage and Core Seasonal programs, including the development of a series of fruited Open-fermented American Farmhouse Ales and four different offerings from their "kettle-soured" Sun Made Berliner Weisse line up. Tonight, Oakshire will be the guest host at Peaks and Pints' Lodge Meeting, releasing its Heart Shaped Box, a barrel-aged imperial stout aged on coffee, cocao nibs, vanilla beans and Bing cherries. In addition to the candy bar beer, Peaks and Pints offers a flight of the Eugene, Oregon brewery's beers that we call Craft Beer Crosscut 2.8.18: A Flight of Oakshire Brewing.
Oakshire Sun Made Blackberry
4.1% ABV, 12 IBU
The only thing we like better than a traditional Berliner Weisse — a mildly sour German wheat beer named for the city where it was born — is a traditional Berliner Weisse with a little blackberry syrup. Oakshire's Sun Made is a Berliner that requires no syrup to get that extra layer of flavor. Inspired by 10 Barrel's Crush series, the Eugene brewery adds bushel after bushel of Oregon blackberries to this softly tart 4.1 percent ABV sour wheat beer. Pouring a deep amber-red with a thin white head, Sun Made Blackberry begins with wheat malt and tart blackberry flavors, then finishes dry with tart blackberry and some salty flavors.
Oakshire Schwarzbier
6.2% ABV, 25 IBU
A part of Oakshire's 2018 Pilot beer program, this is a traditionally brewed German-style dark lagerbier. It looks imposingly thick and heavy, but it's actually medium- to light-bodied. There's a firm maltiness with hints of caramel, vanilla and chocolate, but overall the flavor is clean and not cloying with a cola-like mouthfeel. This beer is balanced, and the finish is clean with lingering chocolate.
Oakshire Imperial Spiced Apple Porter
8.6% ABV, 36 IBU
After Oakshire's brewers drank a 2 Towns Ciderhouse's cinnamon and nutmeg cider aged in bourbon barrels they knew the flavors needed to be a part of their lives. Hello Imperial Spiced Apple Porter. After treacle cinnamon, apple and dark chocolate hit the nose expect flavors of warm mulled cider blended with roasted malts, hearty dark molasses and chocolate, cinnamon and apple flavors.
Oakshire Citrafonix IPA
6.3% ABV, 50 IBU
Oakshire Brewing's Citrafonix IPA drinks like a pale ale — light-bodied, plenty of hops and aged on a combination of citrus fruit zests and juice. A mash of two-row, Munich, honey malt and oats gets hopped with Citra and Amarillo in the boil, with more Citra in whirlpool and both again in the fermenter for awesome citrusy hop flavor and aroma. Then it's flavored with a melange of citrus fruit: lemon peel, orange peel, grapefruit zest, lime zest and grapefruit juice, and fermented with a neutral American ale yeast so you can taste and smell that amazing citrus first and foremost. It finishes smooth and dry with mild hop bitterness.
Oakshire Watershed IPA
6.7% ABV, 70 IBU
Remember those old Olympia beer ads? "It's the water." When it comes to good beer, it really is the water, and that's why Oakshire Brewing instigated its "1% for Watershed" program, donating one percent of the profits from its Watershed IPA in the lower Willamette Valley to keep the watershed and its water clean and healthy. Presenting hop aroma and flavor of fresh grapefruit and resinous pine, Watershed IPA strikes a balance between bitter and sweet, finishing crisp and clean.
---