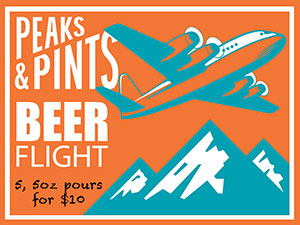 When most people think of lagers they think of pale, clear lagers with snow-white heads and a crisp, light flavor. But that wasn't always the case. For centuries, dark lager dominated the scene in Central Europe until methods for kilning paler malts came along and we saw the introduction of amber lagers such as Vienna lager and märzen. Eventually, in 1842 Joseph Groll brewed a beer in Plzen, Czech Republic that was golden with that thick snow-white foam. Pilsner was born and the world hasn't looked back. Today, Peaks and Pints takes a step back into pre-pilsner history to enjoy a beer flight of classic dark lager styles we call Craft Beer Crosscut 2.7.18: A Flight of Dark Lager.
Shiner Bock
4.4% ABV, 13 IBU
Bock is a bottom fermenting lager that generally takes extra months of lagering (cold storage) to smooth out such a strong brew. Bock beer in general is stronger than your typical lager, more of a robust malt character with a dark amber to brown hue. In 1915, with a co-buyer, Kosmos Spoetzl, a brewmaster trained in Germany, bought the Shiner Brewing Association and gave it his last name, but he still remained true to Shiner and kept the beers named after their precious Shiner, Texas. Shiner Bock is a no-frills kind of bock, but still arguably the most demonstrative of American-brewed bocks. Its very light body, and only slightly roasty notes from caramel malts, making this an easy bock to drink.
10 Barrel Dark Queen
4.5% ABV, 22 IBU
Jose Ruiz, a 10 Barrel brewer, originated the Dark Queen traditional German dunkel, which showcases malt depth achieved by decoction brewing. Flavors of toasty breadcrumbs and soft malt sweetness surrender to a subdued chocolate aftertaste that is light and refreshing.
Köstritzer Schwarzbier
4.8% ABV, 22 IBU
In April 1991, the Köstritzer Brauerei, a subsidiary of the Bitburger brewery, shed its 1543 wardrobe and emerged as of one of the most modern breweries in Thuringia, Germany. In September 1993, it re-introduced the "original Köstritzer black beer," a traditional bottom-fermented lager with a medium body, creamy mouthfeel and flavor that is a beautifully complex blend of Munich malt, cocoa, vanilla and some hop bitterness. The roasted edge is mellow and humble, drinking like a Munich dunkel with a blackened accent. The finish is sweetish, the malty flavors lingering well into the next sip.
Ayinger Celebrator Doppelbock
6.7% ABV, 24 IBU
During Lent, as legend goes, German monks sustained themselves by sipping strong, dark lagers dubbed doppelbocks. This timeworn tale of liquid bread tends to overshadow an indisputable truth: doppelbocks are fantastic feats of brewing engineering, no more so than Ayinger Celebrator. With accolades from the late Michael Jackson and a collection of gold medals from the World Beer Cup, this rich, toffee-rocked lager is dark, crisp, with a touch of chocolate and grape notes. While presenting a full body, it's not cloyingly sweet and features a wonderfully creamy body and enough alcohol to warm your palate.
Paulaner Salvator
7.9% ABV, 28 IBU
There is a smiling monk and an English gentleman on the label for the Salvator. What's not to like? Answer: nothing. This is delicious. The Paulaner Friars invented the doppelbock 400 years ago, and is actually the founding beer of Paulaner. Beautiful bready aromas, with tinges of alcohol spiciness, waft enticingly from the rocky, cream-color head. German malts flow sweetly across the tongue, brightened by green grape and cherry fruitiness.
---