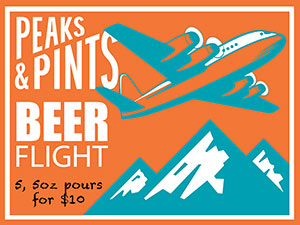 They're mutated turtles and teenagers and ninjas, and celebrated every Tuesday at Peaks and Pints. I have no clue why, other than bartender/singer songwriter Kristen Marlo made it so. There are certain films that perfectly define childhood for those who were at the right age at the right time. The Wizard of Oz. Star Wars. Back to the Future. And, yes, Teenage Mutant Ninja Turtles, at least for Marlo who grew up with Ninjas Leonardo, Michelangelo, Donatello and Raphael — oh, and Splinter, the Turtles' sensei and adoptive father — in the early 1980s after comics artists Kevin Eastman and Peter Laird brainstormed the Turtles as a parody of brooding comics artist Frank Miller's obsessions with grim urbanity. Every Tuesday, the comics-movie-TV-videogame-bedsheet franchise dons our T-shirts while Vanilla Ice's "Ninja Rap" hits our jukebox around noon. In the '80s, the Turtles were a spoof. Today, they are the theme of our beer flight, Craft Beer Crosscut 11.28.17: A Flight of Teenage Mutant Ninja Turtles. Cowabunga!
Better learn the lyrics to this, too. …
Trinity TPS Report
4.8% ABV
Trinity Brew specializes in a wide variety of Belgian-style saisons and wild ales brewed with Brettanomyces yeast, including two-time GABF medal winning TPS Report made with flaked oats, flaked wheat, coriander, three different kinds of citrus zest (lemon, lime and tangerine), aged in French oak Chardonnay barrels with rose petals and dosed with Brettanomyces and Lactobacillus. And while the ninja action on the beer's label is more Office Space than Teenage Mutant Ninja Turtles, this crisp, refreshing mild sour with a hint of citrus and spice could be named after "Turtle Positioning System" — the term applied to turtles ability to use the Earth's magnetic field as their own Global Positioning System, sensing the field they can work out both their latitude and longitude and head in the right direction.
Revision Disco Ninja
7% ABV, 40 IBU
It's a simple universal fact that Teenage Ninja Turtles are badass. The anthropomorphic reptilian warriors go Tarantino-worthy, blood-frenzied on Shedder and his Foot Clan minions. You know what else is badass? Revision Brewing beer … and their buddies at Shoe Tree Brewing. The two Nevada breweries collaborated on a Ninja beer, Disco Ninja, a tasty, tantalizing, karate chop in the freaking mouth. Citra, Galaxy, Mosaic and Amarillo hops stealthily slay taste buds with dank of orange, grapefruit, tangerine and faint melon. It's crushable.
Firestone Walker Leo v Ursus – Inferos
8.2% ABV, 60 IBU
As leader and eldest brother of the Teenage Ninja Turtles, Leonardo, or Leo, is in charge of strategy and maintaining the order between his brothers.  He is the most dependable turtle in battle, and provides a strong example for the others, always willing to be a part of the action. If there is a Leonardo craft beer it would be Firestone Walker's Leo V Ursus – Inferos. "Versus" is Leonardo's life, whether battling bad guys or bickering with his brother, Raphael. The Leo v. Ursus Chronology is born of a longing for high experimentation that was finally fulfilled by the recent launch of the Propagator, Firestone Walker's pilot brewhouse in Venice, California. The third in the series, Inferos ("The Underworld"), is a rye imperial IPA that is fiery in color, hellacious in hoppiness and bursting with spicy rye goodness. Forged with 25 percent rye grain and loaded with more than four pounds of Galaxy and other Southern Hemisphere hops per barrel, it tastes with spot-on rye malt flavor and resiny hops, plus a smooth and bitter finish. Another winner, just like Leonardo.
Loowit Shadow Shinobi
7.2% ABV, 75 IBU
Founded in 2010 and established in 2012 by Vancouver residents Devon Bray and Thomas Poffenroth, Loowit Brewing Company help launch a revitalized downtown Vancouver, Washington. Shadow Ninja Rye IPA was one of three first Loowit craft beers released but it took a few hours for anyone to notice because it's a Shadow Ninja IPA. Eventually its deep pine/earth nose aroma announced its presence. You saw it move with earthy hop ninja quickness, with modest sweetness and a touch of rye spiciness … until Friday, March 25, 2017. Shadow Ninja was stalking the downtown Vancouver brewery, because stalking is in its nature, when suddenly something stealthier pulled Shadow's label off. Vancouver illustrator Kyle Shold held up the label and slapped a new one on. Gasps revealed a name change. An Asheville Brewing trademark infringement forced Loowit to change Shadow Ninja IPA to Shadow Shinobi IPA. Same recipe. Different name and artwork.
Splinters Strong Scotch Ale
10.8% ABV, 34 IBU
Splinter, a rat, learned ninjutsu by mimicking his master, Hamato Yoshi. After his master was killed in battle, Splinter sought refuge in the sewers of New York City, where he found the turtles swimming in a puddle of ooze. The ooze transformed the turtles into the anthropomorphic reptilian warriors Teenage Mutant Ninja Turtles and Splinter into Master Splinter, a humanoid rat. Master Splinter adopted the Turtles as his own sons, naming them after the great Renaissance artists, taught them the essence of ninjutsu and protected them from the human world.  Black Raven's Second Sight Strong Scotch Ale also was transformed after resting in bourbon barrels, emerging as Splinters Strong Scotch Ale. Aged for many months in various bourbon barrels, Splinters picks up the best of the barrel for added complexity of flavor. All of the barrels are then combined and the beer is aged for another month in a stainless steel tank to meld and mature into a sweet ale, with bourbon, vanilla, caramel and a scotch ale finish.
---