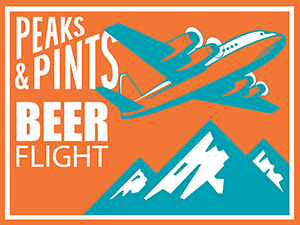 The Shamrock Shake was the ultimate treat of our childhood. Back then, the shakes were just green (vibrant St. Patrick's Day green). The flavor of a Shamrock Shake was like a leprechaun; it was really just vanilla tinted Irish-Catholic green. Although, it would probably have been too confusing to have a Shamrock Shake that was tinted Protestant orange. Milkshakes have now crept into our adulthood. Using Pectin, rich fruits, oats, and lactose to enrich the beer, Omnipollo and Tired Hands brewers were able to recreate the thick heavy and slightly creamy mouthfeel similar to a milkshake. While most brewers were running away from the idea of thickening their beers with adjuncts, these two breweries embraced the process and in doing so they created a beer subset that's as much a smoothie as it is a beer. Then, there are the beers carbonated with a mix of nitrogen and carbon dioxide, which are creamier and less effervescent than those carbonated with just carbon dioxide. Today, Peaks and Pints presents a flight of milkshake craft beers that we call Craft Beer Crosscut 11.24.19: Flight of Milkshakes.
Craft Beer Crosscut 11.24.19: Flight of Milkshakes
Omnipollo Bianca Blueberry Maple Pancake Lassi Gose
6% ABV
Yes, Omnipollo's latest gose is a strange one, but it works. Brewed with blueberries, lactose sugar and maple syrup, this gose hits the nose with strong notes of cinnamon, maple and a touch of berry. The blueberries appear on the palate, with maple flavor vouching for the "pancake" title. It's a sweet gose that could easily pass as a milkshake IPA.
Boulevard Steep Drop Nitro
5.2% ABV, 23 IBU
This Boulevard Brewing milk stout strikes a good balance between beer and coffee. There's ample body with a silky mouthfeel and the nitro balance only emphasizes the characteristics of a well-rounded stout. Brewers also use oats in the brewing process to give it that extra creamy consistency. Then comes the coffee, from the Kansas City brewery's neighboring roasters, Second Best. The course ground beans — 50 percent Brazil City Roast, 30 percent Costa Rican, and 20 percent Ethiopian — sits in the tanks for a day before purged out. The nose is chocolate/roasted malt, fruit, earth notes and coffee, followed by caramel, toffee, rich coffee and chocolate notes with a round, milkshake finish.
Fremont Bbl Dark Star Chocolate, Vanilla & Maple
13.1% ABV
The 2019 Fremont Brewing Bourbon Barrel-Aged Dark Star is "a blend of 24, 18, 12, and 8-month Bourbon Barrel-Aged Dark Star in 7-12-year old Kentucky bourbon barrels. The roasted and chocolate malts complement the smooth oats to bring you a stout delight wrapped in the gentle embrace of bourbon barrel-aged warmth," according to Fremont. The Chocolate, Vanilla & Maple variant on nitro is a decadent milkshake.
Decadent S'mores
8.6% ABV
In 2016, mad scientist brewer Paul Pignataro founded Decadent Ales, a nanobrewery located in Mamaroneck, New York, and is distributed by Twelve Percent Beer Project, the brewery arm of Twelve Percent Imports, as well as contract-brews at Thimble Island Brewing Co. and Dorchester Brewing Co. in Connecticut and Massachusetts. Pignataro's S'mores is brewed with marshmallows, graham crackers, Madagascar vanilla beans, cinnamon, and just a touch of chocolate. Don't freak out. It does have a lovely nose of marshmallow, vanilla, graham cracker with some grassy piney hops. The creamy flavor isn't pure dessert, but rather juicy orange, with tropical fruit, sweet vanilla, pine, biscuit malt, light chocolate, and a hint of marshmallow.
Abomination Lantern Lighter
10.31% ABV
Josh was an avid homebrewer for 8-plus years with more than 200 different beers plus some commercial brewing experience. Joe was an avid homebrewer for 5-plus years dabbling in all styles. They both thought German purity law Reinheitsgebot was an abomination. They opened gypsy brewery Abomination Brewing to push beer beyond just barley, water, hops and yeast. Their Lantern Lighter is a milkshake triple IPA brewed with flaked oats, wheat, lactose, vanilla beans and pumpkins. Double dry hopped aggressively with Mosaic and Citra hops, which dominates the nose. The flavor matches the aroma with the hops and lactose in front and balancing quite nicely. And the pumpkin remains just an afterthought in this department. The aftertaste leaned toward a brisk citrusy, grassy and piney creaminess.
---