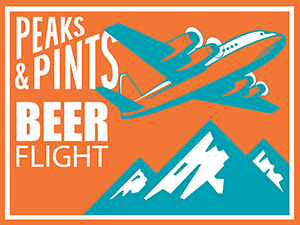 Espresso made its debut in Italy in the early 20th century although coffee was already very much a part of Italian life for centuries. Espresso lovers owe their thanks for the tasty brew to Italy's Luigi Bezzera, the owner of a manufacturing plant who wanted to speed up the time it took to make coffee. He discovered that adding steam pressure to the process produced a stronger, more robust cup of coffee. This machine used in this new quick-brew process was named the Fast Coffee Machine. The beverage produced by the machine would eventually become known as espresso, which means fast in Italian. Today is National Espresso Day. Logically, Peaks and Pints presents Craft Beer Crosscut 11.23.19: Flight of Espresso.
Craft Beer Crosscut 11.23.19: Flight of Espresso
Boulevard Restless Nights
7.5% ABV, 30 IBU
Boulevard Brewing collaborated with beer and coffee experts Modern Times on this beguiling blend of fresh porter and barrel-aged porter brewed with ten varieties of malted barley, wheat and oats. Following fermentation, this inky brew rested on bourbon barrel-aged coffee for two days, infusing trace notes of ripe fruit, citrus and rich vanilla.
Elysian The Fix
8.9% ABV, 55 IBU
Originally a collaboration with the Scots at Brewdog in 2013, Elysian's The Fix is a big and bold imperial stout that is also just as much of a chocolate beer as it is a coffee beer. The Fix also may be the most caffeinated brew on the market, brewed with 9 pounds of Stumptown Coffee Cold Brew, or the equivalent of a 1/2 cup of coffee in every bottle. Elysian then aged the stout on 3,000 pounds of Congolese cocoa nibs from Seattle-based Theo Chocolate. This is an intensely dark and rich beer.
Epic Son Of A Baptist
8% ABV, 60 IBU
Epic Brewing's Son of a Baptist is a coffee imperial stout. It is not barrel aged like its father, Big Bad Baptist; instead its flavor profile is designed to highlight the complex and often unique flavors of small batch coffees. Peaks and Pints scored the Highwire Coffee Roasters version, which means the Oakland coffee company gave Epic their Bauhaus blend, adding bittersweet chocolate to the full and intense taste of dark malts and coffee.
Two Roads/Evil Twin Two Evil's Saigon Scooter Selfie
9.5% ABV
Two Roads Brewing's Master Brewer Phil Markowski and Evil Twin's Jeppe Jarnit-Bjergso sampled and became enamored with a popular Vietnamese coffee drink called Ca Phe Sua Da (cah-fe sah dah). Thick and decadent, like a coffee milkshake, it was the inspiration for their collaboration, Two Evil's Saigon Scooter Selfie Vietnamese-style Coffee Stout. Jarnit-Bjergso and Markowski traveled to the chaotic, scooter packed streets of Saigon to meet up with brewing friends Heart of Darkness Brewery. It was there that the brewers created the first batch of this collaborative beer. Rich, thick mouthfeel gives way to lush sweetness with hint of coffee character followed by notes of cream, toffee and vanilla.
Avery Mephistopheles
14.666% ABV
The name Mephistopheles originally appeared in literature as the demon in the German Faust legend. According to the story, Faust was dissatisfied with his life and made a deal with the devil, exchanging his soul for unlimited knowledge and worldly pleasures. Mephistopheles appears in this legend as a plain-clothed devil, mirroring the massive imperial stout. Adam Avery first brewed Mephistopheles in 2005, which was the third installment of the Demons of Ale series. After creating The Beast Grand Cru and Samael's Oak-Aged Ale, Avery Brewing decided he wanted the third demon to be a massive stout unlike any other. One of the most distinguishing ingredients is the beer's Westmalle Belgian yeast strain, which produces layers of esters and phenols that create much of the beer's complex flavor. The grist bill is focused mainly on roasted and black malts making it dark and rich. There is also a small amount of Special B, a specialty malt, added for a touch of raisin-like sweetness. The result is a massive and complex stout with notes of vine-ripened grapes, anise, bitter chocolate and an espresso-like finish.
---