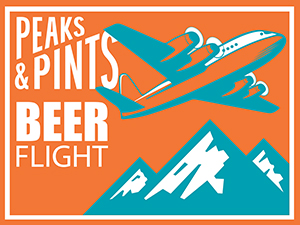 There's no limit to our love for cured meat and artisan cheese, so we're as happy as pigs that two great things will happen tonight. First, master woodcraftsman Mark James will be in the house from 4-8 p.m. selling his beautiful charcuterie, cutting and serving wooden boards from unique and locally salvaged wood. Second, birthday boy Maui Mike and his Tacoma Charcuterie Collective will also be in the house enjoying the Peaks and Pints Charcuterie Plate and wearing Hawaiian shirts. Indeed, Peaks and Pints presents a beautiful and tasty plate of capicola, soppressata, cambozola, manchego, Beecher's Handmade Cheddar, pickled chips, candied walnuts, beer mustard, olives, water crackers and bread sticks. In celebration of all this goodness, we present an all-day flight to pair with our charcuterie plate that we call Craft Beer Crosscut 11.20.19: Flight For Charcuterie.
Craft Beer Crosscut 11.20.19: Flight For Charcuterie
Reuben's Holiday Gose
4.3% ABV, 6 IBU
With one eye on the turkey and the other on the mistletoe, Reuben's Brews unleashed its new Holiday Gose. This cranberry-orange variation of its award-winning gose is fermented with its house lactobacillus culture and includes 10 pounds of fresh cranberries per barrel, sweet orange zest, a touch of coriander and a hint of sea salt. This sour ale brewed with salted water and coriander, adds tart notes to already punchy olives, while the briny fruit draws out the beer's underlying saltiness. The beer's coriander spice matches the olives' deep herbal notes. Beneath the eruption of flavors is a fusion of earthy and tart that lasts long on the tongue.
Boneyard Milano Italian Lager
5% ABV, 25 IBU
Italian pilsners came about when the idea was formed to take the traditional Czech style pilsner and add a ton of hops to it. Boneyard Beer collaborated with Birrificio Lambrate for a true Italian touch, and added Crystal hops from Hop Head Farms in Michigan to all stages of the batch. This pilsner is crisp and refreshing with a floral hoppiness aroma and finish, which pairs with the soppressata allowing the flavor of the salami to shine but are acidic enough to cut through the fat.
AleSmith Nut Brown
5% ABV
AleSmith Nut Brown is a tribute to one of the San Diego brewery's favorite British styles. Deep mahogany in color, its rich, malt forward flavor profile balances notes of biscuit, mild cocoa and earthy hops. A creamy mouthfeel and full body enhances its drinkability, making Nut Brown an extremely sessionable, and a good pairing with the nutty aged manchego. The nut and caramel aromas of the beer are very harmonious with the ones you find in aged manchego. The subtle blue character, decadent buttery texture, and fresh mushroom note of cambozola's rind find a friend with Nut Brown too.
Block 15 Hopfen Pale
5.5% ABV
Block 15's German-inspired spin on a pale ale was brewed with German malts (Pilsner and Munich), German yeast (Kölsch), and German hops (Mandarina Bavaria and Hallertau Blanc) — together creating a unique profile that balances rustic malt character with fruity notes of citrus, ripe pineapple, and dark fruit. The sharp, tangy-sweet flavor of the Beecher's white cheddar and the spicy and smoky fat from the capicola find a sweet spot with this pale ale's balance between malt and hops.
Holy Mountain Shadowlifter
6.4% ABV
Holy Mountain's oatmeal stout is brewed with a combination of American and British malts and a large portion of flaked oats. Shadowlifter is hopped with East Kent Golding and milk sugar is added into the kettle. Post fermentation, the Seattle brewery infuses this stout with a special blend of coffee from Elm roasters in Pioneer Square. The result is dark chocolate ice cream and vanilla flavors with an amazing sweetened mocha coffee finish. This rich stout will add a chocolate note to the sweetness of the candied walnuts, offering added depth.
---