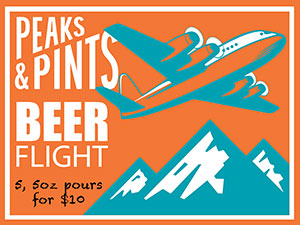 As an overarching label, "wheat beer" can mean an awful lot, and this is likely something that craft beer drinkers who are just beginning to explore the world of beer wouldn't fully understand. Ultimately, all the term "wheat beer" really implies is a brew where more than 50 percent of the fermentables are derived from malted wheat, although some also make use of unmalted wheat, which delivers a subtly different profile. But beyond that, there are a plethora of styles: American pale wheat. Hefeweizens, both American and German in style. Belgian wits. Berliner weisse. Gose. The list goes on. Peaks and Pints presents five wheat beers for our beer flight Craft Beer Crosscut 11.14.17: A Flight of American Wheat.
Black Market 1945
3.8% ABV, 6 IBU
Black Market Brewing's take on a Berliner weisse sour wheat ale, 1945, is the perfect name for a style of beer that shares its name with the German capital. The bottle artwork depicts bombers flying over postwar Berlin, and dropping crates of supplies with the Temecula brewery's initials stamped on the side. Weird? Yes. But, when 1945 first hits the glass, the tart citrus on the nose eliminates any thoughts of supply drops in a war zone. The flavor profile mirrors the aroma with lots of tart lemony flavor, and a sour note from the lactic acid that lingers in your throat after you swallow.
Ecliptic Zenith Grapefruit Gose
4.5% ABV, 10 IBU
Gose (pronounced Gose-uh) is a top-fermented beer that originated in Goslar, Germany. It is brewed with at least 50 percent of the grain bill being malted wheat. Gose belongs to the same family of sour wheat beers, which were once brewed across Northern Germany and the Low Countries. Ecliptic Brewing's Zenith Grapefruit Gose is a traditional German-style sour ale with a touch of coriander and salt. The Portland brewery's interpretation of this style includes grapefruit that finishes dry, tart and refreshing.
Triplehorn Knot Horn Raspberry Honey Wheat
5% ABV, 15 IBU
Triplehorn's collaboration with Diamond Knot Brewing from Mukilteo, Washington is a honey ale utilizing all Skagit Valley Malting Co grains, state honey, and secondary fermentation with fresh raspberries. All of this combines to create a tart and refreshing beer. These two breweries managed to make a beer with a really lovely raspberry nose, and a hint of tart raspberry flavor, that then dries out immediately, within a few seconds of taking a sip. It's likely that the lower ABV helps here, but what it gives you is the best of both worlds — decadent aroma, but without all the cloying sugar or artificiality on the palate. For that reason, it's absurdly drinkable.
pFriem Kumquat Farmhouse Ale
4.9% ABV, 24 IBU
pFriem Family Brewers added German Tettnang, Huell Melon and Motueka hops to Gambrinus Pilsner malt, spelt and raw wheat, then poured puréed .5 pounds per gallon of fresh kumquats into the beer's post fermentation. Lastly, Brett Trois was added with the sweet and sour fresh fruit for the secondary fermentation process. The result is its Kumquat Farmhouse Ale with aromas of fresh kumquats and creamy papaya that will get you started, but the tangy flavors of pineapple and orange juice will propel you to its spritzy, refreshing finish.
Black Raven Three Sundays
9.3% ABV, 33 IBU
Black Raven Brewing Co. wants you to have Three Sundays in a week — to take some time and enjoy the brewery's Belgian style tripel brewed with wheat, 2-Row barley, Munich malt and Belgian Candi Sugar, hopped with Summit, Crystal and Saaz then aged on French and American oak. Breathe in the candi sugar, white pepper, yeast, cloves and light fruitiness of banana and apple juice. The flavor is aggressive. Hops come in with a bite and fade out quickly to a relatively high level of sweetness. It has almost a St. Germain flavor — more for the citrus than for the elderflower. The oak is there through a mid-sip. It finishes boozy.
---