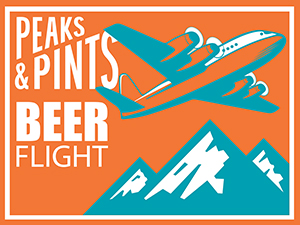 If you visit peaksandpints.com, you know we observe pseudo-holidays and exploit them into beer flights. But today — well, today is National American Beer Day, an occasion we'll let serve as an excuse to enjoy made-in-the-homeland brews. Not that we really need one. Last year, as the Brewers Association reports, the number of breweries in this country was at its highest since the 19th century — and many of those 7,450-plus establishments turned out some pretty innovative, complex, and downright delicious stuff. Beer was once the unfussy option, the tonic of the masses. On Cheers, Norm simply orders beer — no need for a name, because beer was just beer. In contrast to the perceived snobbery of wine, beer was meant for drinking, not thinking. Today that divide is not so sharp. Peaks and Pints listens to guests discussing the merits of individual hops the same way sommeliers might extol grape varietals. American beer is more interesting and nuanced than ever before. In honor of National American Beer Day, Peaks and Pints presents a flight of more interesting and innovative American beer — a flight we call Craft Beer Crosscut 10.27.19: Flight of American Beer Day.
Craft Beer Crosscut 10.27.19: Flight of American Beer Day
Mirage Beer Floor Seats Pilsner
5% ABV
For those not yet familiar with "kellerpils," Renton's Mirage Beer's fresh, new golden brew awaits. Kellerpils is similar, and yet very different from the classic German or Bohemian pilsners. Kellerbier is a lager style most common in the region of Germany known as Franconia with a recipe that dates back to around 160 years ago. In fact, Kellerbier may still be found in the small artisanal breweries of Franconia where it is still considered the preferred brew. The brew's name refers to how it is made. The name "Keller" stands for "cellar" pertaining to the cooler lagering temperatures that were used in making this special brew. This beer is unique in that it still contains some of its original brewing yeast, as well as the B vitamins and minerals produced by the yeast in suspension. This not only makes this beer healthy, but also results in a beer with a "naturally cloudy" appearance. Mirage then dry hops this nü-American pilsner with Loral providing the floral and herbal notes one would expect from a fine noble aroma hop.
Block 15 Dark Matter
5% ABV
Block 15 Brewing's Dark Matter is a dry porter, a style that technically doesn't exist — at least according to Beer Judge Certification Program, although American Porter style is the closest as the flavor tends to have a dark malt dryness in the finish. The Corvallis brewery combines deep, roasty malt character with notes of cocoa and dark fruit from the addition of chocolate to the conditioning tank — a rich blend of flavors that is balanced by a dry finish and gentle malt acidity.
Urban Family Guavasicle
8% ABV
The family-run Urban Family Brewing in Seattle's Magnolia neighborhood is not too busy preparing to move across the Ship Canal to join the Ballard brewery district to brew innovative IPAs. Their Guavasicle double IPA is brewed with a copious amount of pink guava and vanilla, as well as lactose to give it the "sicle." Aroma reveals ample yeast, tropical stone fruits, resinous hops and grapefruit rinds. The Flavor is fruity, full of tropical stone fruits, lactose, and yeast. Five ounces should be perfect as it can be really fruity sweet.
Three Magnets Big Tom's Milkshake IPA Ch-Ch-CHERRY BOMB!
7.2% ABV
Eastside Big Tom is not just your typical drive-thru burger joint. Home of the "Goop," a delicious blend of mayo, mustard, pickle relish and secret salad dressing sauce, Eastside Big Tom is an Olympian favorite. Big Tom's also makes delicious milkshakes, which Three Magnets Brewing fully understands as the Olympia brewery created a hazy milkshake IPA series in honor of Big Tom's. Big Tom's most recent flavor of the month was ch-ch-CHERRY BOMB! Creamsicle, and features real cherry puree and vanilla, creating a hybrid IPA/milkshake flavor. This beer is vegan and contains no lactose sugar, but finishes full-bodied due to the use of unmalted wheat and oats in the mash, as well as an elevated mash temperature creating long chain sugars/dextrins.
Modern Times Why Do Birds Suddenly Appear
10.2% ABV
Why do birds suddenly appear? We don't know why they suddenly appear before an electrical storm, say, or on National American Beer Day. Most people recognize the phrase from Burt Bacharach's famous song, using its first line rather than its clumsy title: "(They Long to Be) Close to You." The song was a huge hit for the Carpenters. In regards to this beer flight, Why Do Birds Suddenly Appear is because we poured it into your flight glass. Modern Times invited Brooklyn's Other Half Brewing to Portland to create this monstrous, hazy behemoth with more than six pounds per barrel of glorious Citra and Cashmere. Prepare for a 10.2% trip to a dimension of pure pleasure.
---