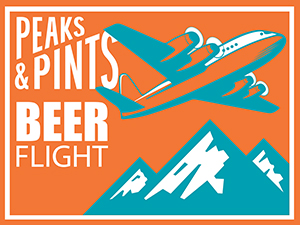 Incorporated in 2009 as Noble Brewing Co., Brewmaster Curt Plants, Ty Barnett and Pratt Rather signed a lease in 2010 for the space it now occupies in Bend, Oregon. In 2011, just before opening their taproom, they changed the name to GoodLife Brewing because plenty of businesses used the name Noble and they wanted to set their enterprise apart. That same year the new brewery was awarded the People's Choice Award for its new Mountain Rescue Pale Ale at the Bend Brewfest. Sweet As Pacific Ale, along with another one of the brewery's early beers Descender IPA, continues to enjoy mass appeal today. Plants passed away in 2017 at the age of 33. It hit the brewery hard, obviously, but Barnett restructured, opened new markets and grew the brand, always asking, "What would Plants do?" Tonight, Peaks and Pints hosts GoodLife at our Lodge Meeting pouring several of the brewery's craft beers, including their 7 Year Anniversary Barrel Aged Imperial Stout with strong bourbon flavor, chocolate and roasted malts. In celebration, we offer a GoodLife all-day beer flight that we call Craft Beer Crosscut 10.11.18: A Flight of GoodLife Brewing.
GoodLife 2018 Reserve Saison
6% ABV, 10 IBU
In early 2017, GoodLife brewed a traditional farmhouse saison with a malt bill of pilsner malted rye, unmalted wheat, and malted wheat. The saison was fermented and racked to French Pinot Noir oak barrels with a unique blend of Belgian saison yeast, Brettanomyces and Lactobacillus, then aged for 14 months before blending all 14 barrels back into stainless steel and prepped for package. The result is a wild ale with classic Brett flavors and aromas such as horsey and barnyard funk with backend fruit.
GoodLife Sweet As Pacific
6% ABV, 18 IBU
Peaks and Pints co-owner Robby Peterson prefers a crisp, cold pilsner. Then, he found GoodLife Brewing's Sweet As Pacific pale wheat ale, which won a gold medal at the 2018 Great American Beer Festival. The Bend brewery used three light malts and Pacifica hops from New Zealand for this popular ale. It has a lot of citrusy hops, but the best characteristic is a honeyed sweetness that sticks to your lips, or in Robby's case, his magnificent beard.
GoodLife Brett Lager
8.5% ABV
GoodLife Brewing and The Ale Apothecary put their brewing minds together — probably at The Sparrow Bakery in between their Bend, Oregon brewhouses — and designed Brett Lager to take elements from both breweries to create something new and unique. First, they brewed a Dortmunder style lager at GoodLife's production facility. After 2 months of cold-conditioning, they transferred the beer into Sokol Blosser Pinot Noir barrels and allowed the beer to warm up to ale temperatures, then added The Ale Apothecary's wild house yeast culture to further evolve the beer during the 18-month barrel aging process. The result is truly magical, with intense aromas of tropical and stone fruits followed by flavors of fresh cut hay, funky barnyard notes and figs reminiscent of Belgian lambic while the initial lager characteristics of Mecca Grade Estate Malt and yeast are still evident and intertwined!
GoodLife G. Love's Special Sauce
7% ABV, 70 IBU
In 1994, Philadelphia-based blues/hip-hop artist G. Love scored his biggest mainstream hit with "Cold Beverage." His band, G. Love & Special Sauce has been touring pretty much nonstop ever since. Last June, that included a set on the lawn at the Bend brewery. That, in turn, led to GoodLife's latest collaboration between the brewery and G. Love himself, to make what the brewery calls "the dankest of the dankest IPAs known to mankind." G. Love's Special Sauce IPA combines six different types of hops — Mosaic, Idaho 7, Mandarina Bavaria, Centennial, Columbus and El Dorado — for a danky dankster of a beer.
GoodLife Comatose
9.5% ABV, 95 IBU
Comatose is a triple dry hopped, imperial IPA brewed with High Color Pale, Bonlander Munich and Carafoam malts balanced by Bravo, Zythos, Zeus, Chinook, Cascade and Summit hops. This heavyweight has more than 5 pounds of hop per barrel, which makes the aroma smell of strong orange candy followed by citrus and spice. The beer continues jabbing the taste buds with a taste of biting into a fresh grapefruit with a balanced malt character, luscious and slightly oily mouthfeel and a strong and clean finish.
---