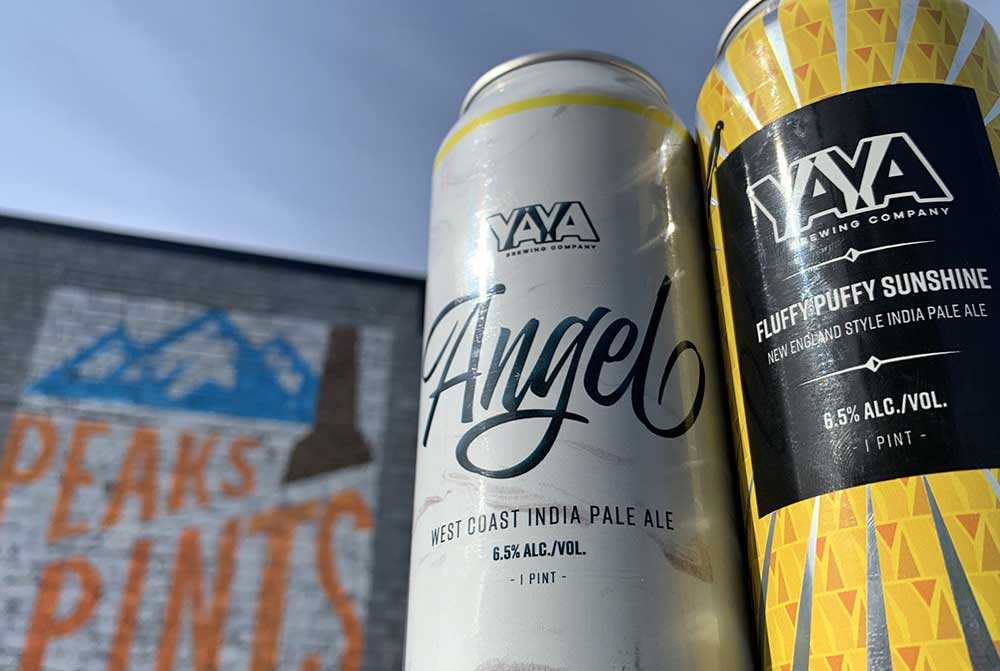 YaYa Brewing lands at Peaks and Pints
Christmas Day 2016, Spokane brothers Jason and Chris Gass traded stories about their sister, Lara, including her community contributions and her sudden passing two months shy of graduating from law school. Her tragic car accident in March 2014 left a huge hole in their hearts. On that fateful Christmas Day, the brothers decided to help fill that hole with craft beer. Their initial plan was to open in Portland, Maine, but their hometown of Spokane felt better — more opportunities and certainly cheaper.  Named after their sister's nickname, they opened the Spokane Valley YaYa Brewing in October 2019 with flagship beers Angel IPA and Fluffy Puffy Sunshine, a hazy IPA. Then, the pandemic hit forcing YaYa to be not quite NoNo and more SoSo with to-go, curbside pickup and delivery operations allowing them to stay afloat.
Peaks & Pints has brought in YaYa's two flagship beers, which await in our cooler. Cheers!
YaYa Angel IPA
6.2% ABV
YaYa Brewing co-owners and brothers Jason and Chris Gass brewed a beer especially for their deceased sister, Lara. She loved clear, piney Pacific Northwest style IPAs, which describes their Angel IPA generously hopped with Citra, Palisade and Amarillo hops, plus a floral and citrus nose. Since Lara donated her time and effort to organizations such as Second Harvest Food Bank, Habitat for Humanity, and Big Brothers, Big Sisters, the Brothers Gass donate proceeds from Angel IPA to local charities, including the Angel Wings program.
YaYa Fluffy Puffy Sunshine
6.5% ABV
Since YaYa co-owner Jason Gass spent time in New England flying planes, he helped his brewing brother Chris to tweak Fluffy Puffy Sunshine hazy IPA to perfection. A true-to-type New England IPA, Fluffy Puffy Sunshine has a smooth, creamy mouthfeel from heavy doses of flaked oats in the grain bill. Citrus taste paired with large quantities of dry hops make for a genuinely tropical aroma.
LINK: Peaks & Pints cooler inventory
---