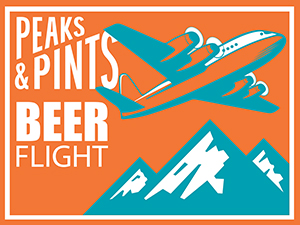 Founded by brewers Jack Harris and Chris Nemlowill, the two combined their brewing expertise from previous Oregon coast gigs at Bill's Tavern and Astoria Brewing Company to open Fort George Brewery in March 2007. Harris and Nemlowill drove their first 8.5-barrel brewhouse — nicknamed "Sweet Virginia" — from the East Coast and through a tornado to open a small pub in the Fort George Building on Duane Street in Astoria, Oregon. In 2009, they bought almost the entire city block, including the Lovell Building, where they installed a 20-barrel commercial brewhouse — "Little Miss Texas" — followed by a neighboring $12.5 million production facility. Today, in celebration of their 2022 3-Way IPA release, Peaks & Pints presents a to-go flight of Fort George beer — a flight we're calling Peaks and Pints Pilot Program: Fort George Brewery On The Fly.
Peaks and Pints Pilot Program: Fort George Brewery On The Fly
Fort George Beach Eagle
4.7% ABV
Beach Eagle is a Mexican-style lager named for the glorious Beach Eagle of the North Oregon Coast. Fort George brewed this pale lager to pair specifically with Mexican food on the beach. Pale in color, light in hops, and full of refreshment, this classic lager has a light grainy corn flavor with subtle citrus and floral notes that tastes great with or without a lime wedge tossed in.
Fort George Java the Hop
6.5% ABV
Fort George brought back two Java the Hop coffee IPAs for this year's May The 4th Be With You. Together with their friends at Coava Coffee in Portland they hand selected two single-origin, masterfully roasted coffees to pair with two, masterfully grown hop varieties. This version features Ethiopian Wuri Coffee paired with Idaho 7 hops for a lovely coffee profile, chocolate, and vanilla with fruity contribution from the hops, although the coffee is more forward. We get butterscotch as it warms, too.
Fort George 3-Way IPA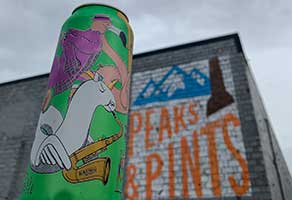 7% ABV
After many beta test batches, blind tastings, lab tests, aroma analysis, color checks, last weekend's Lupulin Ecstasy Festival, and long conversations with this year's brewing partners Ravenna Brewing from Seattle and Alvarado Street Brewery from Monterey, California, on this year's 3-Way IPA, what pours from our taps and cans in our cooler is a West Coast style 3-Way. The Fort George Brewery's 2022 3-Way IPA is an explosion of juicy fruit flavors. With all the bright clarity of a West Coast IPA and a rich, smooth texture, it offers a crisp hop bite, grassy and candied citrus peel notes in a balanced presentation.
Fort George Magnetic Fields
7.2% ABV
The once hazy winter IPA seasonal utilizing brewing knowledge pulled from the four corners of the planet, Magnetic Fields is now a year-round IPA brewed with a heavy amount of Strata, Citra, and Motueka dry hopping for delivers flavors of summer fruit and oranges with light grapefruit, plus a crisp dry lingering bitter finish.
Fort George Vortex IPA
7.7% ABV, 97 IBU
Caught in a tornado in the Midwest while hauling their original brew system cross country from Virginia, it made sense from Fort George Brewery to whip up Vortex IPA. With a hearty 7.7 percent ABV unfiltered, unpasteurized organic malt spine that makes way for Simcoe, Amarillo, and Centennial hops this IPA is medium bodied with a resinous mouthfeel, grapefruit more than pine and finishes with lingering hop bitterness. This beer is straight up delicious.
Fort George Skies of Wonder (Just Friends)
8.7% ABV
Each batch of Fort George's Skies of Wonder hazy double IPA series is different, but always mostly cloudy or hazy. The most recent Skies of Wonder, code name "Just Friends," is packed with Mosaic, Rakau, and El Dorado hops over Pilsner and Carapils malts, plus torrified wheat. Expect a juicy, creamy imperial hazy with orange notes and a hoppy citrus finish.
Fort George Cavatica Stout
8.8% ABV, 30 IBU
Fort George Brewery at the mouth of the Columbia River in Astoria, Oregon excels at dark craft beers, such as its Cavatica Stout. The Latin root of Cavatica is cave, crevice, abyss, or a dark place. Just like a stout should be. Fort George brewers dump in black barley and Munich malt to get a molasses-like heft. Cavatica's extra ethanol will blend smoothly into your glass. A big head of sandy foam and the resolute sweetness of raisins, cocoa, and candied walnuts impress. Cascade hops provide a balancing slice of orange that is distinctly Oregon.
LINK: Peaks & Pints cooler inventory
---