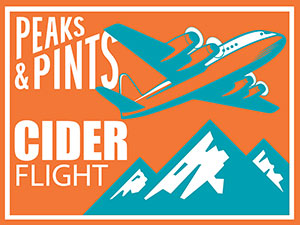 Washington state produces roughly 60 percent of the country's apples, resulting in a flourishing market for hard cider. This time of year means Washington's apple harvest is in full swing statewide, with apples ready to occupy your homes and future pint glasses. What better way to close out your summer and start the harvest season with a cider week? The Northwest Cider Association's ninth annual Washington Cider Week, an 11-day craft cider celebration, will see more than 85 events ranging from the simple to the significant; from dinner pairing menus to Peaks and Pints' Cider Week Socials. Indeed, 4-6 p.m., Sept. 5-16, Peaks and Pints will host cider socials for gluten-shy people to experience a different Washington state cider daily. Over the course of two hours, we'll tap several draft options from a cidery to fuel discussions, compliment literature or spark new friendships. In conjunction, Peaks and Pints will allow Washington ciders to takeover our daily flight, with Elemental Cider Co. in the spotlight today. Stop by Peaks and Pints today and enjoy Washington Cider Week Flight: Elemental and friends.
Washington Cider Week Flight: Elemental and friends
Elemental Oxygen Pomegranate
6% ABV
In December 2014, husband-and-wife team Brian and Christina Callahan, the Woodinville, Washington couple behind the Callahan Cellars winery, launched Elemental Hard Cider, focused on hard ciders made with Northwest apples, cold-fermented with minimal filtering and devoted to expressing the atmospheric components. "Oxygen" Pomegranate is reminiscent of a sparkling rosé. It's semi-dry with bright acidity and a refreshingly light mouthfeel.
Elemental Platinum Peach
6% ABV
Elemental's "Platinum" Peach, a semi-sweet "infused" cider infused with peach, hits the tongue with slight bites of peach underlying a crisp apple cider.
Elemental Calcium Blood Orange
6.5% ABV
Elemental's blood orange infused semi-sweet hard cider is full-bodied and full-flavored with the blood orange portion of the flavor remaining mild instead of overpowering.  It has a hazy orange hue with a hint of pink. The aroma is orange zest and wood. The flavor is sweet with lots of juicy blood oranges and highly sweet apples. It's citric and sweet on the finish. Not overly cloyingly sweet, the sweetness and sourness from the citrus are balanced.
Eaglemount Raspberry Ginger
8% ABV
Fourteen years ago, Jim and Trudy Davis founded Eaglemount Winery & Cidery on an original 1883 homestead in the town of Eaglemount on the Olympic Peninsula. Part winery, part cidery, Eaglemount continues the tradition of the original homesteaders by making hard cider with heirloom apple varieties such as Gravenstein, Winesap, White Pippin, Roxbury Russet, and Twenty Ounce, although they also source heirloom varieties from other old homestead orchards on the Peninsula. Seattle wine Awards "Gold Award" winning Eaglemount Raspberry Ginger is just that, raspberries and ginger, in a fragrant, balanced, semi-sweet cider. Nose is strong, with notes of ginger and raspberry. Flavor is interesting, with the ginger upfront, with raspberries in the back.
Bad Granny Fresh Hop
6.5% ABV
Julie and Bret Pittsinger opened Karma Vineyards in the fall of 2007, creating the first traditional style champagne in Chelan County, Washington. As the brand grew the Pittsingers saw an opportunity to partner with his long-term relationships of apple growers in the area that he's cultivated over several decades. The chemistry between the quality of apple and the knowledge of the traditional French champagne method, created a unique hard cider and Bad Granny Hard Cider was born. Bad Granny's Fresh Hop is made with Loral hops for an aroma profile of floral, peppery, and even herbal notes, reminiscent of German noble hops. However, it doesn't stop there. The citrus (specifically lemon) and some dark fruit character balance the sweetness.
---