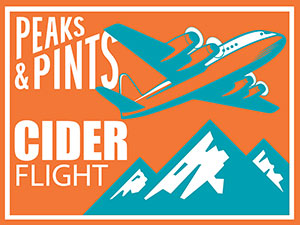 At age 19, Nancy and Steve "Bear" Bishop would go on dates to Canada. They fell in love with cider. After making cider as hobbyists for many years, in 2001 they took a trip to the cider making regions of Spain, France, and England to observe commercial operations. When they returned home, Steve and Nancy took a class at WSU from an English cider master, and ordered 900 French and English cider trees, which started their journey into commercial cider making and the founding of Alpenfire Cider (previously named Wildfire Cider). Located in Port Townsend, the Bishops, including their son and sales director, Philippe, adore showing people around their orchard, where they grow three French and five English cider apple varieties as well as many heritage and dessert apples. As a finale to our 12-day Washington Cider Week celebration we will host Peaks and Pints Washington Cider Week Social: Alpenfire from 4-6 p.m. Stop by to enjoy the Washington cidery's craft on tap, as well as a Washington Cider Week Fight: Alpenfire and Friends.
Washington Cider Week Fight: Alpenfire and Friends
Alpenfire Traditional Heirloom #18
6.8% ABV
Alpenfire created the Traditional Heirloom with apples from the 2018 harvest — organic Arkansas Black, Mutsu and Newtown Pippins Heirloom from Hood River and Bittersweets from their own orchards. It's matured more than 8 months partially on French oak then lightly sweetened with honey.
Alpenfire Glow Rosé Hard Cider
6.8% ABV
Alpenfire Cider is based in the seaport town of Port Townsend, Washington. They are a family run, certified organic, estate cidery and orchard planted in 2003. They created this a single varietal rosé cider with Hidden Rose apples, a rare, dessert apple variety. The aroma is composed primarily of a really luscious, ripe apple character. Amazing! On the palate expect a robustly built cider, sporting rich tannin, notes of caramel and a rich weightiness that is tamed by the sparkle. Not atypical cider by any means.
Alpenfire Spark!
8.9% ABV
Port Townsend cidery Alpenfire creates Spark, a sparkling cider with an unique blend of organic heirloom apples. Varietals grown in Sequim, Washington, such as Melrose and Winter Banana make up 80 percent of the blend while Alpenfire's estate Brown Snouts, Foxwhelp and Vilberie apples round out the last percent and help give this cider a nice astringent finish.
Incline Ginger Lime
6.2% ABV
It's rumored Key limes were introduced to Florida in the 1830s by Henry Perrine, a botanist and diplomat who discovered the plant in Mexico. Of course, key lime pie can be found on almost every menu in the Sunshine State. Key limes can also be found in Incline Cider's new Ginger Lime cider. Starting with a traditional apple cider base, Incline adds an infusion of ginger and key lime to the mix for all the ginger and lime on the finish.
One Tree Lemon Basil Cider
6.6% ABV
Grant Barnes and Neal Hennessy started making cider as a hobby, and it turned into a vocation. One Tree Hard Cider started in Barnes' Spokane Valley garage, with exactly one recipe: a relatively straightforward semi-sweet apple cider. They went pro in the summer of 2014. Real lemon and fresh basil make this a sweet, sassy bouquet of awesome.
---