Tournament of Beer: West Coast Flagships First Round April 13
In 1996, we launched Tacoma City Paper, an alternative rag that targeted younger readers with an emphasis on arts coverage and a more freewheeling editorial style. Most of the editorial staff resided in the namesake city we covered, but a few lived on Capitol Hill in Seattle. We had two editorial staff meetings — one in our Lakewood office and the other at Elysian Brewing. We drank The Immortal IPA and discussed downtown Tacoma's arts renaissance, what was the latest restaurant to open at Ninth and A Street, and to trade stories about the Swelter show at The Central club on Sixth Avenue. We held the Elysian meetings for about a year, but memories of after-meeting shows at the brewery with The Presidents of the United States of American, Sage, and such while tipping The Immortal live on. Today, The Immortal faces off with Pelican Brewing's Kiwanda Cream Ale in the Tournament of Beer: West Coast Flagship. We think we'll have an Immortal, and revisit Sage's Forked album.
Tournament of Beer: West Coast Flagships?
A little over a week ago, Peaks & Pints presented you with a compelling question: What is the flagship on the West Coast? And you have responded in multitudes. Sick days have been used. Friendships have fallen apart. Two-row malt farmers and cascade hop growers living together — mass hysteria!
The Tournament of Beer: West Coast Flagships First Round continues with two more days of beer battles before the Second Round begins. What's on the line? The winning brewery receives a permanent spot on Peaks and Pints Western red cedar tap log through the summer.
OK, let's apply hand sanitizer, and dive into today's First Round West Coast flagship battles. Vote for one flagship beer per game. Voting for today's flagship battles ends at 11:45 p.m.
Monday, April 13, First Round West Coast Flagship Games
GAME 1, 1990s
Player: Kiwanda Cream, fifth seed
Team: Pelican Brewing
Location: 33180 Cape Kiwanda Dr., Pacific City, Oregon
Wonders Years: 1996, we do the "Macarena" at the new $42 million Washington State History Museum building on Pacific Avenue in Tacoma AND Commencement Bay Maritime Association building, which later became the Foss Waterway Seaport, then waited for Guffman at the Tacoma Mall Twin Theatre. Down in Pacific City, Oregon, Jeff Schons and Mary Jones open Pelican Brewing — Oregon's only oceanfront brewpub.
Player Stats: If you love Pelican Brewing Company's flagship beer Kiwanda Cream Ale, you're not alone — it's one of Pelican's most award-winning brews with 21 honors, including 13 gold medals. Inspired by one of America's traditional indigenous 19th century beer styles, Kiwanda Cream Ale is a nod to founding brewmaster Darron Welch's love of history and reputation for brewing beers as they are intended to be. Pelican is the first known craft brewer to honor the early American beer. Made of all local, hand-sourced ingredients — Two-row malt, flaked barley, Mt. Hood hops, CaraPils malt, pure local water and pure ale yeast — Kiwanda Cream Ale is pale gold with a fruity, floral hop aroma, golden color, refreshing body and clean, snappy finish.
ABV: 5.4%, IBU: 25
Player: The Immortal IPA, twelfth seed
Team: Elysian Brewing
Location: 5410 Airport Way S., Seattle, Washington
Wonder Years: 1995, we said bye-bye to Danny Tanner and his three kids and various hangers-on; Hugh Grant was caught with a prostitute named Divine Brown; The Grateful Dead played their last concert; and head brewer and founder Dick Cantwell, CEO and founder Joe Bisacca and founder David Buhler opened Elysian Brewing on Seattle's Capitol Hill. The three gentlemen in their 30s expanded the company to include Elysian Tangletown in the Green Lake area, Elysian Fields in Sodo near the sports stadiums, Elysian BAR near Westlake Center and a production facility on Airport Way South in Georgetown in 2011, that is until they sold to AB-InBev in 2015, in which Cantwell left to eventually buyout Magnolia Brewing in San Francisco.
Player Stats: One of the first beers Cantwell brewed was The Immortal IPA, a Northwest interpretation of a classic English style IPA, which still golden copper in color and loaded with New World hop aroma of piney, resinous, and grapefruit hop scents. Toffee-sweet malt flavors wash over the tongue immediately and sing through the inevitable waves of hops. It finishes dry and clean with just a touch of hops in the aftertaste, making it more drinkable than the usual hop bomb.
ABV: 6.3%, IBU: 42
Tournament of Beer Analysts: "The Immortal helped define Northwest IPA prowess decades back; Kiwanda Cream still is considered one of the best cream ales in the U.S. The votes will decide."
SCROLL DOWN TO VOTE >>>>>>>>>>>>>>>>>>>>>>>>>>>>>>>>>>>>>>>>>>>>>>>>>
Game 2: 1990s
Player: IPA, fourth seed
Team: Lagunitas Brewing
Location: 1280 N. McDowell Blvd., Petaluma, California
Wonders Years: 1993, the year Nora Ephron's beloved rom-com Sleepless in Seattle came out, and Seattle's Lake Union was never the same; Steely Dan reunited for the first time since 1981; we discovered "The Truth Is Out There," and Tony Magee opens Lagunitas Brewing. Named after the small, unincorporated Marin County town in which it was founded, Lagunitas is now one of California's biggest names in beer. The brewery quickly outgrew its small rural location, aka Magee's garage, in under a year and moved north to its current home in the industrial outskirts of Petaluma. The Sonoma County company is now owned by Heineken International.
Player Stats: IPA was Lagunitas' first seasonal, released in 1995. The beer's labels claim it's "made with 43 different hops and 65 various malts," which would be badass if true, if wildly impractical. Cascade and Centennial are in the greatest abundance, and they combine to deliver flavors and aromas of citrus zest, bitter pine, grass, earth and just a pinch of crystal malt to keep the hops in proportion.
ABV: 6.2%, IBU: 46
Player: Blonde Bombshell, thirteenth seed
Team: Cascade Lakes Brewing
Location: 1441 SW Chandler Ave., Bend, Oregon
Wonder Years: 1994, we watched Tonya Harding win the national figure skating championship title but was stripped of her title following an attack on her rival Nancy Kerrigan; we played around with the new Ebay online auction website; we downloaded Collio's "Fantastic Voyage" on something called an MP3, Steve and Dave Gazeley opened Cascade Lakes Brewing in Bend, Oregon. On a shoestring budget, landed in a nondescript 5,000-square-foot building in an industrial park west of the Redmond Airport. Back then it was known for its Rooster Tail Ale, Monkey Face Porter and Angus MacDougal amber ale. Gazeley brothers sold the business to Doug Kutella and Rick Orazetti in the first quarter of 2001, and the two new owners basically put the brewery on the map. A year ago, father and son team Andy Rhine and Bruce Rhine bought the brewery and brought in long-time Deschutes Brewery assistant brewmaster Ryan Schmiege.
Player Stats: Blonde Bombshell blonde ale has remained a consistently strong seller for the company, accounting for over a quarter of all beer sales. First brewed in 1999 as a summer seasonal, the beer proved popular enough to be added to the core lineup and had locked in its place as the flagship by 2003. The flavor highlights a light husky graininess with a touch of cream of wheat cereal. An earthy hop bitterness develops mid-palate, slightly spicy and lingering unobtrusively into the finish. Overall the beer is light-bodied, crisply refreshing and finishes clean.
ABV: 4%, IBU: 26
Tournament of Beer Analysts: "Blonde might have more fun but Lagunitas probably has 43 reasons why it will most likely win."
SCROLL DOWN TO VOTE >>>>>>>>>>>>>>>>>>>>>>>>>>>>>>>>>>>>>>>>>>>>>>>>>
GAME 3, 2000s
Player: Quilter's Irish Death
Team: Iron Horse Brewery
Location: 412 N. Main Ellensburg, Washington
Wonder Years: 2004, we walked through the newly opened glass and steel Greater Tacoma Convention and Trade Center before watching Leonardo DiCaprio crash a plane. Franz Ferdinand and Green Day drop hits on a sea of worthy hip-hop releases. And, we ate a lot of tots, thanks to Napoleon Dynamite, gosh! In Ellensburg, Washington, the late Jim Quilter opened Iron Horse Brewery. Their flagship Quilter's Irish Death was born of a reverence to the dry Irish stout.
Player Stats: Irish Death has been called a sweet stout, strong ale and Scotch ale. It's not. It's just a delicious, dark ale.
ABV: 7.8% IBU: 12
Player: Jackass IPA, tenth seed
Team: Skookum Brewery
Location: 17925 59th Ave. NE, Arlington, Washington
Wonder Years: 2007, we walked hand-in-hand across the new Tacoma Narrows Bridge during its dedication, with Beyoncé's "Irreplaceable" blasting through our shiny new set of Earbuds. On their farm in Arlington, Ron and Jackie Walcher opened Skookum Brewery to the anger of their neighbors. Today, Skookum brews award-winning beers without any noise complaints next to the Arlington Airport.
Player Stats: Skookum's flagship Jackass IPA is a pungent, light bodied, West Coast style IPA that constantly revolves through different hop combinations, so never quite the same beer. What we do know is we can expect flavors and aromas of citrus, tropical fruit, pine, and honey.
ABV: 7%, IBU: 70
Tournament of Beer Analysts: "No clue how you judge between the two different but excellent beers."
SCROLL DOWN TO VOTE >>>>>>>>>>>>>>>>>>>>>>>>>>>>>>>>>>>>>>>>>>>>>>>>>
GAME 4, 2000s
Player: Rude Parrot IPA, second seed
Team: 7 Seas Brewing
Location: 2101 Jefferson Ave., Tacoma, Washington
Wonder Years: 2009, we were thrilled when Marilyn Strickland was elected, becoming Tacoma's first African-American female mayor. We were devastated when Russell Investments relocated from downtown Tacoma to Seattle. We were blown away when Susan Boyle opened her mouth. And we were thankful when Mike Runion and Travis Guterson opened 7 Seas Brewing in Gig Harbor. Sure, technically, they opened in 2008, but a fire in January 2009 at the original downtown Gig Harbor address meant the two young beermakers and co-owners had to relocate. Boy, did they regroup. Guterson and Runion managed to be the first brewery in Washington to can craft beer, won "Best Brewery in the South Sound" every year by readers of South Sound magazine and voted "Best Brewery in Tacoma" by the Weekly Volcano.
Player Stats: 7 Seas originally brewed their flagship Rude Parrot IPA in their Gig Harbor facility, but the well-balanced IPA is now brewed in their new facility in Tacoma's Historic Brewery District. This IPA squawks with Vienna, light Crystal, and a touch of Honey malt, this golden hued IPA is aggressively hopped with Simcoe and Citra hops. Checks all the boxes you'd expect from an IPA with pine and citrus notes in both the smell and taste. Taste is rich and full with sharp orange rind and grapefruit followed by a minty coolness and an off dry, pleasantly bitter finish. It's an everyday IPA.
ABV: 5.9%, IBU: 75
Player: Hop Lava IPA, fifteenth seed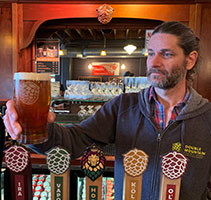 Team: Double Mountain Brewery
Location: 8 4th St., Hood River, Oregon
Wonder Years: 2007, the deteriorating Murray Morgan Bridge closed in downtown Tacoma; we were left not knowing if Tony Soprano died or reinvent himself as an insurance salesman; Bob Barker hosted "The Price Is Right" for the last time; LOLcats were everywhere; and Matt Swihart and Charlie Devereaux opened Double Mountain Brewery on St. Patrick's Day in Hood River, Oregon, with their assertive flagship Hop Lava IPA sporting substantial amounts of Cascade and Centennial hops grown in the Northwest.
Player Stats: "During sensory sessions and staff tastings I often ask myself, 'Why don't I drink Hop Lava all the time,'" said Double Mountain's third Matt, the popular bartender who gives constant accolades to the other two Matts — owner Matt and Head Brewer Matt Coughlin. "There are a ton of new IPAs, includes the ones the Matts make, but Hop Lava is perfectly balanced with a clean, resinous citrus aroma and a sturdy grain bill that keeps the classic hops in check."
ABV: 7%, IBU: 75
Tournament of Beer Analysts: "It's a rarity that Double Mountain's Hop Lava IPA is on tap at their breweries in Hood River and Portland's Woodstock neighborhood, but Rude Parrot is everywhere — a fact that could come into play during this game."
VOTE BELOW >>>>>>>>>>>>>>>>>>>>>>>>>>>>>>>>>>>>>>>>>>>>>>>>>>>>>>>>>

TUESDAY, APRIL 14 TOURNAMENT OF BEER: WEST COAST FLAGSHIPS ACTION
Game 1, 1980s: 6. Shakespeare Stout, Rogue Ales (2320 SE Marine Science Dr., Newport, Oregon) vs. 11. Pale American Ale, Pyramid Brewing (1201 1st Ave. S., Seattle, Washington)
Game 2, 1980s: 3. Hefe, Widmer Brothers (929 N. Russell St., Portland, Oregon) vs. 14. Amber Ale, Karl Strauss Brewing (1157 Columbia St., San Diego, California)
Game 3, 2010s: 1. Crikey IPA, Reuben's Brews (5010 14th Ave. NW, Seattle, Washington) vs. 16. Kolsch, Occidental Brewing (6635 N. Baltimore Ave., Portland, Oregon)
Game 4, 2010s: 8. Starburst IPA, Ecliptic Brewing (825 N. Cook St., Portland, Oregon) vs. 9. Citra IPA, Stoup Brewing (1108 NW 52nd St., Seattle, Washington)
LINK: Tournament of Beer: West Coast Flagships explained
LINK: Hot Damn! Yes, I want to follow Peaks and Pints on Twitter
---