Tournament of Beer: Northwest Porters Second Round ends
Now it's getting exciting. The Willamette hops are really starting to fly, and the Black Patent malt is getting so thick you cut it with a knife.
Today is the last day of the Peaks and Pints' Tournament of Beer: Northwest Porters Second Round and the competition is as hot as ever. Who will be crowned on April 28? The path to Northwest porter greatness continues.
OK, pour a pint and dive into today's Second Round porter battles. Vote for one porter per game. Voting for today's porter battles ends at 11:45 p.m. Shake some vanilla bean in it if you know what's good for you and get stirring.
Monday, April 23, Second Round Northwest Porters Games
GAME 1, SEATTLE/KING COUNTY REGION
Overhang Bourbon Imperial Porter, Two Beers Brewing (4700 Ohio Ave. S., Seattle) vs. 3. Stone Squirrel Porter, Fremont Brewing (1050 N. 34th St., Seattle)
In 2005, Joel VandenBrink found himself in a disagreement with a friend, so they headed to a local pub to talk it through. After the second pint disappeared, the two friends had an honest conversation. Before that second pint, VandenBrink was putting his engineering degree from Grand Valley State University to use at the Johnson Controls plant in Holland, when he wasn't exploring the great outdoors. The outdoorsman eventually moved to the great Seattle outdoors, epic solo hikes and, eventually that second pint of beer. After a homebrew starter kit and an inspirational tour of New Belgium Brewing, VandenBrink founded Two Beers Brewing Co. in a 170 square foot ActivSpace facility along Highway 99 in Seattle's Fremont neighborhood in August 2007. Matt Lincecum, a long-time environmentalist, community organizer and homebrewer, was an attorney specializing in beverage and hospitality law. As fun as that sounds, Matt decided that instead of spending his time making other people's dreams of owning a bar or restaurant or brewery come true, he should realize his own latent and undisclosed-to-his-wife desire to start a brewery, which they did in 2009 opening Fremont Brewing. Today, these two successful Seattle breweries' porters face off. Seattle will never be the same.
SCROLL DOWN TO VOTE >>>>>>>>>>>>>>>>>>>>>>>>>>>>>>>>>>>>>>>>>>>>>>>>
GAME 2, WASHINGTON STATE REGION
RCW 70.160 Smoked Porter, Three Magnets Brewing (600 Franklin St. SE, Olympia) vs. 4. P-51 Porter, Wingman Brewers (509 1/2 Puyallup Ave., Tacoma)
In the summer of 2015, Wingman Brewers co-founder and head brewer Ken Thoburn high-fived Three Magnets' assistant brewer and soon to be head brewery Jeff Stokes at the defunct Puyallup Ale House. South Sound breweries gathered that July to celebrate their 2015 Washing Beer Awards medals: Wingman grabbed gold for its Cucumber Brett while Three Magnets scored a bronze for its Old Skook Barleywine. The two gentlemen laughed, discussed the South Sound brewing scene and the TV show, Sense8 where Wachowski siblings brought their Matrix-y weirdness to TV in the tale of eight people around the world who can tap into each other's existences. (Coincidentally, they were all ridiculously good-looking.) Anyway, during that celebratory night Thoburn and Stokes had no idea their porters would one day battle in the future. Three Magnets' RCW 70.160 Smoked Porter battles Wingman Brewers' robust P-52 Porter. This game could go either way.
SCROLL DOWN TO VOTE >>>>>>>>>>>>>>>>>>>>>>>>>>>>>>>>>>>>>>>>>>>>>>>>>
GAME 3, IDAHO REGION
Snowboarder Porter, Boise Brewing (521 W. Broad St., Boise) vs. 15. Big Jilm Porter Imperial Coffee Porter, Post Falls Brewing (112 N. Spokane St., Post Falls)
Only 4,709,760 pint glasses end-to-end separate Boise Brewing in Boise and Post Falls Brewing in Post Falls. It's safe to say this is not only a battle for best the best porter and the right to advance to the Sweet Saccharification 16 round, but also Boise versus Post Falls. The city of Boise has Boise Brewing's chocolate style Snowboarder Porter, Boise State University's "Smurf Turf" blue football field and its hate of band Nickelback (Seriously, the Boise Weekly published a piece in 2012 telling readers everything they could buy instead of a concert ticket.) Post Falls has Post Falls' Big Jilm Porter Imperial Coffee Porter, a mill town history and a population just over 35,000. Post Falls needs this win to add something exciting to its Wikipedia page.
SCROLL DOWN TO VOTE >>>>>>>>>>>>>>>>>>>>>>>>>>>>>>>>>>>>>>>>>>>>>>>>>>>
GAME 4, OREGON REGION
Black Butte Porter, Deschutes Brewery (901 SW Simpson Ave., Bend) vs. 8. PCT Porter, Crux Fermentation Porter (50 SW Division St., Bend)
Bend, Oregon denizens have dubbed their city "Beer Town USA" and "Beervana." There are more than 20 craft breweries in this central Oregon high-desert town of 91,000. Whether the city's brewers have set a high bar for quality or because Bend producers and growers benefit from the highest average number of sunny days in the state — 158, with an additional 105 days that are "mostly sunny" — breweries here innovate and execute far above what you'd expect for a former mill town. Two of the best face off today. Deschutes Brewery's Black Butte Porter became the first American dark beer to find widespread popularity in the U.S., and you can now find it everywhere from Sweden to Singapore. Deschutes Brewery has been home to some damn good brewers, and a few, like former brewmaster Larry Sidor, have gone on to hang out their own shingles. His Crux Fermentation Project, housed in a former transmission shop, has turned into one of Bend's most popular industrial-chic brewery-taprooms. Black Butte Porter vs PCT Porter. Here we go. …
VOTE BELOW >>>>>>>>>>>>>>>>>>>>>>>>>>>>>>>>>>>>>>>>>>>>>>>>>>>>>>>>>>>
Be sure to click the blue DONE button after selecting your favorite porters!
Tuesday, April 24 Tournament of Northwest Porters action
Game 1: 9. Curbside Porter, Airways Brewing (8611 S. 212th St., Kent) vs. 13. Robust Porter, Sumerian Brewing (15510 Redmond-Woodinville Road NE, Woodinville)
Game 2: 11. Sunrise Coffee Porter, Rainy Daze Brewing (650 NW Bovela Lane, Poulsbo) vs. 10. Puget Sound Porter, Harmon Brewing (204 St. Helens Ave., Tacoma)
Game 3: 16. Brynhildr Robust Porter, Mad Swede Brewing (2772 S. Cole Road, Boise, Idaho) vs. 13. Hinterland Porter, Powderhaus Brewing (9719 W Chinden Blvd, Garden City, Idaho)
Game 4: 6. Nut Crusher Peanut Butter Porter, Wild Ride Brewing (332 SW 5th St., Redmond, Oregon) vs. 15. Mocha Porter, Rogue Ales (748 SW Bay Blvd., Newport, Oregon)
LINK: Hot Damn! Yes, I want to follow Peaks and Pints on Twitter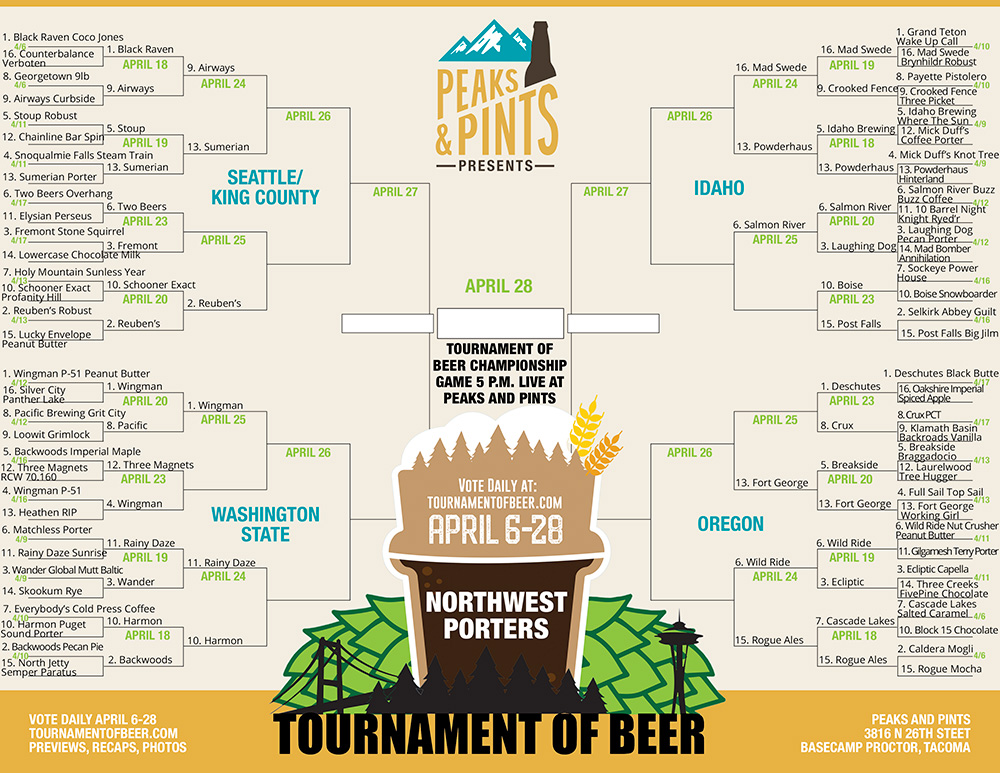 ---