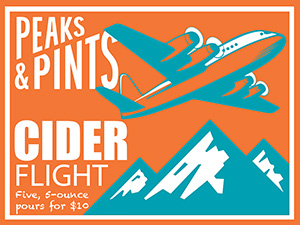 Just as rosé was transformed almost overnight from an ugly duckling franzia box to a glam "rosé all day" vino trend, cider has moved beyond the garage party sickly sweet bottles of Woodchuck and Angry Orchard. According to a February 2017 Draft Mag article, cider is an industry that "given its (relative to beer) small size, is still seeking to define itself. Makers of hard cider fall into many camps: Some are orchardists; some make ciders very similar to wine; some produce cider and market it like beer; some are owned by larger beer-making operations." Add, "Peaks and Pints has dedicated its Monday flight to ciders" to that list. Every Monday, Peaks and Pints presents a flight of ciders. Enjoy Peaks and Pints Monday Cider Flight: April 23 Edition.
Ferme De Beau Soleil Cidre Fermier Bio
5% ABV
Since 2002, Thomas Renouard has been growing apples on his family's 8 hectares in Matignon, in western France. The orchards are full of traditional apple varieties, many of which were planted by Thomas' grandfather. In 2005, he began the process of converting his orchards from standard to organic. ECOCERT awarded the Renouard orchards organic status in 2008. Today, Thomas Renouard runs a one-person operation under the Beau Soleil label (he's the delivery driver, the cider maker and the sales staff all wrapped in one). Cidre Fermier Bio is big, earthy semi-sweet cider with a solid load of tannins that balance nicely with the acidity and apply fruitiness.
Ole Swede Mulberry & Friends
5.9% ABV
About a 1,000 people live in Tonasket, a city in Okanogan County, Washington. Lucky them to have Ole Swede Cider in their backyard. Tonasket native Casey Oberg launched Ole Swede Cider on his family farm in 2014. His Mulberry & Friends cider is fairly new, made with eight different types of berries and currants: mulberry, blackberry, raspberry, elderberry, blueberry, gooseberry, black currant and golden currant. It's on the sweeter side of semi-dry, smooth, low tartness and acidity, with a light real berry flavor.
2 Towns Made Marion
6% ABV
In late 2010, Corvallis homebrewers Aaron Sarnoff-Wood and Lee Larsen filled a gap in the college town's drinking scene — cider. The duo opened 2 Towns Ciderhouse crafting unique ciders brewed with the traditional English and French-style's tannic apples, Oregon grown, of course. The Marion blackberry was originally bred for Marion County, Oregon farmers. Tangy and full of ripe, rich berry notes that shine in 2 Towns' Made Marion, even after blended with Northwest apples. The nose is expressive dark berry and cherry, with apple and sweetness. The taste follows suit — blackberry-like, tart and tangy with a medium bodied and low effervescence with a subtly dry finish.
Seattle Cider Dry Cider
6.5% ABV
Seattle Cider Company, the city's first post-Prohibition cider producer, delivers delicious artisan products. With zero percent residual sugar, its Dry is a very dry cider in a classical style. The dryness doesn't equate to a lack of flavor, however, as it still has a refined apple nature underlined by notes of stone fruits and a light tickle of lilac on the nose. It's a cider that can stand alongside one of our roast beef sandwiches without losing the flavor battle.
Baird & Dewar Silvestra
7.4% ABV
Let's face it. Baird & Dewar sounds more delicious than Trevor & Zeb. Trevor Baird is a highly regarded second generation farmer and fruit grower, whose peaches, cherries, and apples are used by many of Portland's finest restaurants and breweries. Zeb Dewar has made cider for more than 17 years, working for more than 10 years as a cellar hand, assistant winemaker, and harvest manager at premium Willamette Valley and Columbia Gorge wineries. He has been making cider from the apples grown at Baird Family Orchard for more than eight years. Baird & Dewar Farmhouse Cider was started slowly and quietly in the fall of 2011 as an extension of Zeb Dewar's home cidermaking. Silvestra is a dry, unfiltered cider aged for a year in oak casks for a Brett-y nose followed by crisp and effervescent, mild green apple tartness.
---