Tournament of Beer: Northwest Pilsners Second Round April 18
RON SWARNER: Peaks and Pints honestly had no idea how the Tournament of Beers: Northwest Pilsners would be treated. Much like the actual NCAA bracket, the 64 breweries voted in are strikingly different. Some Washington and Oregon breweries have been around for a while and have huge fanbases; others are mid-majors, known mostly to those living in the brewery's same city. Some people have stood inside Peaks and Pints and passionately expressed dismay at the pilsner tournament seeding, even though the public seeded it. What we do know is: thousands of people are voting; long, lively conversations occur daily beneath our giant bracket; and head brewers are stopping by to sign autographs. People are talking about pilsners. Pilsners!
PEAKS AND PINTS WEATHER GUY: My forecast calls for spotty showers today and tomorrow along Denny Creek Trail in the Mount Baker–Snoqualmie National Forest, near Snoqualmie Pass. High 56, cooling down to a high of 48 tomorrow. I just want to go on a special, rustic cruise built for one, but I don't know how to swim, row, sail, spearfish, and don't have a captain's license.
RON SWARNER: Here's a look at today's Tournament of Beer Second Round action and a recap of yesterday's results. Nestle up to a Northwest brewed pilsner and get to voting. …
PEAKS AND PINS WEATHER GUY: The bartenders pantsed me again.
Wednesday, April 17, Second Round Northwest Pilsners Games results
GAME 1, SEATTLE/GREATER KING CO. REGION
1. Georgetown Roger's Pilsner vs. 9. Sumerian Lucidity Pilsner
RON SWARNER: Sumerian Brewing has a fancy taproom. If Architectural Digest had a brewery taproom division, well that sector would probably just be "Digesting" all day, but also they just might name Sumerian's taproom the best in the state. Sumerian didn't push that attribute in the First Round (see: Fremont Brewing's freakin' patio), but we suspect they had to pull it out yesterday to compete with the powerhouse that is Georgetown Brewing. Georgetown's taproom is more of a tasting room. Reports came in that Sumerian Sales Executive Brian grabbed his Lucidity Czech pilsner yelling, "By George, I think I'll have a seat!" over and over in the Woodinville brewery's taproom. Well, it worked. Sumerian Lucidity grabbed 54 percent of the votes and moves into the Sweet Wort 16.
PEAKS AND PINTS WEATHER GUY: Roger that.
GAME 2, WASHINGTON STATE REGION
10. Brothers Cascadia The People's Pilsner vs 2. Icicle Crosscut Pilsner
RON SWARNER: To most stateside music lovers, the idea of accordion players conjures up images of Geritol-chugging seniors playing polkas to nodding retirement-home residents. Even in Leavenworth, where the instrument is treated like an Avenger, such a show is unlikely to raise temperatures. Yesterday the brewers at Icicle Brewing in Leavenworth had enough. Brewing daily in a Bavarian tourist town has its perks: convenient sausage and pretzels while malt starches convert to sugars; convenient sausage and pretzels during the hop boil; post yeast pitch sausage and pretzels. Sometimes the constant oompah music can create madness. The music finally threw the icicle brewers off their game long enough for Brothers Cascadia Brewing's Czech pilsner to sneak past Icicle's beloved Bavarian Meets Northwest style pilsner, Crosscut Pilsner. The final buzzer was music to the Brothers' ears as The People's Pilsner grabbed 62 of the votes and a slot into the Sweet Wort 16.
PEAKS AND PINTS WEATHER GUY: Ah, those Icicle guys will be back to rousing shouts of "Prosit!" and boot-shaped vials frothing over with hearty, Icicle brews.
GAME 3, PORTLAND/MULTNOMAH CO. REGION
12. Migration Proper Pilsner vs 4. Occidental Bohemian Pilsner
RON SWARNER: Serving German-style beers to Pendleton flannelled Hoplandia is business genius, probably why Occidental Brewing does it. And like the Avengers has a Hulk, Occidental has a bridge — the historic beautiful St. Johns suspension watches over Occidental, its unpretentious, industrial-chic taproom, and brewmaster Dan Engler's awe-inspiring collection of antique beer cans and bottle caps. All that and a delicious Bohemian Pilsner was too much for the red hot Migration Brewing. Migration's Proper Pilsner did the proper thing and conceded to Bohemian Pilsner's 75 percent win.
PEAKS AND PINTS WEATHER GUY: I wonder how many tourist Occidentally stumble on the St. Johns brewery. Get it?!
GAME 4, OREGON REGION
10. Sunriver Czech Meowt vs 2. Crux Pilz
RON SWARNER: In NCAA Men's Basketball Tournament history, a 10th seed team has only made it to the Final Four once. But this is the Tournament of Beer, and 10th seed Sunriver Brewing Czech Meowt handed 2nd seed Crux Pilz a defeat that the Bend brewery will long remember. The spicy-floral hopped, ski village served Czech Meowt carved a win with 53 percent over Crux Pilz.
PEAKS AND PINTS WEATHER GUY: Sunriver's pilsner probably sees the most hat head of all participating pilsners in the tournament.
RON SWARNER: Let's wade through the soft water. The following are advancing to the Sweet Wort 16:
Sumerian Lucidity Pilsner
Brothers Cascadia The People's Pilsner
Occidental Bohemian Pilsner
Sunriver Czech Meowt
OK, let's do a quick liver-size check, then dive into today's Second Round pilsner battles. Vote for one pilsner per game (one device per game). Voting for today's pilsner battles ends at 11:45 p.m.
THURSDAY, APRIL 18, SECOND ROUND NORTHWEST PILSNERS GAMES
GAME 1, SEATTLE/GREATER KING COUNTY REGION
12. Lowercase Brewing Italian Pilsner vs. 13. Maritime Pacific Portage Bay Pilsner
RON SWARNER: Lowercase Brewing fans fight for their tiny slice of heaven. The Georgetown neighborhood brewery sports a loyal following — fanatic, if you will. Check out this Yelp comment by Jasmin N.: "I came here with some relatives to grab some doughnuts during their weekly Doughnites special on Wednesday. We tried to grab some the week before, but they literally sold out by the time we got to the front of the line. It was definitely worth the trip back the following week though! I was a huge fan of the doughnut filled ice-cream and I'm usually not a huge doughnut person. I really liked the breading of the doughnut a lot and complimented the ice cream texture. I would definitely come back to Lowercase Brewing for more their egg-cartridge-filled doughnuts and coffee or beer depending on my mood." Maritime Pacific Brewing might not have doughnuts, but they do have delicious, fun titled IPAs, and a Portage Bay Pilsner owner George Hancock is pretty proud of. This cross-town battle should be fun to watch, especially with a dozen doughnuts.
PEAKS AND PINTS WEATHER GUY: This is a beer tournament, right?
SCROLL DOWN TO VOTE >>>>>>>>>>>>>>>>>>>>>>>>>>>>>>>>>>>>>>>>>>>>>>>>>
GAME 2, WASHINGTON STATE REGION
11. Wander Doglost Pilsner vs 14. Farmstrong Cold Beer Pilsner
RON SWARNER: Wander Brewing is owned by husband-and-wife team Chad and Colleen Kuehl (looks like "cool," pronounced "keel"), two Midwest kids who set out for the West Coast and fell in love with craft beer and home brewing while living in San Francisco. They source malt from two separate German maltsters in addition to 100 percent German grown Merkur and Hersbrucker hops to brew their authentic German style Pilsner. Three years ago, Farmstrong Brewing opened its doors in Mount Vernon. The Skagit Valley is home to some of the country's most fertile farmland, and Farmstrong brews all of their beer using 100 percent Skagit Valley Malt. Every glass of Farmstrong beer now comes from grain that was grown, malted, and brewed within a 10-mile radius, including their mildly sweet, malt-forward Cold Beer Pilsner. Analysts say this game could go either way.
PEAKS AND PINTS WEATHER GUY: The Tournament of Beer isn't played by analysts.
SCROLL DOWN TO VOTE >>>>>>>>>>>>>>>>>>>>>>>>>>>>>>>>>>>>>>>>>>>>>>>>>
GAME 3, PORTLAND/GREATER MULTNOMAH CO. REGION
1. Breakside Brewery Pilsner vs 9. Zoiglhaus Zoigl-Pils
RON SWARNER: Those who know great pilsners it should come as no surprise Breakside Brewery's Pilsner landed a No. 1 seed. Hatched by the real deal (Siebel Institute degreed, Yale graduate, European trained Ben Edmunds) in 2010, this is a brewery with rapid growth and all the medals. At Zoiglhaus Brewing in Southeast Portland, the menu calls it Zoigl-Pils, but informed mouths know what they're getting into — a delicious German-style pilsner with dry, crisp, spicy and snappy hop flavor and aroma. Who will emerge victorious? The votes will decide. …
PEAKS AND PINTS WEATHER GUY: I could say "Zoigl" all day.
SCROLL DOWN TO VOTE >>>>>>>>>>>>>>>>>>>>>>>>>>>>>>>>>>>>>>>>>>>>>>>>
GAME 4, OREGON REGION
11. Terminal Gravity TG Pilsner vs. 3. Buoy Czech Pils
RON SWARNER: Whoever wins this game; you can't deny both have business savvy. The Carpers and Duquettes set out upon finding the right setting for their craft brewery and pub. Places such as Colorado and Alaska were weighed, but it was Enterprise that met all of the criteria the team had developed. The snug northeast corner of Oregon hit all criteria: a family quality of life, outdoor recreation, good water and relative proximity to an eager market. In 1996 Terminal Gravity Brewery and Pub was born. Bornstein Seafoods built a new state-of-the-art facility just down river and vacated their Astoria building, which sat vacant. Luke Colvin called up the seafood company asking if he could convert their dilapidated fish cannery into a brewery. An engineer said the pilings were in great shape. Buoy Beer opened Feb. 14, 2014 in front of a big green river buoy that marks the main Columbia River shipping channel. TG Pilsner in the middle of nowhere and Czech Pils above barking sea lions do battle today. You're voting as much for a lifestyle as a delicious pilsner.
PEAKS AND PINTS WEATHER GUY: We should host a Tournament of Weather. The weather in Enterprise and Astoria are vastly different.
VOTE BELOW >>>>>>>>>>>>>>>>>>>>>>>>>>>>>>>>>>>>>>>>>>>>>>>>>>>>>>>>>>

Friday, April 19 Tournament of Northwest Pilsners Second Round action …
Game 1: 10. German Style Pils, Stoup Brewing (1108 NW 52nd St., Seattle) vs 2. Pilsner, Reuben's Brews (5010 14th Ave. NW, Seattle)
Game 2: 1. Pilsner, Chuckanut Brewery (601 W. Holly St., Bellingham) vs 9. Ray of Hope Pilsner, Scuttlebutt Brewing (1205 Craftsman Way, Everett)
Game 3: 6. Spectra Hoppy Pilsner, Ecliptic Brewing (825 N. Cook St., Portland) vs 14. Lezak, Little Beast Brewing (3412 SE Division St., Portland)
Game 4: 5. Da Shootz!, Deschutes Brewery (901 SW Simpson Ave., Bend) vs 4. Gloria!, Block 15 Brewing (3415 SW Deschutes St., Corvallis)
LINK: Tournament of Beers: Northwest Pilsners explained
LINK: Hot Damn! Yes, I want to follow Peaks and Pints Weather Guy on Twitter!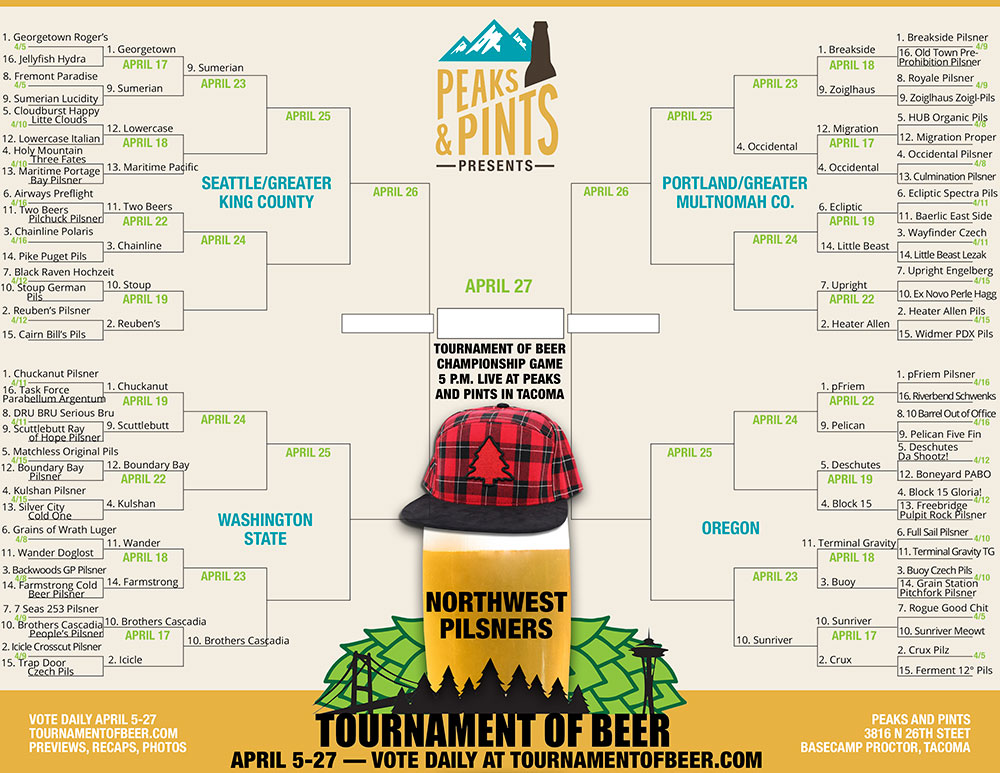 ---