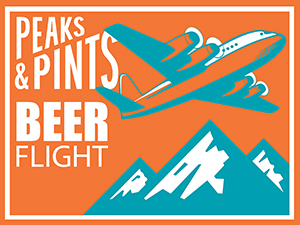 Peaks and Pints Tournament of Beer: Northwest Pilsners has hit Second Round action today, which means 32 pilsners brewed in Washington and Oregon remain. Chosen through a nomination process in February, the top 64 vote getters — the cream of the crispness — began competing April 5, Monday through Friday, on our website, until the championship game April 27 inside Peaks and Pints craft beer bar, bottle shop and restaurant in Tacoma's Proctor District. It's just like March Madness, only with way more Saaz hops. To vote on today's action, click here. To get you in the pilsner voting mood, enjoy a flight of pilsners outside the Pacific Northwest that we call Craft Beer Crosscut 4.17.19: A Flight of Motivating Pilsners.
Craft Beer Crosscut 4.17.19: A Flight of Motivating Pilsners
Modern Times Ice
4.8% ABV, 30 IBU
Founded in the early summer of 2013, Modern Times Beer is a San Diego-based brewery, with a Portland outpost, that focuses mainly on session-style IPAs, but also includes an array of hybrid styles from the brewers' experiments with mixing and matching hops, fruits, yeasts, and barrels, including an innovative line of sours, the result of pilot batches. The brewery's Ice pilsner is hopped with Czech Saaz and Australian Summer hops, before lagering the hell out of it for a combination of crisp grass and straw with a bit of underlying grain on the nose and tongue. It's a delicious Czech pilsner with a light body and a dry finish.
Bitburger Premium Pils
4.8% ABV, 38 IBU
Founded in 1817, seven generations of family ownership allowed Bitburger Brewery to be named number one draft beer in Germany in 1992, a position it holds to this day. Bitburger Brewery's success has been built on the strength of their original Bitburger Premium Pils. Bright, fresh golden colors and a rich frothy head are what you first notice about this elegant pilsner. The Bitburger well water gives the beer a very clean, hoppy taste, with nutty flavors accompanying. The bitterness of the hops is balanced well with the mellow sweetness of the body of the beer. This is a delightfully refreshing beer: The body is light but not watery, and the carbonation makes quick work of cleansing the palate to enhance the beer's dry, clean finish.
Cerveceria y Malteria Quilmes Patagonia Bohemian Pilsener
5.2% ABV
Cervecería y Maltería Quilmes is an Argentine brewery founded in 1888 in Quilmes, Buenos Aires Province, by Otto Bemberg, a German immigrant. The company quickly started growing and in the 1920s it was already the most popular beer in Buenos Aires. The company was formerly known as Cervecería Argentina. In 2002, Cervecería y Maltería Quilmes formed a strategic alliance with Ambev that became formalized with a combination in April 2006. In 2007, AB-InBev acquired the company. Anyhoo, Patagonia Bohemian Pilsener is, as the name suggests, a Bohemian pilsner, which means softer water than other pilsner styles. The flavor profile is that of mostly malted barley with a slight hint of bitterness from the hops. It has a lovely mouthfeel, definitely refreshing and vibrant.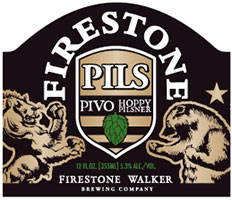 Firestone Walker Pivo Pils
5.3% ABV, 40 IBU
Firestone Walker Pivo Pils is a smooth operator. It has a silky, foamier head than most other pilsners, while also sporting the lightest consistency and color, making it look a little like sparkling grape juice. Fruit scents like apple and tangerine tickle the nose, balanced by a tart, peppery detail that rounds out the sweetness nicely. After a potent aroma, the taste was deceptively subtle, balanced and clean. Pivo is astonishingly — almost dangerously — drinkable.
Stone Enter Night Pilsner
5.7% ABV, 45 IBU
The members of Metallica and Stone Brewing leadership and brewing crew collaborated on Enter Night Pilsner, which combines the beauty of a traditional Northern German pilsner with Arrogant Consortia's modern overtones of aggression. The resulting genre-defying pilsner is hop forward with sound bitterness on the finish.
---