Tournament of Beer: Northwest Porters First Round April 11
Porter brewing isn't rocket science. Take some malt, add hot water, drain water, bring it to boil, add hops, cool it, add yeast, wait, serve and enjoy. But hidden within those folds is a complexity that defines the short steps list. Brewing a porter is fairly easy; making a great porter is another thing entirely. Opening a discussion on which Pacific Northwest breweries brew the best porter serves as our mission for the Tournament of Beer: Northwest Porters — that and trying to score free porters from the competitors.
Below is a recap of yesterday's action followed by eight new porters hitting the courts today.
Tuesday, April 10, First Round Northwest Porters Games results
GAME 1, WASHINGTON STATE REGION
Cold Press Coffee Porter, Everybody's Brewing (151 E. Jewett Blvd., White Salmon) vs 10. Puget Sound Porter, Harmon Brewing (204 St Helens Ave, Tacoma)
Harmon Brewing's Puget Sound Porter pours a very dark brown with a creamy head that sticks around. Big dark roasted malt aroma is decadent. Taste is smooth chocolate malts, coffee and just a hint of dark fruit. Not complex, just a well-made, straightforward porter that's a winning combination, at least according to the vote totals in the Tournament of Beer. Harmon Brewing put the hurt on Everybody's Brewing's Cold press Coffee Porter with 88 percent of the votes. Number 10 seed Puget Sound Porter moves into the Second Round. No hocus pocus, just focus in Tacoma's Stadium District yesterday.
GAME 2, WASHINGTON STATE REGION
Pecan Pie Porter, Backwoods Brewing (1162 Wind River Hwy., Carson) vs. 15. Semper Paratus Porter, North Jetty Brewing (4200 Pacific Way, Seaview)
In 1880 A. S. Estabrook built the first sawmill in Wind River Valley, a waterpower concern on Carson Creek in Skamania County, Washington. The following year, a company built a good-sized steam sawmill where the town of Carson now stands. The lumber industry has since left Carson, but Backwoods Brewing Co. pours craft beers and serves delicious pizza for flannel-wearing folk. Backwoods' taproom sits at the gateway to the Gifford Pinchot National Forest, Old Man's Pass and Mt. St. Helens. North Jetty Brewing offers the opposite experience. Located just off busy Highway 101 in the Oceanside town of Seaview, this brewery is a gathering place for locals and tourists alike and hosts a number of community events, trivia and fundraisers. The mountain and ocean battled yesterday as if orchestrated by Zeus and Poseidon. Grabbing 66 percent of the votes, Backwoods' Pecan Pie Porter dominated for much of the game, only letting up a little when a herd of elk outside distracted the cellarman. The Pecan Pie Porter has a second round date with Harmon's Puget Sound Porter.
GAME 3, IDAHO REGION
Wake Up Call Imperial Coffee Porter, Grand Teton Brewing (430 Old Jackson Hwy., Victor, Idaho) vs 16. Brynhildr Robust Porter, Mad Swede Brewing (2772 S. Cole Road, Boise, Idaho)
Before 2018, NCAA Men's Basketball Tournament 16-seeded teams were 0-135 against 1-seeds. There were multiple occurrences of a 16-seed getting within single digits, with the most recent being Weber State losing to top-seeded Arizona 68-59. Last month, University of Maryland, Baltimore County beat 1-seed Virginia 74-54. For the second year in a row a 16-seed beer beat a 1-seed beer in the Tournament of Beer. Mad Swede Brewing's Brynhildr Robust Porter eeked out a single digit win, giving Grand Teton's Wake Up Call Imperial Coffee Porter a wake up call. By the hammer of Thor, Brynhildr moves into the Second Round, but not before the Mad Swede brewers celebrate with salted fish and boiled meats.
GAME 4, IDAHO REGION
Pistolero Porter, Payette Brewing (733 S. Pioneer St., Boise, Idaho) vs 9. 3 Picket Porter, Crooked Fence Brewing (3705 Idaho State Hwy. 16, Eagle, Idaho)
Payette Brewing has fancy newsletters, sale sheet PDFs and an online store of swagnificent stuff. Crooked Fence Brewing has a crooked fence … oh, and a delicious porter. Recently sold and moving back to its original roots in Garden City, Idaho, 3 Picket Porter put the dispsy-doo double-a-roo on Pistolero Porter grabbing 64 percent of the votes from way at the end of the picket fence, BANG!
Let's weed through the malts. The following are advancing to the Second Round:
Puget Sound Porter, Harmon Brewing
Pecan Pie Porter, Backwoods Brewing
Brynhildr Robust Porter, Mad Swede Brewing
3 Picket Porter, Crooked Fence Brewing
OK, pour a pint and dive into today's First Round porter battles. Vote for one porter per game. Voting for today's porter battles ends at 11:45 p.m. today. Cheers!
Wednesday, April 11, First Round Northwest Porters Games
GAME 1, SEATTLE/KING COUNTY REGION
Player: Robust Porter (#5 seed)
Team: Stoup Brewing, Seattle
Player Stats: Scientist Brad Benson and foodie Lara Zahaba opened Stoup Brewing in Seattle's Ballard neighborhood in 2013. Washington state's first female Cicerone, Robyn Schumacher, became Stoup's third partner, assisting Benson in the brewing room. Stoup Brewing might have gone far in the Tournament of Beer Washington State IPAs with its Citra IPA, but the Seattle Ballard neighborhood brewery also brews a mighty fine Robust Porter. Rich in color and character, Stoup's robust porter conjures up memories of decadent chocolate treats dipped in coffee. Hints of dark chocolate, roasted coffee and light malty sweetness are the result of a complex malt profile including chocolate malt, roasted barley, roasted wheat and roasted rye. It's a big, hearty porter that will be tough to beat.
ABV: 6.2%, IBU: 45, Malts: Chocolate, Roasted Barley, Roasted Rye, Roasted Wheat
Player: Bar Spin Brown Porter (#12 seed)
Team: Chainline Brewing, Kirkland
Player Stats: Chainline Brewing has created several porters since it opened in 2014. Bar Spin spun through the Kirkland brewery until 2017 when Coffee Table Book Porter turned its page. Tournament of Beer drinkers voted in the Bar Spin, a brown porter with a noticeable but reserved roasty quality. It begins with a mildly roasty and chocolaty malt aroma. In the taste, a moderate malt flavor increases in roastiness and chocolate notes, and also introduces a noteworthy caramel or toffee flavor that's more pronounced than that of robust porters. There's a spicy hop flavor at a moderate level.
ABV: 5%, IBU: 28, Malts: NA
SCROLL DOWN TO VOTE >>>>>>>>>>>>>>>>>>>>>>>>>>>>>>>>>>>>>>>>>>>>>>>>
GAME 2, SEATTLE/KING COUNTY REGION
Player: Steam Train Porter (#4 seed)
Team: Snoqualmie Falls Brewing, Snoqualmie
Player Stats: Pat Anderson, David McKibben, Tom Antone, Dave Eiffert and LeRoy Gmazel opened Snoqualmie Falls Brewing in Dairy Queen's former distribution warehouse in downtown Snoqualmie in December 1997, when the craft-beer boom was waning. Their flagship porter, Steam Train Porter, has an interesting aroma of flowery hops, chocolate, fruity yeast and alcohol notes that simultaneously fill the nose. On the tongue, sweet caramel and chocolate dominate before sinking into coffee notes and modest hop bitterness. Though it finishes dry, roasted malts and a refined vanilla note resound in this clean-drinking brew's finish.
ABV: 5%, IBU: 28, Malts: NA
Player: Robust Porter (#13 seed)

Team: Sumerian Brewing, Woodinville
Player Stats: In 1800 B.C. Mesopotamia (ancient Iraq), a Sumerian poem honoring Ninkasi, the patron goddess of brewing, contained the oldest surviving beer recipe, describing the production of beer from barley via bread. In 1995, Mark Ihrig created The Micro Beer Club. Four years later, he launched the Cellars Wine Club in 1999. In 2001, Mark launched Boxing Cat Brewery. Holly Ihrig, one of the first Microsoft employees, retired in 2012 so the couple could combine their talents to open Sumerian Brewing Co. In 2018, their Robust Porter was nominated for the Tournament of Beer: Northwest Porters. For those who appreciate a solid black ale with hints of chocolate, toffee and light roast, this is a beer worth the vote. Sumerian Robust Porter is not showy or cloying, but rather displays a robust malt flavor with a hint of chocolate, light coffee and toffee. If the Ihrigs summon goddess Ninkasi then this tournament is over.
ABV: 6.5%, IBU: 40, Malts: 2-Row, Munich 10, Crystal-60, Crystal-120, Black, Roasted
SCROLL DOWN TO VOTE >>>>>>>>>>>>>>>>>>>>>>>>>>>>>>>>>>>>>>>>>>>>>>>
GAME 3, OREGON REGION
Player: Nut Crusher Peanut Butter Porter (#6 seed)
Team: Wild Ride Brewing, Redmond
Player Stats: Wild Ride Brewing opened May 10, 2014 in downtown Redmond at a former Parr Lumber facility. Brewer Paul Bergeman has been the mastermind behind all of the great recipes including the award-winning Nut Crusher Peanut Butter Porter. It looks like a dark, foreboding ale when first poured, but not to fear for those who are not fans of heavy porters — the unmistakable aroma of peanut butter greets the senses first when bringing the glass to the mouth. Definitely more savory than the aroma promises, but it's compelling in a salted peanut shell kind of way. If today's voters enjoy popping the whole peanut, shell and all, into their mouths to suck the salt off of it before cracking it open, then Nut Crusher Peanut Butter Porter is in for a wild ride.
ABV: 6%, IBU: 18, Malts: NA
Player: The Terry Porter (#11 seed)
Team: Gilgamesh Brewing, Salem
Player Stats: Oregonians cherish two things: the Portland Trail Blazers and craft beer. So Matt Radtke had a slam dunk when he came up with the idea of making The Terry Porter for his family-run brewery, Gilgamesh Brewing. Terry Porter, the former NBA all-star point guard, did more than just sign off on his name and likeness, he threw himself into the project, driving to the Salem brewery several times to taste-test several varieties. His suggestion to add more chocolate directed the ale's final composition. A robust Porter brewed with Northwest malts and hops, The Terry Porter features a variety of malts, including Chocolate malt, that deliver a pleasing blend of dark roasted malts, thin burnt malts, sweetened chocolate malts and a thin caramel to molasses like sweetness. Bonus: Gilgamesh's porter is more than just a play on words to sell a dark, malty beer. The Terry Porter was created to honor and raise funds for the Doernbecher Children's Hospital Foundation.
ABV: 6.3%, IBU: 25, Malts: Chocolate and others
SCROLL DOWN TO VOTE >>>>>>>>>>>>>>>>>>>>>>>>>>>>>>>>>>>>>>>>>>>>>>>>
GAME 4, OREGON REGION
Player: Capella Porter (#3 seed)
Team: Ecliptic Brewing, Portland
Player Stats: Ecliptic Brewing Brewmaster John Harris is known for creating award-winning Deschutes Black Butte Porter. He's a star porter creator and his Capella Porter, named after a bright star in the constellation Auriga, won gold at the World Beer Cup, the U.S. Open Beer Championships and the Oregon Beer Awards, proving it's one of the country's best porters. Its aroma swirls with chocolate, rich smooth malt and hazelnuts followed by a nice medium body. Flavors of toasty biscuit, cocoa, roasted peanut, burnt sugar and cracked black pepper and a soft roast profile balance a collection of Nugget, Chinook, Centennial and Cascade hops for a lively porter. If Harris hauls out his telescope for free peaks into the universe tonight then game over.
ABV: 5.2, IBU: 39, Malts: Munich, Chocolate
Player: FivePine Chocolate Porter (#14 seed)
Team: Three Creeks Brewing, Sisters
Player Stats: Since its founding in 2008, Three Creeks Brewing Company produced solid beer and pub food from its barnlike building on the FivePine Lodge campus from the outskirts of Sisters, Oregon. It's award-winning FivePine Chocolate Porter is brewed with seven specialty malts and Belgian cacao nibs by the pound to create the sweet and smooth sipper. The aroma is chocolate forward, as expected. The body is creamy chocolate with a milk chocolate front and toasty malt throughout, yet not overly sweet.
ABV: 6.2%, IBU: 40, Malts: Chocolate
VOTE BELOW >>>>>>>>>>>>>>>>>>>>>>>>>>>>>>>>>>>>>>>>>>>>>>>>>>>>>>>>>
Be sure to click the blue DONE button after selecting your favorite porters!
Thursday, April 12 Tournament of Northwest Porters action
Game 1: P-51 Peanut Butter Porter, Wingman Brewers (509 1/2 Puyallup Ave., Tacoma) vs Panther Lake Porter, Silver City Brewery (206 Katy Penman, Bremerton)
Game 2: Grit City Porter, Pacific Brewing & Malting Co. (610 Pacific Ave., Tacoma) vs Grimlock Rye Porter, Loowit Brewing Co. (507 Columbia St., Vancouver)
Game 3: Buzz Buzz Coffee Porter, Salmon River Brewery (411 Railroad Ave., McCall, Idaho) vs Knight Ryed'r Porter, 10 Barrel Brewing (826 W Bannock St, Boise, Idaho)
Game 4: Pecan Porter, Laughing Dog Brewing (805 Schweitzer Plaza Dr., Ponderay, Idaho) vs Annihilation Imperial Porter, Mad Bomber Brewing Co. (9265 N. Government Way, Hayden, Idaho)
LINK: Hot Damn! Yes, I want to follow Peaks and Pints on Twitter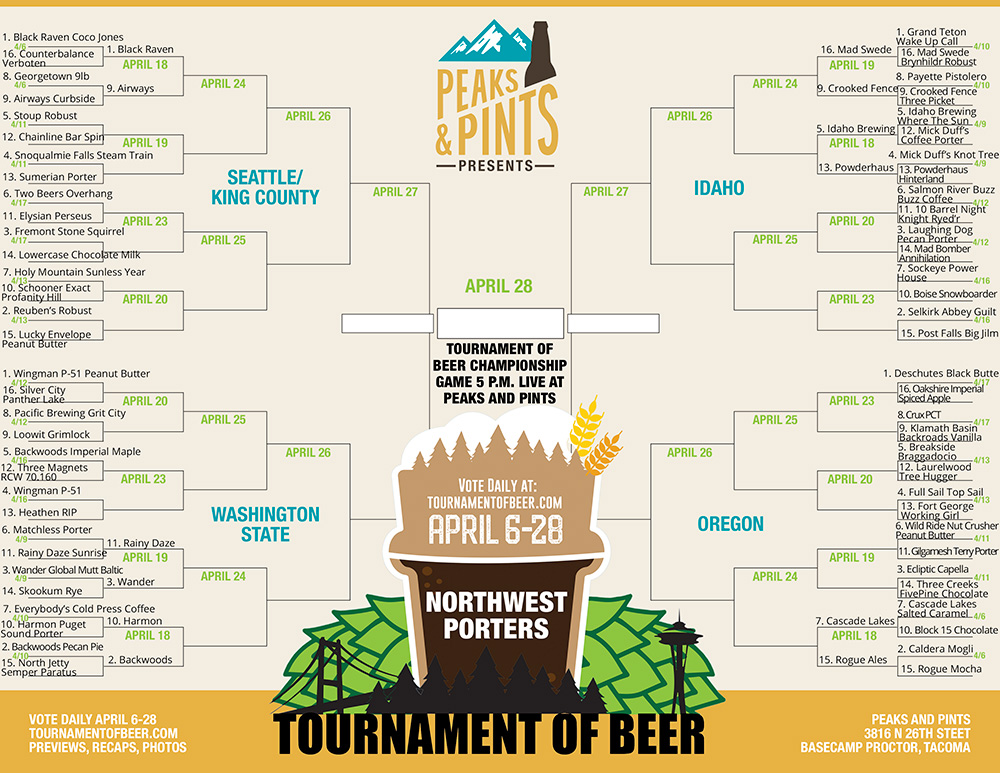 ---