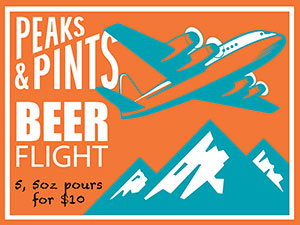 Simcoe was introduced in 2000 by Yakima Chief Ranches as a proprietary hop varietal with strong bitter and aromatic qualities. Little has been released about its parentage, but it has been compared to Cascade. Simcoe isn't a one-style pony; this variety can do great things in a number of beer styles, and is often used in conjunction with the Cascade, Centennial, Chinook and Citra hop varieties. Although not used much as a bittering hop, many craft brewers favor Simcoe for its unique aroma profile composed of piney, woody, and grapefruit citrus notes mixed with slightly dank and spicy notes of onion and garlic. We certainly enjoy it, and deem worthy of a beer flight — along with its companion hop friends. Craft Beer Crosscut 4.10.18: A Flight of Simcoe and Friends is on today.
Revision Xertz IPA
7% ABV, 40 IBU
Revision Brewing's Project Humulus Lupulus is a rotating series of hop-centric beers that "pushes the boundaries of brewing creativity," according to Project Humulus Lupulus hype. "These beers allow our brewers to get innovative and crazy, all while creating a dance party on your taste buds." Indeed, Revision's Xertz IPA is a party in a pint. An extremely delicious yet not over- bearing IPA, Xertz is packed with citrusy hop flavor from Amarillo, Mosaic, Citra, Galaxy and Simcoe without any harsh bitterness. A balanced malt bill adds additional flavor while preventing the boatload of Mandarin orange, pineapple, grapefruit, lime pith and peach hop flavors from taking over the party.
Revision IPA
6.5% ABV, 50 IBU
In 2015, Jeremy Warren left everyone knee deep in tears when he departed the brewery he founded, Knee Deep Brewing Co. In March 2017, he opened Revision Brewing Company in Sparks, Nevada, laving everyone knee deep in hops. He began pounding taste buds with his lupulin-laden creations once again, including his IPA, which is crystal clear and bursting with old-school, dank and Northwest hops, including Simcoe laying the foundation with tropical citrus, orange and pine flavors melding seamlessly. There are callbacks to the last decade, but an appreciative nod to today in the way the hops come together.
Two Beers Proctor Peaks IPA
6.7% ABV, 60 IBU
In the past four to five years there's been a lot of interest in adding crazy fruity and juicy hops to IPAs. Peaks and Pints desired a house IPA based on citrus, pine and bitterness that's more common to IPAs of a decade ago. Two Beers Brewing Co. — a Seattle brewery with one foot planted in the woods, just like Peaks and Pints — allowed the Tacoma bottle shop and taproom to collaborate on an old school IPA. Named after Tacoma's Proctor District, where Peaks and Pints resides, Proctor Peaks IPA's hop bill features Warrior, Chinook, Columbus and Simcoe hops with kettle and dry hop additions. It has clear, copper coloring, because that's a thing, with pine (naturally) flavor and dank on the nose.
Dogfish Head 60 Minute IPA
6% ABV, 60 IBU
Founded by Sam Calagione in 1995 as a brewpub in Rehoboth Beach, Delaware, Dogfish Head expanded and moved to a 100,000 square foot facility in nearby Milton, DE in 2002. Their commitment to the unconventional — exemplified by their motto, "Off-Centered Ales For Off-Centered People" — extends to their line of "Minutes" IPAs named for the number of minutes they're boiled and continuously hopped for. Dogfish's best selling beer, the 60 Minute IPA, includes Simcoe in the boil as well as in the dry-hopping process. The 60 minutes of continuous hopping with Simcoe and other Northwest hops contributes to sweet aroma of apricot and pear. The beer doesn't taste as sweet as it smells. Instead we taste notes of pungent grapefruit pith with a slight bitterness.
Hop Valley Alpha Centauri Binary
9% ABV, 100 IBU
After graduating from Oregon State University's fermentation sciences program and honing his hoppilicious skills at Pelican Brewing Co. and Rogue's Tracktown Brewpub, Trevor Howard busted out deep, dank, and delicious craft beers as co-owner and head brewer at Eugene, Oregon's Hop Valley Brewing Co. Howard commemorated Hop Valley's 100th batch with the floral and grapefruity phenom Alpha Centauri Binary. A hazy orangey hue from Great Western 2-Row and Munich malts are the fulcrum to an orchestra of Simcoe, Galena, Amarillo, Centennial and Cascade hops.
---