Tournament of Beer: Northwest Porters First Round April 10
Favorites or underdogs, English or American, Brown or Baltic — it's all the same in the Tournament of Beer: Northwest Porters. In the end, brewers from Washington, Oregon and Idaho have one chance to soak malted barley in hot water to release the malt sugars, then boil the malt sugar solution with hops for seasoning, cool the solution, add yeast to begin fermentation to create a porter that can take the prize. Sixty-four Northwest porters were selected and seeded by beer enthusiasts in March for the Tournament of Beer: Northwest Porters, which is now three days into the competition. Brackets don bulletin boards, break rooms, restaurant restrooms and birdcages. Office meetings have been moved to taverns. Everyone is discussing sparging and heat exchangers. It's crazy fun.
Below is a recap of yesterday's action followed by eight new porters hitting the court today.
Monday, April 9, First Round Northwest Porters Games results
GAME 1, WASHINGTON STATE REGION
Matchless Porter, Matchless Brewing (8036 River Dr. SE, Tumwater) vs.
Sunrise Coffee Porter, Rainy Daze Brewing (650 NW Bovela Lane, Poulsbo)
If there's one thing our beer tournament has seen over the years (OK, one year); you don't mess with Poulsbo. The community huddles around their own — more often than not with sleeves rolled up and a chew in place. Last year, Rainy Daze Brewing's Goat Boater IPA was crowned champion of our Washington state IPA tournament. With 83 percent of the votes over Matchless Brewing's porter, could Rainy Daze and its followers send Sunrise Coffee Porter to the championship game this year? The votes will tell. Until then, Sunrise shines bright on the Second Round.
GAME 2, WASHINGTON STATE REGION
Global Mutt Baltic Porter, Wander Brewing (1807 Dean Ave., Bellingham) vs
Rye Porter, Skookum Brewery (17925 59th Ave. NE, Arlington)
Wander Brewing's Global Mutt Baltic Porter came into the Tournament of Beers: Northwest Porters as a No. 3 seed and didn't disappoint — at least in the opening 400 minutes. Global Mutt led all morning with an average lead of 40 votes. At 3 p.m., with the help of its late-rising Arlington supporters, Skookum's Rye Porter poured it on. The brewery with bear claw tap handles scratched its way toward the lead, with strong play from manager Angel. When the final buzzer rang, Global Mutt managed to hang on to the lead with 52 percent of the votes, and scored a date with Rainy Daze's Sunrise Coffee Porter in the Second Round.
GAME 3, IDAHO REGION
Where The Sun Is Still Shining Before The Eclipse, Idaho Brewing (775 S. Capital Ave., Idaho Falls) vs
12. Evans Bros Coffee Porter, MickDuff's Brewing (312 N. First Ave., Sandpoint)
Unexpectedly, this was an epic battle … the kind of thing Tournament of Beer "instant classic" are made of. A surprisingly low scoring affair, with much of the action on defense, fifth seeded Where The Sun Is Still Shining Before The Eclipse and 12th seeded Evans Bros Coffee Porter were in a dead heat — literally tied — going into the final hours of the competition. Tournament of Beer officials frantically discussed what to do in case of a tie. Overtime? Coin flip? Shotgun a beer? Then, in a brilliant move, one of the Idaho Brewing brewers walked to the middle of the taproom, poured out a pot of coffee and walked back into the brewhouse. That dis of coffee was a dagger! Idaho Brewing edged out a win, securing 51 percent of the vote. This one will go down in the porter history books.
GAME 4, IDAHO REGION
Knot Tree Porter, MickDuff's Brewing (312 N. First Ave., Sandpoint) vs
Hinterland Robust Porter, Powderhaus Brewing (9719 W Chinden Blvd, Garden City)
The nice thing about a high seeded porter is it usually means you have a paddy-cake game in the first round. Not so much the case yesterday. It could have been the fact that MickDuff's had two brutal games in the same day, or that Powderhaus hosts the brilliant Campfire Acoustics around its fire pit — whatever the case Powderhaus' Hinterland Robust Porter came to play, and play it did. MickDuff's Knot Tree Porter became tied up on knots and Hinterland's multiple specialty malts took over. In the end, Powderhaus' porter secured 55 percent of the votes and looks directly into Where The Sun Is Still Shining Before The Eclipse in the Second Round.
Let's weed through the malts. The following are advancing to the Second Round:
Sunrise Coffee Porter, Rainy Daze Brewing
Global Mutt Baltic Porter, Wander Brewing
Where The Sun Is Still Shining Before The Eclipse, Idaho Brewing
Hinterland Robust Porter, Powderhaus Brewing
OK, pour a pint and dive into today's First Round porter battles. Vote for one porter per game. Voting for today's porter battles ends at 11:45 p.m. today. Cheers!
Tuesday, April 10, First Round Northwest Porters Games
GAME 1, WASHINGTON STATE REGION
Player: Cold Press Coffee Porter (#7 seed)
Team: Everybody's Brewing, White Salmon
Player Stats: In 2008, Christine and Doug Ellenberger opened Everybody's Brewing in White Salmon, Washington after years of planning the craft brewery when they weren't working their shifts at Full Sail Brewing Company directly across the Columbia River. Doug's 20-plus years brewing and Christine's years in the restaurant industry melded into a popular brewpub with a killer view of Mt. Hood. And … the view will soon be even better. The Ellenbergers are currently building a new, larger, fancier brewery and pub next door to their existing brewery. But, this isn't the Tournament of Buildings; it's porters — and Everybody's has a delicious one. After fermentation and aging, Everybody's blends their porter with STOKED's Bluebird cold press coffee. Cold Press Coffee Porter offers flavors of roasted malts, sweet lactose, light vanilla and milks chocolate with a lingering dry roasted malt finish.
ABV: 5.4%, IBU: 45, Malts: Caramel
Player: Puget Sound Porter (#10 seed)
Team: Harmon Brewing, Tacoma
Player Stats: Harmon Brewing grabbed GABF Gold in 1999 for their Puget Sound Porter, that's two years after Pat Nagle and Carole Holder opened the brewery in downtown Tacoma. As with stouts, porters come in several varieties. Brown porters tend to be lower in alcohol and a tad sweeter, with more caramel flavors, which is the route Puget Sound Porter follows. Brewed with eight different malted barleys, including Pale Chocolate and dark German barley, this Tacoma staple hits the nose with roasted coffee and milk chocolate, followed by flavors of roasted malts, caramel and chocolate. Everybody's will need to press extra hard to overcome this Harmon staple.
ABV: 5.4%, IBU: 40, Malts: Eight Malted Barleys including Pale Chocolate and Garman Barley
SCROLL DOWN TO VOTE >>>>>>>>>>>>>>>>>>>>>>>>>>>>>>>>>>>>>>>>>>>>>>>>
GAME 2, WASHINGTON STATE REGION
Player: Pecan Pie Porter (#2 seed)
Team: Backwoods Brewing, Carson
Player Stats: Backwoods Brewing was built on the backs of a wise father, college beers and the big shoulders of two brothers. Jim Waters taught his sons, Kevin and Tom, how to homebrew and carpentry before the young lads made their way to Eastern Washington University. Skipping a few toga parties, the Waters boys brewed batch after batch of homebrew. They scribbled out a game plan, logo and brewery concept and followed through to opening day in 2012. Their first brews pouring from their pub's taps were off a one-barrel system incorporating locally produced hops, grain and yeast. They now operate on a 20-barrel system in their new Stevenson facility, making beer for both draft and package, with their Carson taproom still jam-packed with locals and tourists. There's a reason why their Pecan Pie Porter was voted in a No. 2 seed: it smells just like a pecan pie but it's not overly sweet; the chocolate bitterness, vanilla and spice cuts through.
ABV: 5.9%, IBU: 20, Malts: Five different grains, including Chocolate and Caramel malts
Player: Semper Paratus Porter (#15 seed)
Team: North Jetty Brewing, Seaview
Player Stats: Michelle and Erik Svendsen, wife and husband and brewers, opened North Jetty Brewing at the Long Beach Peninsula more than four years ago. Gone are the 1.5-barrel system and limited distribution. Today, the Svendsens brew on a 10-barrel system, with beer distribution in 11 counties in Washington and Oregon. They bottle. They win awards. They brew a robust porter in honor of the women and men of the Coast Guard Station Cape Disappointment and the National Motor Lifeboat School. Semper Paratus Porter is a clean, well-balanced porter with flavors of chocolate, coffee, toffee and roast.
ABV: 5.2%, IBU: 32, Malts: NA
SCROLL DOWN TO VOTE >>>>>>>>>>>>>>>>>>>>>>>>>>>>>>>>>>>>>>>>>>>>>>>>>
GAME 3, IDAHO REGION
Player: Wake Up Call Imperial Coffee Porter (#1 seed)
Team: Grand Teton Brewing, Victor
Player Stats: You can raise a pint to thank the Otto brothers for both Grand Teton Brewing Company and the modern glass growler, which they introduced in 1989. Originally located in Wilson, Wyoming, as Otto Brothers' Brewing Company the brewery moved the 25 winding miles over Teton Pass into Victor, Idaho, in 1998, two years before changing the name to a more regional and recognizable marketing approach. The brewers at Grand Teton Brewing used well over a pound per barrel of Moonshot Espresso beans from Caffe Ibis Coffee Roasting Company in Logan, Utah in their Wake Up Call Imperial Coffee Porter for a distinct and robust coffee flavor that blends harmoniously with the roasted malts. Caramel, chocolate, and black malts give this ale its dark color and overtones of caramel and a cocoa-like sweetness. Only very gently hopped, the addition of coffee shines through, providing a delicious accent to this brew.
ABV: 7.5%, IBU: 40, Malts: Caramel, Chocolate, Black
Player: Brynhildr Robust Porter (#16 seed)
Team: Mad Swede Brewing, Boise
Player Stats: While still in college, Jerry Larson brewed his first beer. He continued experimenting with new recipes over the years, meticulously recording different brews and methods, like a mad Viking scientist as he did engineering stuff for Hewlett Packard. He married fellow HP engineer Susie, and after 30 years of homebrewing, opened Mad Swede in Boise. Brynhildr Robust Porter is what Ragnar Lodbrok would serve his current lady of interest — nice sweet chocolate roast coffee and floral notes.
ABV: 6%, IBU: 34, Malts: NA
SCROLL DOWN TO VOTE >>>>>>>>>>>>>>>>>>>>>>>>>>>>>>>>>>>>>>>>>>>>>>>>>>>
GAME 4, IDAHO REGION
Player: Pistolero Porter (#8 seed)
Team: Payette Brewing, Boise
Player Stats: Mike Francis left corporate life as an industrial engineer at Boeing Company in Seattle to engineer some industry of his own. After receiving an Associate's Degree in Brewing Technology from Chicago's Siebel Institute of Technology, followed by a stint at Schooner Exact Brewing in Seattle, Mike headed to his home turf of Boise in 2010 to establish Payette Brewing Company with a small stable of eminently drinkable beers. Since then, it has grown by leaps and bounds, filling out its Boise brewery and taproom, and landing his Pistolero Porter as a No. 8 seed in the Tournament of Beer. This lightly roasted porter has a grain and herbal hop bitterness with a fruity and chocolate malty sweetness.
ABV: 6, IBU: 13, Malts: Chocolate, Dark Crystal, Dextrapils, Midnight Wheat, Pale, Vienna, Wheat
Player: 3 Picket Porter (#9 seed)
Team: Crooked Fence Brewing, Eagle
Player Stats: Known for eye-catching artwork on its beer cans and bottles, Crooked Fence Brewing helped jumpstart the wave of local breweries that flooded Idaho's Treasure Valley over the past several years. In 2016, Crooked Fence Brewing's production ranked fourth in the Treasure Valley behind Payette, Sockeye and Mother Earth Brew Co. In January 2018, Crooked Fence owners Kris Price and Travis Krawl sold the business to Jeff and Maerene Cutler, who plan to relocate Crooked Fence's 15-barrel brewhouse to a 4,000-square-foot space in Garden City this spring. Will construction divert attention away from this approachable porter with a nice blend of chocolate, vanilla and soft coffee notes? The votes will tell.
ABV: 6%, IBU: 18, Malts: NA
VOTE BELOW >>>>>>>>>>>>>>>>>>>>>>>>>>>>>>>>>>>>>>>>>>>>>>>>>>>>>>>>>>
Be sure to click the blue DONE button after selecting your favorite porters!
Wednesday, April 11 Tournament of Northwest Porters action
Game 1: Robust Port, Stoup Brewing (1108 NW 52nd St., Seattle) vs Bar Spin Porter Chainline Brewing (503 Sixth St. S., Kirkland)
Game 2: Steam Train Porter, Snoqualmie Falls Brewing (8032 Falls Ave. SE, Snoqualmie) vs Porter, Sumerian Brewing (15510 Redmond-Woodinville Road NE E., Woodinville)
Game 3: Nut Crusher Peanut Butter Porter, Wild Ride Brewing (332 SW Fifth St., Redmond, Oregon) vs Terry Porter, Gilgamesh Brewing (2065 Madrona Ave. SE, Salem, Oregon)
Game 4: Capella Porter, Ecliptic Brewing (825 N. Cook St., Portland, Oregon) vs FivePine Chocolate Porter, Three Creeks Brewing (721 Desperado Ct., Sisters, Oregon)
LINK: Hot Damn! Yes, I want to follow Peaks and Pints on Twitter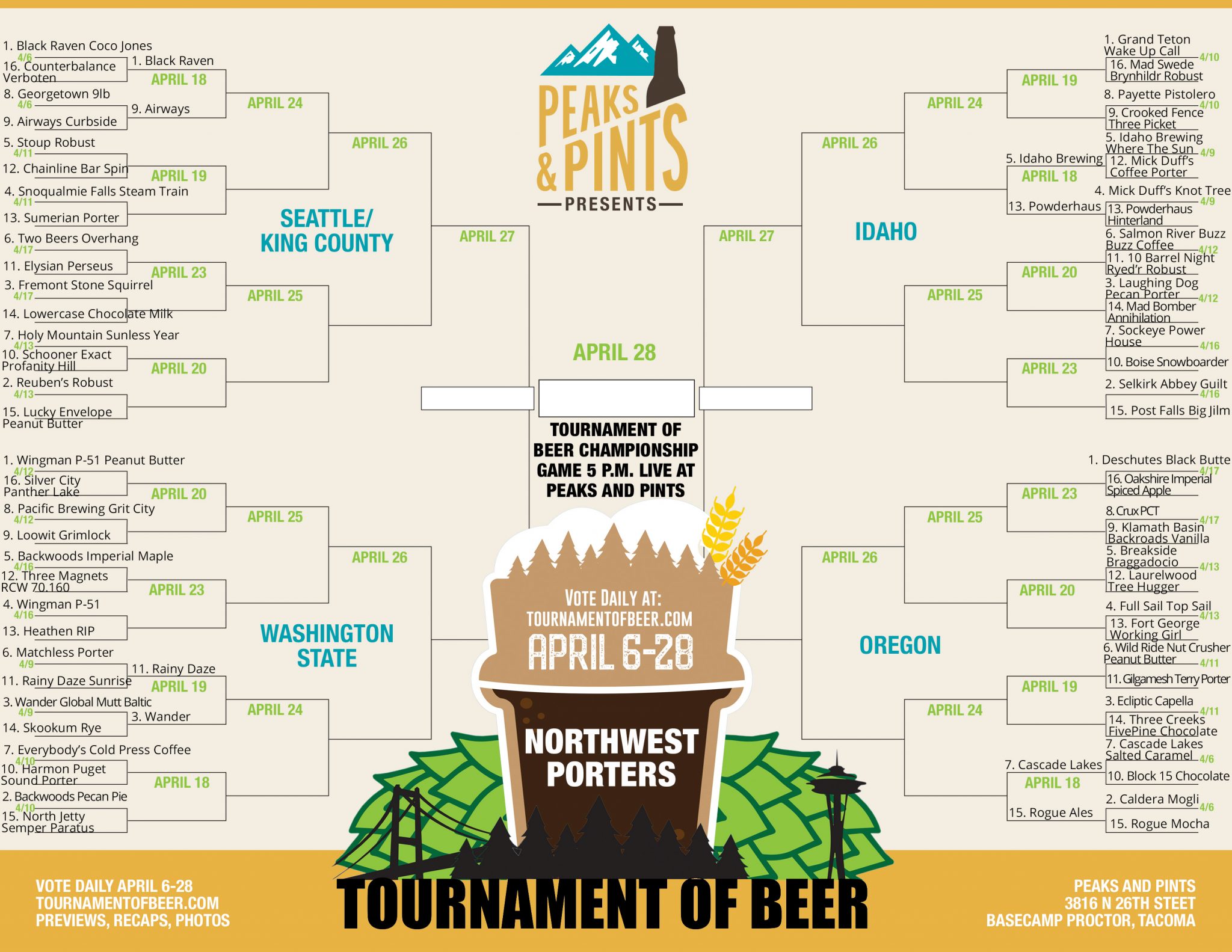 ---